These 5-Ingredient Peanut Butter Banana Overnight Oats taste more like an amazing dessert than a protein-packed breakfast! This conversation is sponsored by Silk. Opinions and words are all my own.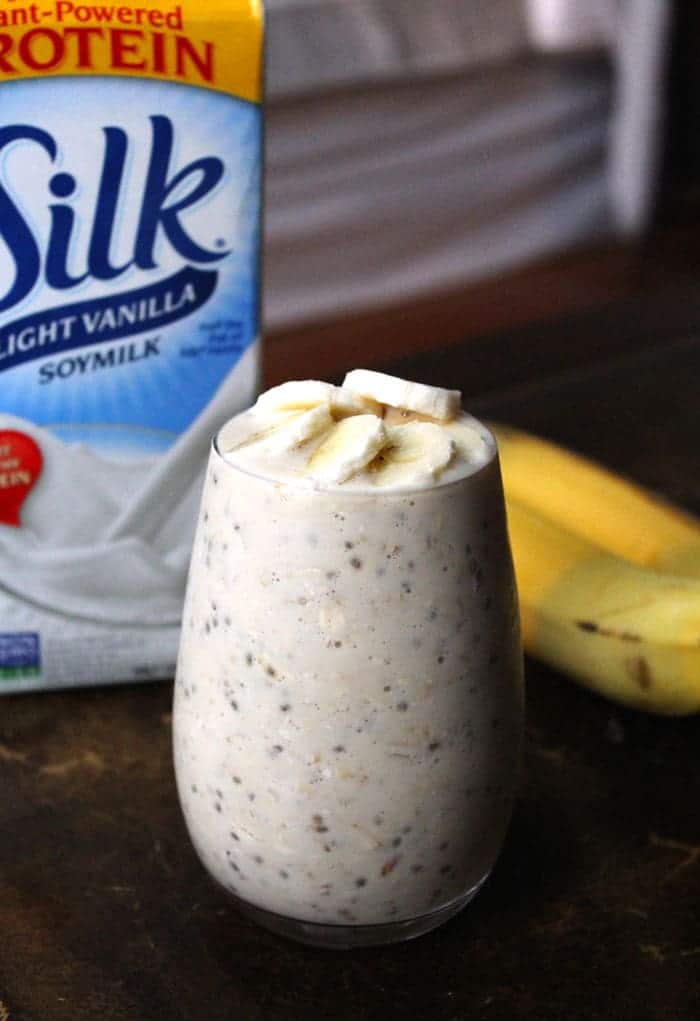 Who woulda thunk that with just 5 ingredients, you can make this delicious make-ahead breakfast recipe with the help of Silk Soymilk and my two favorites: peanut butter and bananas.
Overnight oats recipes have got to be the best breakfast invention since Toaster Strudel. Simply mix old-fashioned oats with milk, add any amazing flavor creations you can think of, stick it in the refrigerator, and you'll wake up to an amazing breakfast!
I can't get enough of the ultra-creamy consistency of old-fashioned oats when they absorb the milk, plus the preanut butter and banana add a decadent element that makes this taste more like dessert than breakfast.
Plus, overnight oats recipes are great because they can be made ahead of time for quick on-the-go breakfasts all week.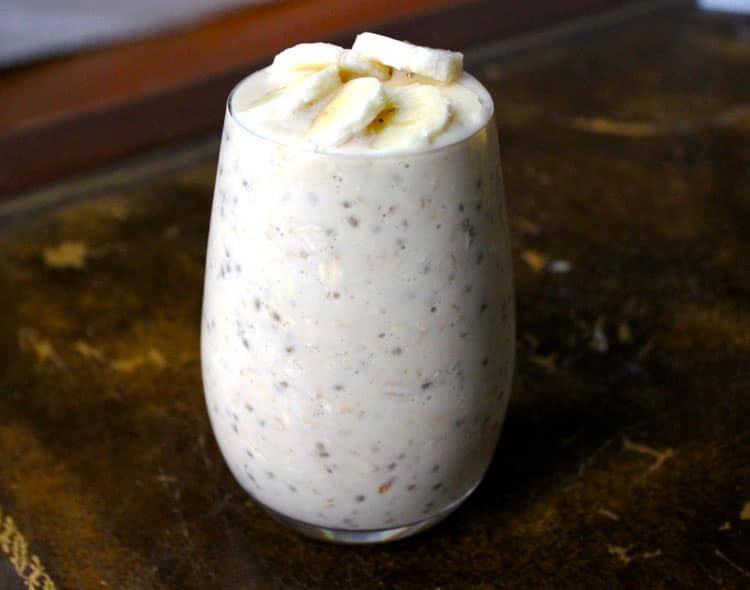 Chances are, you already have most of the ingredients to make this 5-Ingredient Peanut Butter Banana Overnight Oats recipe on hand. All you need are old-fashioned oats, peanut butter, soymilk, your sweetener of choice and bananas! It really is that easy, yet you won't believe how great this tastes.
There are few things better in this world than healthy 5-ingredient breakfast recipes that can be made ahead of time. This recipe for overnight oats definitely fits the bill.
What I love most about overnight oats recipes is that they are super filling, which means I stay full and energized all the way through to lunch! I used Silk Light Vanilla Soymilk to make these overnight oats, and it is one of the best varieties I've made.
Silk Light Vanilla Soymilk is great because it has a subtle flavor, and no other dairy-free milk brand gives you more protein! To give it a try for yourself, visit the Silk Soy website to see all the awesome flavors they offer.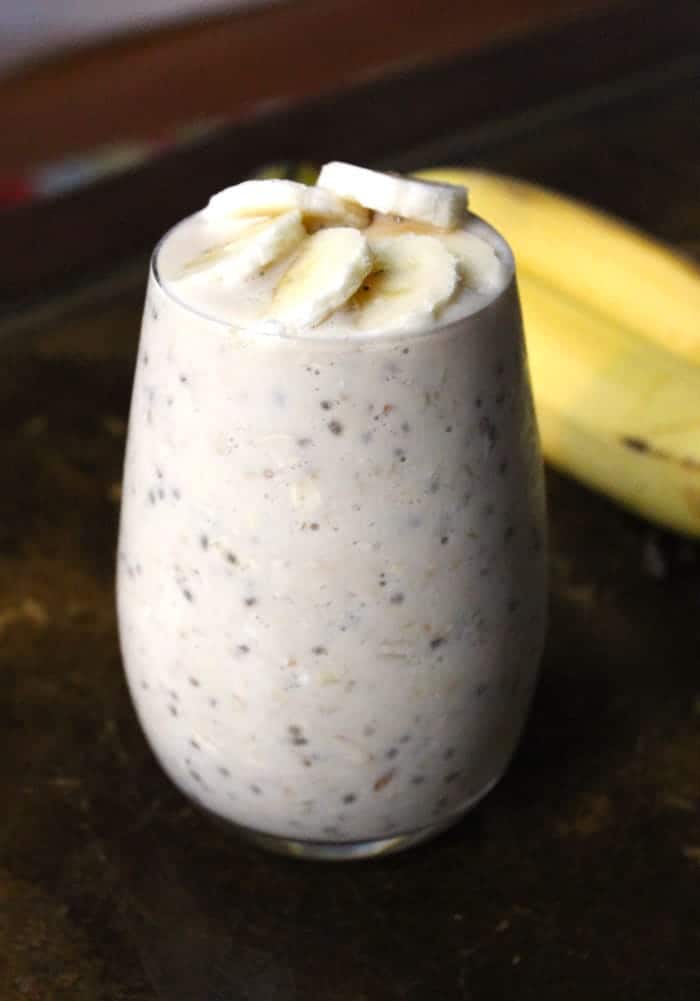 Then, run to your kitchen and MAKE THIS 5-INGREDIENT PEANUT BUTTER BANANA OVERNIGHT OATS RECIPE. If you love the combination of peanut butter and bananas as much as I do, you're definitely going to love these. They're stupid easy to make, irresistibly creamy and delicious, and will keep you full for hours.
Oh, I also snuck in some chia seeds for an extra punch of satiating nutrients. Highly recommended if you have them on hand!
Next time you're looking for a healthy 5-ingredient breakfast recipe, I would definitely recommend giving overnight oats a try.
You can eat these cold (I always do), or nuke them in the microwave for a minute or two if you prefer warm oats.
5-Ingredient Peanut Butter Banana Overnight Oats
Ingredients
1 cup old-fashioned oats
1 cup Silk Light Vanilla Soymilk
1-2 teaspoons liquid agave or honey
1/4 cup creamy peanut butter, almond butter, or 2 tablespoons PB2
1 tablespoon chia seeds (optional)
1 large ripe banana
Instructions
Mix all ingredients except banana in a food storage container. Refrigerate overnight or at least three hours. Stir it half-way through and add more soymilk or oats to reach desired consistency.
Serve with sliced banana on top. (I serve it cold).
Note: you may also slice the banana and add it in the first step - this is how I prefer it because it adds great flavor; however, the banana slices may turn a bit brown. (But it's okay!)
7.6.4
123
http://smilesandwich.com/2015/04/22/5-ingredient-peanut-butter-banana-overnight-oats/
This conversation is sponsored by Silk. The opinions and text are all mine.
Don't miss some other yummy oats recipes: Crockpot Overnight Pumpkin Chia Oats, Oatmeal Raisin Overnight Oats, and Apple Pie Overnight Oats.