These Crockpot Overnight Pumpkin Chia Oats cook while you're sleeping! You'll wake up to delicious pumpkin steel cut oats, perfect for Thanksgiving breakfast.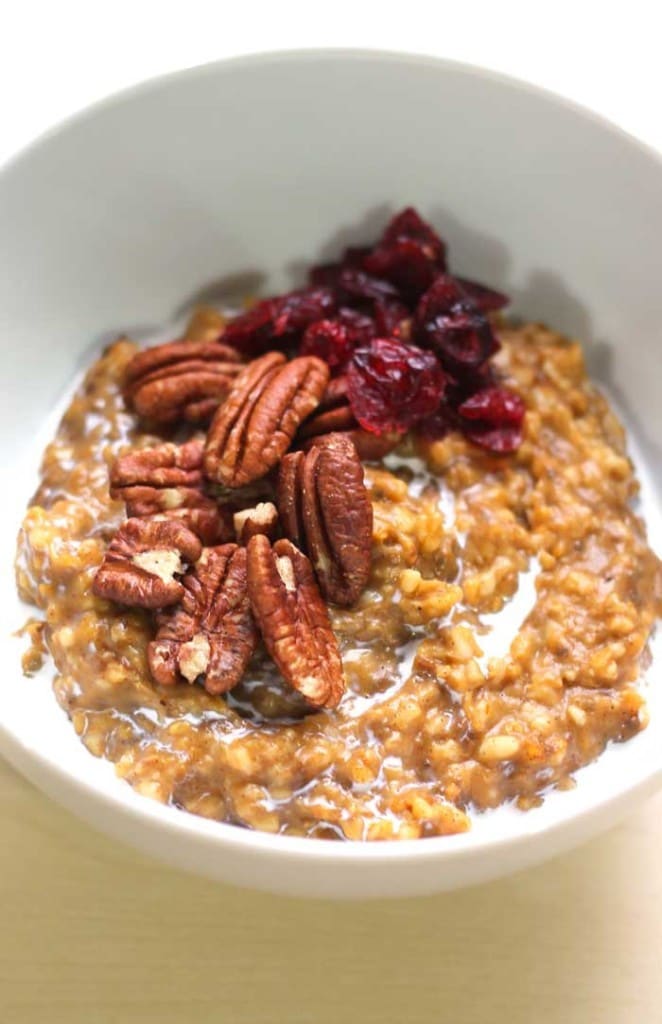 WINTER IS COMING! Which means that we all must keep warm by curling up with big bowls of steamy hot oatmeal and wearing fur scarves.
Oh … maybe I'm the only one who wears fur scarves in the winter. Awkward.
Well, for those of you who don't own a fur scarf, I would highly recommend turning to this Crockpot Overnight Pumpkin Chia Oats recipe to keep you warm. Because what's better than a breakfast that cooks itself while you sleep? Answer: nothing.
I use steel cut oats in this recipe because I love the hearty texture they take on when cooked in the slow cooker. Just a simple mixture of oats, pumpkin, spices, sweetener and chia seeds make up this clean eating slow cooker recipe.
What's even better, all you have to do is throw the ingredients in your crockpot and set it on low! Then, get aaalll your z's, dream about fur scarves, and wake up to a piping hot and totally delicious bowl of Crockpot Overnight Pumpkin Chia Oats.
If that doesn't sound like the best night ever, I don't know what does.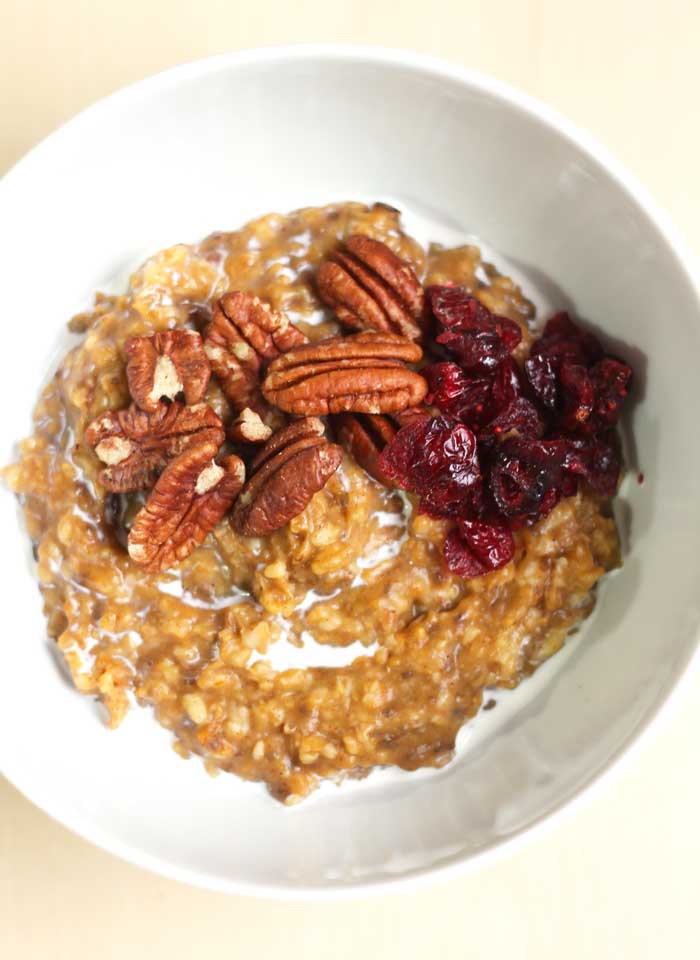 These Crockpot Overnight Pumpkin Chia Oats really are the perfect healthy slow cooker breakfast recipe. The chia seeds will help keep you fuller for longer, and pure pumpkin puree has some great health benefits as well.
I recommend tasting the oats and adjusting the sweetener to your liking before serving. You can also make this recipe with old-fashioned oats, or omit the chia seeds if you don't have them on hand.
Garnish with some almond milk, pecans and dried cranberries and dive your spoon right into this bowl of delight.

Crockpot Overnight Pumpkin Chia Oats
5 minPrep Time
8 hrCook Time
8 hr, 5 Total Time
Ingredients
1 cup steel cut oats (you may use old-fashioned oats)
3 tablespoons chia seeds
4 cups water (any kind of milk may be substituted)
1 cup canned pumpkin puree
1 teaspoon vanilla extract
1/2 teaspoon cinnamon
1 teaspoon pumpkin pie spice
1/2 cup honey or liquid stevia
Instructions
Spray your slow cooker with non-stick spray. Place all ingredients in the slow cooker and stir to combine. Cook on LOW for 8 hours.
Serve with more sweetener if desired.
7.6.4
165
http://smilesandwich.com/2015/11/19/crockpot-overnight-pumpkin-chia-oats/