This Sweet Potato Hummus is made using Greek yogurt in place of tahini to cut down on calories. This post is sponsored by Moulinex, whose chopper makes my life so much easier.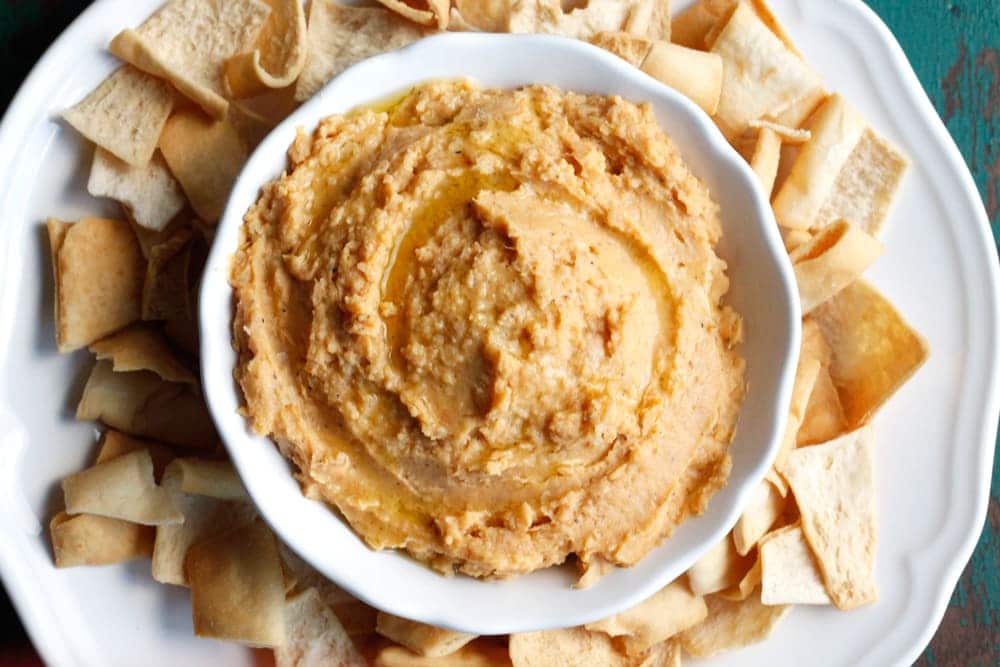 I'm pretty sure I'm not alone in that one of my least favorite things about cooking is having to chop! So it may be therapeutic for the first half of a carrot, but after that it's just tedious and time consuming.
Enter this Moulinex Chopper. It literally takes just 5 seconds to chop or puree anything from fresh vegetables, to nuts and bread crumbs, to homemade dressings and more!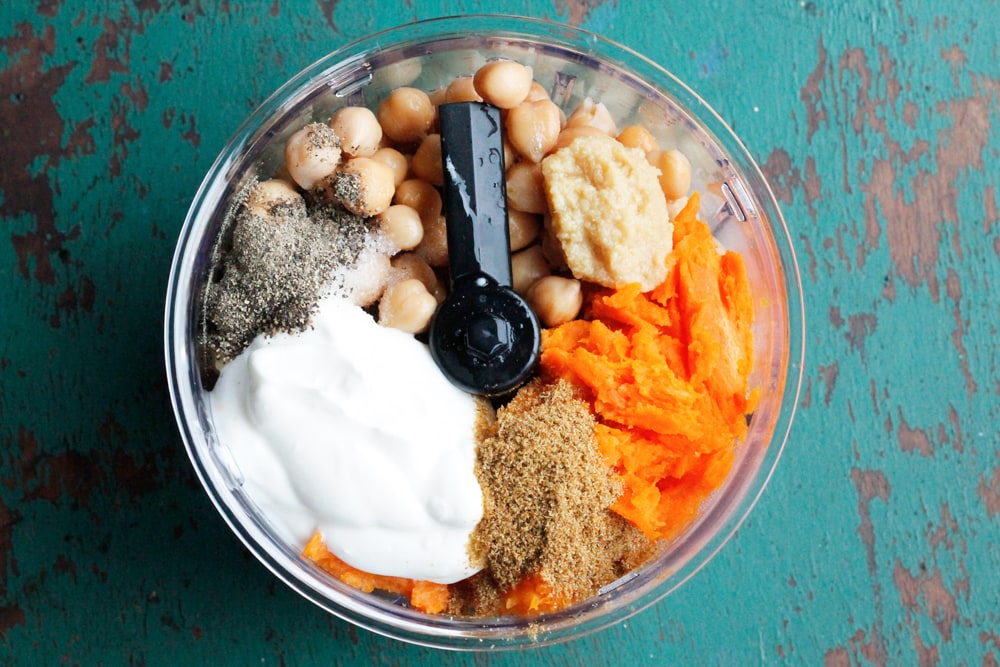 The thing I love most about it is that there's zero electrical cords involved, and it takes up very little space in my tiny kitchen. Just pull the cord and this magical machine chops manually. More pulls will get you a finer chop or smoother puree, so you can control the exact consistency you want.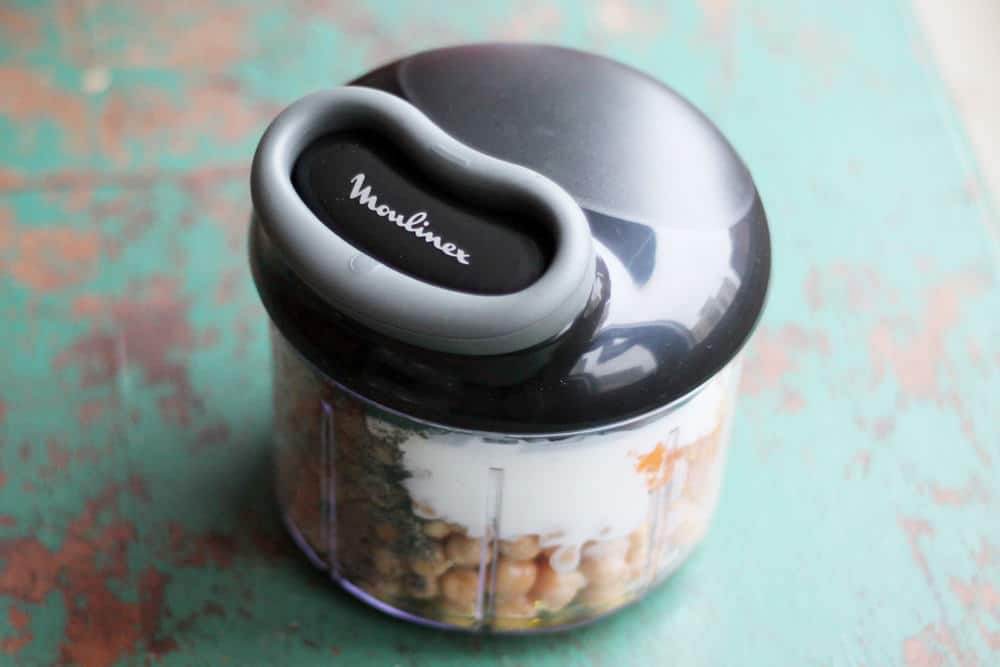 The small size is perfect for my quick homemade salad dressings, a single serving of salsa or guacamole, or even to chop up nuts in any baking recipe I'm making.
Since it's officially fall in Chicago, I whipped up this Sweet Potato Hummus! It's made with Greek yogurt in place of tahini to cut down on fat and calories, but you still get an amazing creamy consistency and flavor.
The sweet potato adds a great flavor element that's perfect when served with pita chips, pita bread or veggie sticks!
It's not a sweet dessert hummus; rather, it's a slightly sweet yet savory dip with hints of garlic and cumin. Perfect for football parties, fall gatherings or a super simple snack for yourself!
Just dump all the ingredients in, and a few pulls of the cord will get you creamy, delicious hummus in seconds. Adjust the amount of olive oil, or add a bit of water to get the consistency you like. To save time, you can also microwave the sweet potato for about 5 minutes, but it won't be as flavorful as roasting it in the oven.
You can get your own Moulinex Chopper exclusively available at Williams-Sonoma.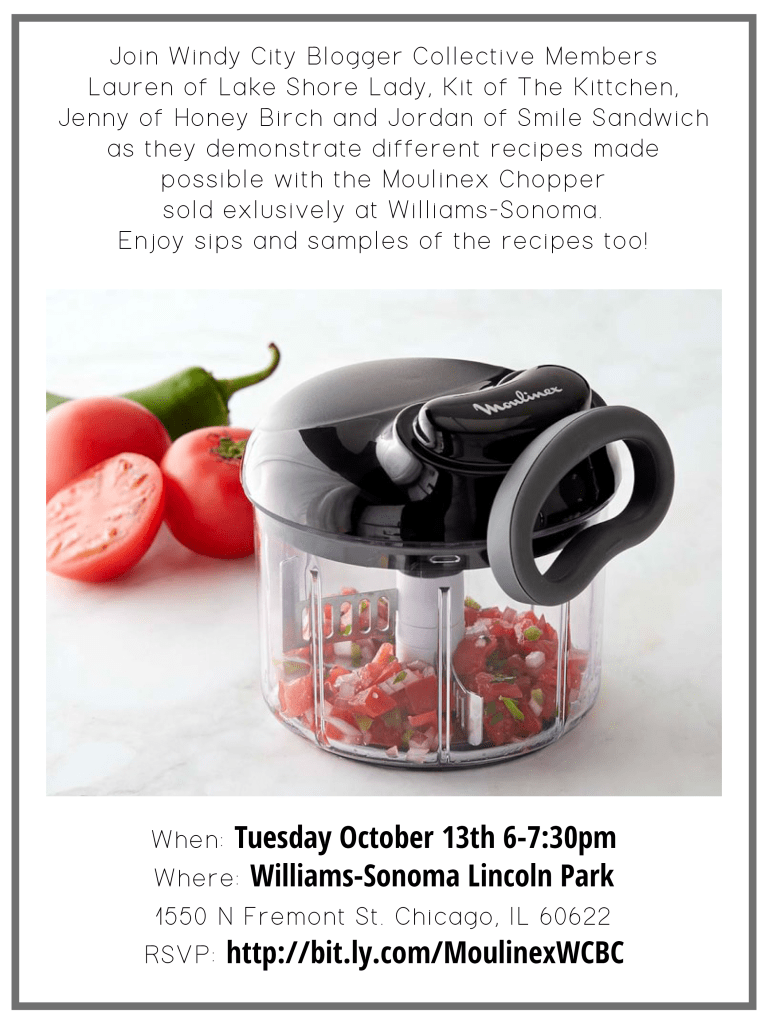 And speaking of things that are cool, join myself and other Chicago bloggers as we demonstrate all the amazing foods and yummy recipes you can make with the Moulinex Chopper. October 13th 6p.m. at the Williams-Sonoma in the Lincoln Park neighborhood of Chicago. Can't wait to see you there! RSVP here: bit.ly/MoulinexWCBC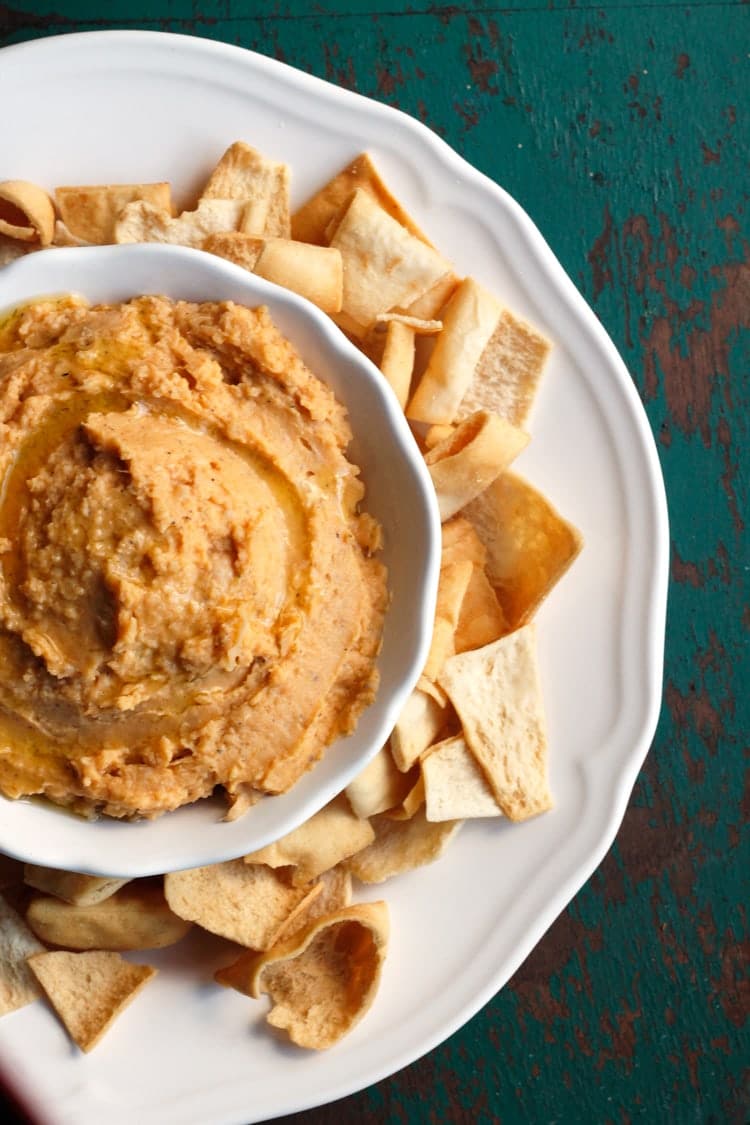 Sweet Potato Hummus
5 minPrep Time
5 minCook Time
10 minTotal Time
Ingredients
1 small sweet potato (about 1 cup cooked)
1 can (16 ounces) chickpeas, drained and rinsed
Juice of 1 lemon
1/4 - 1/2 cup plain Greek yogurt
3 tablespoons olive oil
2 teaspoons ground cumin
1 garlic clove, chopped
Salt and pepper, to taste
Pita chips, pita bread, or sliced veggies (such as broccoli, peppers, and carrots), for serving
Instructions
Preheat oven to 375 degrees F. Pierce the sweet potato a couple times with a fork. Wrap it in aluminum foil and bake until soft - about 30 minutes to 1 hour depending on its size. When cool enough to handle, scoop out the potato from the peel.
Place the cooked sweet potato, chickpeas, lemon juice, yogurt, oil, cumin, garlic, salt and pepper in the chopper. Pulse until completely pureed.
Add more oil or water if necessary to achieve the preferred consistency.
Serve with pita bread, pita chips, or fresh veggies. Enjoy!
7.6.4
147
http://smilesandwich.com/2015/09/30/sweet-potato-hummus/
This post was sponsored by Moulinex. Text and opinions are all mine.