This Slow Cooker Meatball, Sweet Potato & Kale Soup is a super simple slow cooker soup recipe that cooks all day while you're away!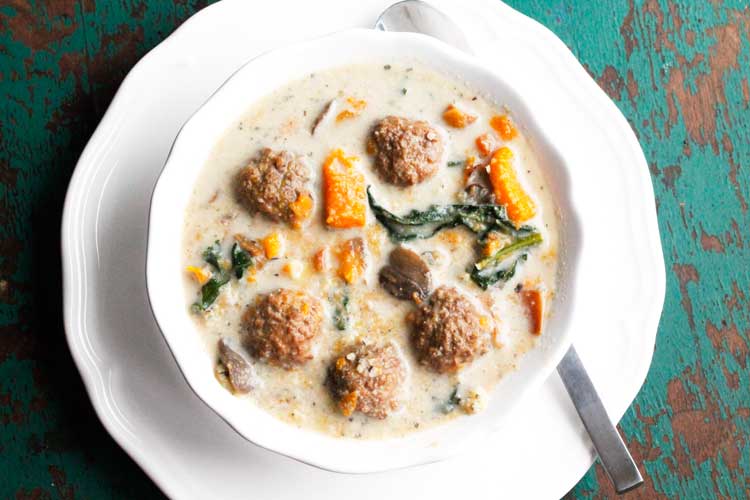 I interrupt your regularly scheduled blog post to talk about how much of a saint my roommate is.
Never underestimate the burden of living with a food blogger in a tiny apartment. This past weekend I embarked on a blogging project that required me to make 6 breakfast recipes in a row. Thus, our tiny apartment kitchen was littered with eggs and spilled sausage grease, and just about every pan in the place was dirty. Not to mention the fact that our fridge is stuffed to the brim with miscellaneous food storage containers and half eaten food.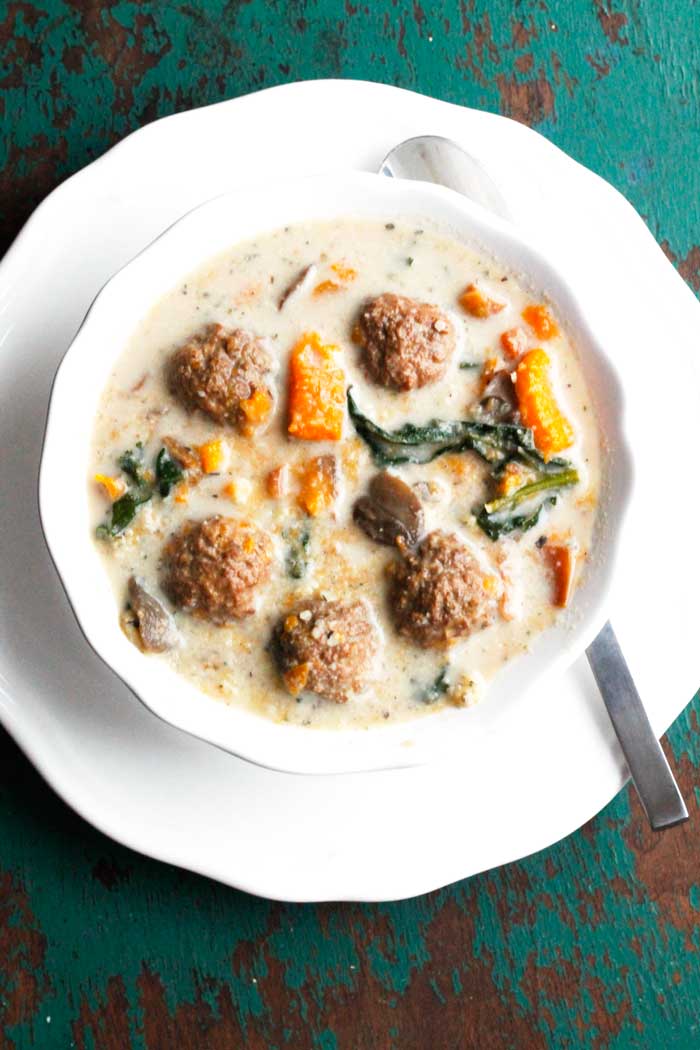 Then you add in the fact that I'm often up at 7 a.m. conducting photo shoots of last night's dinner in our living room. And sometimes I even set up my photo tent lighting system that takes up our entire dining room. It has to take some patience to put up with all this.
It would be better if my roommate actually got to enjoy the food I make, but it's very seldom that I share. Not because I'm selfish, but because I'm typically meal prepping for the week and eat all these recipes for lunches and dinners. Okay, maybe that makes me selfish.
Moral of the story is … she's a saint. And she never complains. And she never judges me for always stinking up the house with curries and slow cooker meals. I'm one lucky gal.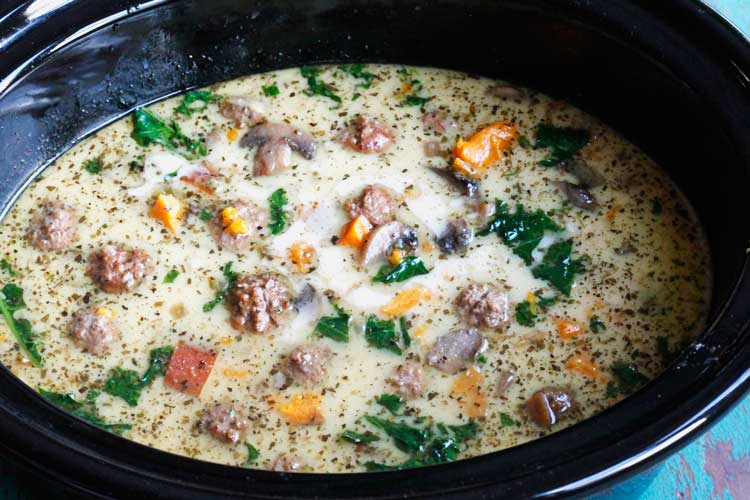 Speaking of slow cooker meals … this one really couldn't be easier. It's a slow cooker soup recipe that requires you to throw all the ingredients in and leave it alone for 6 hours! I let it run while I'm sleeping so I can quick transfer it to containers in the morning. But if you don't work heinous hours like me, you can let it cook while you're away at work!
This soup is so delicious. It has sweet potatoes, kale and mushrooms – three of my favorite fall produce items. Plus, I totally cheat and use frozen turkey meatballs so I barely have to lift a finger.
This slow cooker soup recipe makes enough to freeze a portion for later! But let's be honest, you'll probably want to slurp up the entire bounty as quickly as possible.

Slow Cooker Meatball, Sweet Potato & Kale Soup
5 minPrep Time
6 hrCook Time
6 hr, 5 Total Time
Ingredients
1 20 oz bag frozen turkey meatballs (try to find party size or kid size!)
1 tablespoon extra virgin olive oil
1 cup mirepoix (I buy mine from Trader Joe's. Or, just 1 small onion and 1 stalk celery, chopped will do)
1 clove garlic, minced
2 small sweet potatoes, cut into 1" cubes
1 8 oz carton mushrooms, sliced (optional)
Salt and pepper, to taste
1 teaspoon sage
1 teaspoon oregano
1/4 teaspoon cayenne pepper
4 cups chicken broth, fat free, low sodium
1 cup kale, rinsed and chopped
2 cups 2% milk
Instructions
Mix all ingredients EXCEPT milk and kale in your slow cooker. Cook on LOW for 6-7 hours.
Just before serving, mix 2 cups milk with 1/2 cup of the hot soup from the slow cooker. Add the milk mixture into the slow cooker along with the kale. Mix and let cook until kale wilts - should take just a few minutes.
Serve and enjoy!
7.6.4
158
http://smilesandwich.com/2015/10/13/slow-cooker-meatball-sweet-potato-kale-soup/