This recipe for Oven-Baked Chicken Parmesan Bites Over Zoodles is a new take on classic chicken parmesan with bit-sized chicken pieces and zucchini noodles.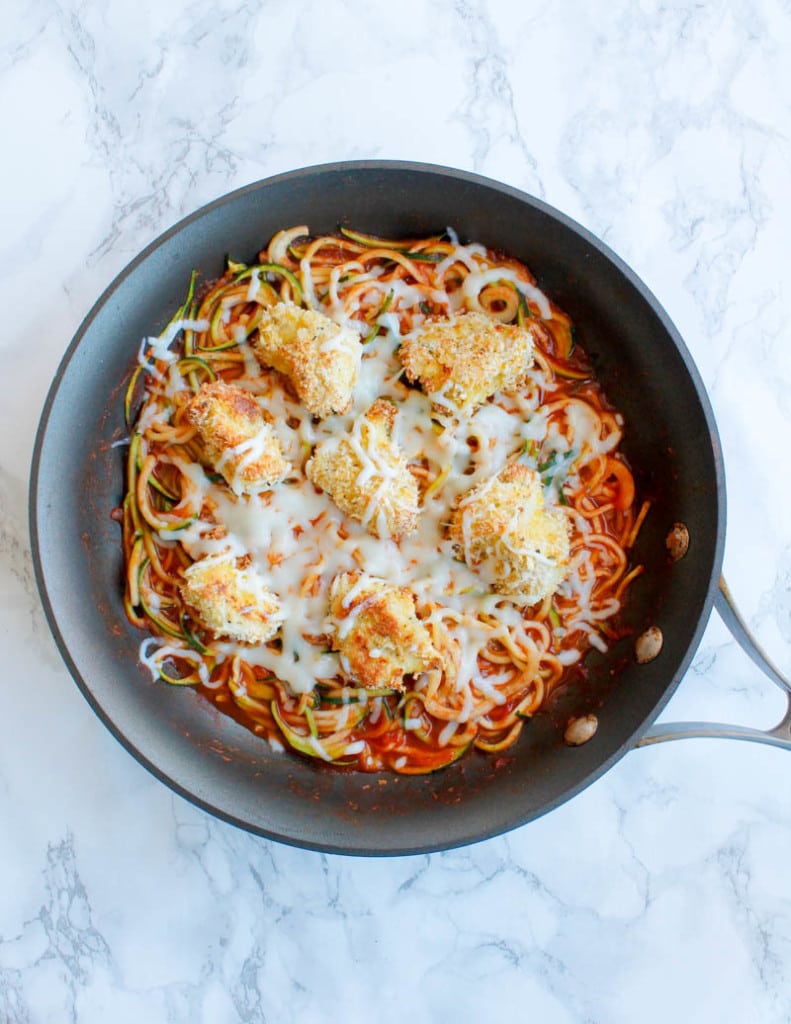 Is there anything better than chicken parmesan? It might be one of my all-time favorite quick and easy recipes for when I want an at-home cheat meal. My Oven-Baked Chicken Parmesan recipe always goes over so well, so I thought I'd try a new take on it!
This recipe for Oven-Baked Chicken Parmesan Bites Over Zoodles is like classic chicken parmesan that doesn't require a knife to eat. The chicken is cut into bite-sized pieces so that each bite of chicken is covered with crispy bread crumbs. Yum!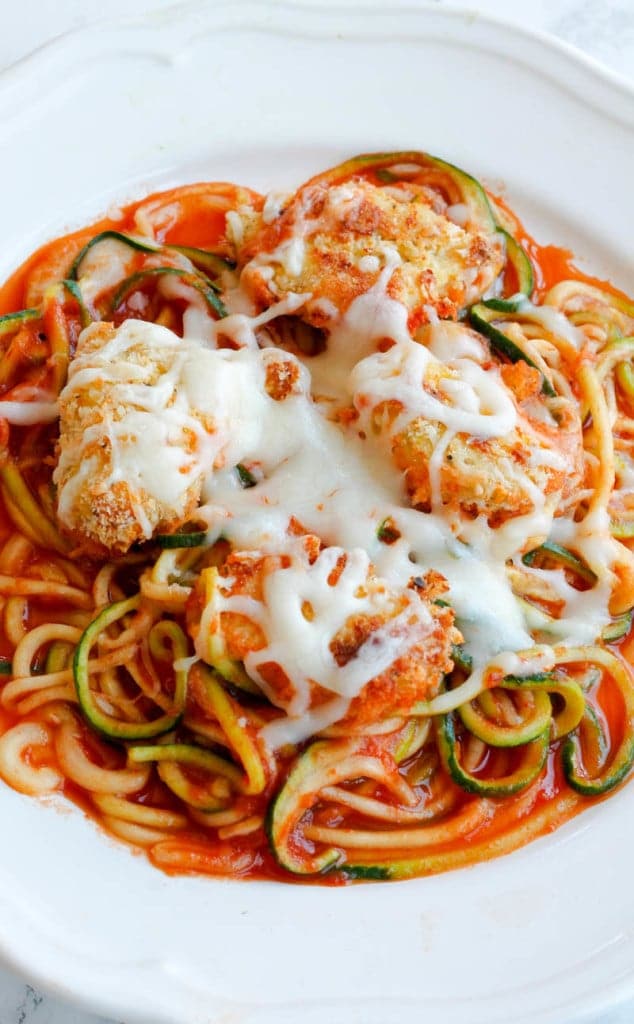 This is the perfect low-carb recipe to make for when you're feeding a guest or for a date night. It makes enough to two people, so if you're feeding more just double it!
It doesn't take any more effort than normal chicken parmesan, and zucchini noodles are used in place of pasta for an extra health boost.
I use store-bought marinara sauce, but you can also use homemade marinara or just a can of crushed tomatoes with some salt, pepper and garlic.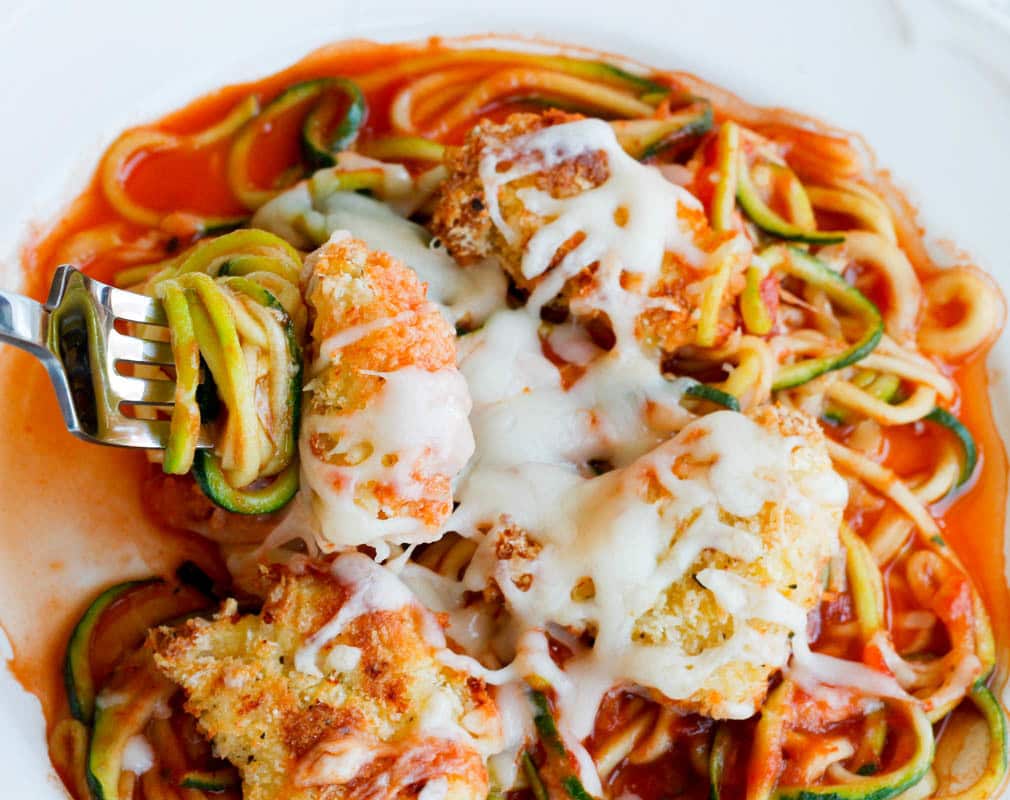 Next time you're looking for a healthy dinner recipe for two, whip up this Oven-Baked Chicken Parmesan Bites Over Zoodles! It's simple to make, hard to mess up, and tastes absolutely delicious.

Oven-Baked Chicken Parmesan Bites Over Zoodles
Ingredients
1 egg
1/2 cup bread crumbs (I use Panko)
2 tablespoons grated Parmesan cheese
1 teaspoon Italian seasons
1 skinless, boneless chicken breasts, cut into bite-sized pieces
Salt and pepper, to taste
2 cups Marinara sauce
1 zucchini, spiralized
1 oz shredded mozzarella cheese
Instructions
Preheat oven to 450 degrees F.
Beat egg in a bowl. In a separate bowl, combine bread crumbs, Parmesan cheese, and Italian seasoning.
Sprinkle chicken pieces with salt and pepper. Dip each chicken piece in the egg mixture, shake off excess, then dip in the bread crump mixture on all sides. Place on a baking sheet sprayed with cooking spray. Repeat with remaining chicken.
Spray each chicken piece with an olive oil mister. Bake for about 10 minutes or until the tops start to turn brown. Flip each piece and bake for another 3 minutes.
Meanwhile, heat marinara in a large pan. Add the zucchini noodles and cook for about 3 minutes.
Top the zoodles with the chicken pieces, sprinkle with cheese, and bake under a broiler until the cheese melts - just a few minutes.
Enjoy!
7.6.4
185
http://smilesandwich.com/2016/02/18/oven-baked-chicken-parmesan-bites-zoodles/