This classic Oven-Baked Chicken Parmesan is a healthy chicken parmesan recipe that's baked, not fried. Served over whole wheat spaghetti, this is restaurant-quality chicken parmesan, lighted up.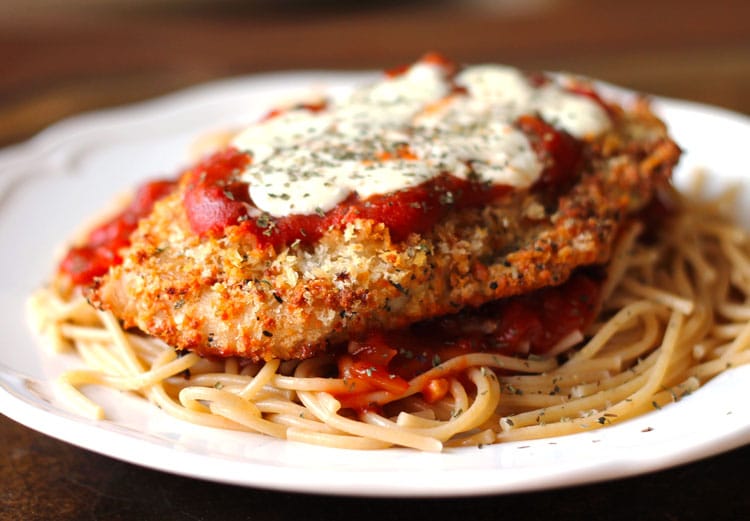 I've been super into Italian lately, if you haven't noticed. I seem to be forgetting that I have to be seen in a bikini all Memorial Day weekend. Not sorry. No take-backsies.
It doesn't get much better than chicken parmesan. Although this isn't an innovative recipe that I created myself, it's my personal belief that the world can't have too many Oven-Baked Chicken Parmesan recipes.
Or baked chicken recipes, for that matter.
This healthy chicken parmesan recipe is baked, not fried! Plus, it's served over whole wheat pasta with just enough marinara sauce to save on all those calories you'd eat going out to an Italian restaurant.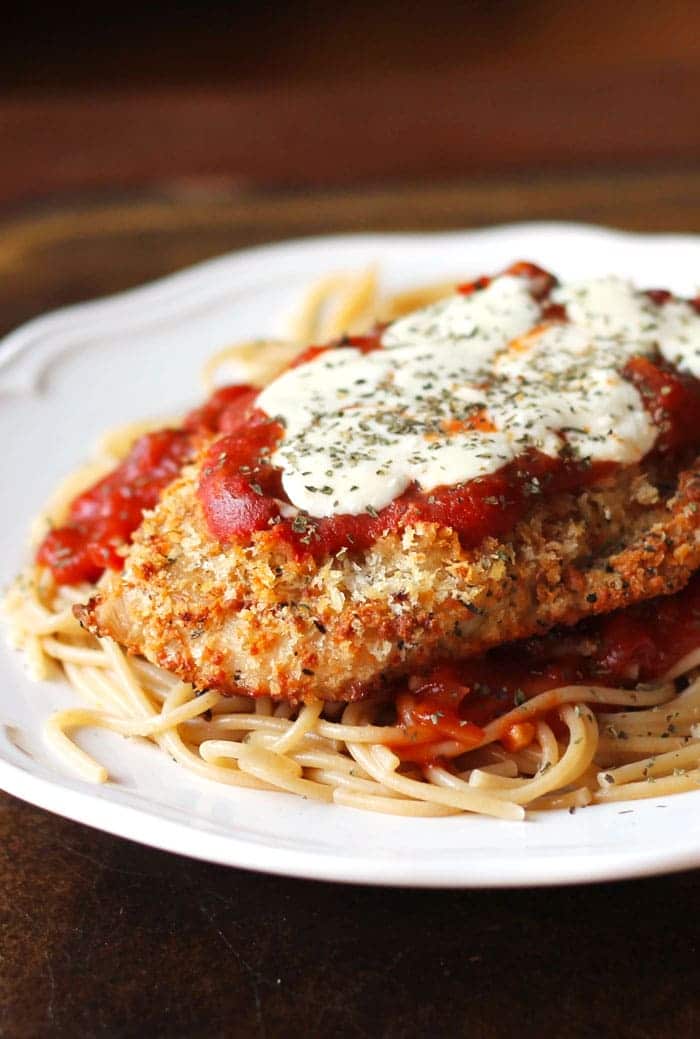 Oven-Baked Chicken Parmesan is a super simple, yet super delicious recipe! Simply bread the chicken, bake it, cover it with sauce and mozzarella, and serve over pasta.
Plus, you can't get much more crowd-friendly than a healthy chicken parmesan recipe. I mean, who doesn't like that crispy chicken covered in marinara sauce over pasta?!
Another plus of this lightened up recipe is that you bake the chicken, so there's no grease mess to clean up. The chicken gets nice and crispy in the oven (I use panko bread crumbs for extra crisp) without having to use all of that fat-adding oil.
Any time you tell me that I can make a healthy chicken parmesan recipe with few ingredients and little effort, I'm a happy girl.
So, next time you need a simple and crowd-pleasing meal, give this Oven-Baked Chicken Parmesan recipe a try. It doesn't disappoint.
Oven-Baked Chicken Parmesan
Ingredients
1/2 cup water
1 egg
1 1/2 cups bread crumbs (I use Panko)
6 tablespoons grated Parmesan cheese, divided
1 tablespoon dried oregano
1 teaspoon dried basil
1/2 teaspoon dried thyme
1/2 teaspoon garlic powder
3 skinless, boneless chicken breasts, sliced in half horizontally
2 cups Marinara sauce
1 cup mozzarella cheese
Whole wheat spaghetti, cooked
Instructions
Preheat oven to 400 degrees F.
Beat eggs and water together in a bowl. In a separate bowl, combine bread crumbs, 4 tablespoons Parmesan cheese, oregano, basil, thyme and garlic powder.
Sprinkle chicken with salt and pepper on both sides. Dip each chicken breast halve in the egg mixture, shake off excess, then dip in the bread crump mixture on both sides. Place on a baking sheet sprayed with cooking spray. Repeat with remaining chicken.
Spray each chicken breast with cooking spray or an olive oil mister. Bake for 40 minutes.
Spread each chicken breast with Marinara sauce, then top with mozzarella and remaining Parmesan cheese. Continue baking until cheese is melted.
Serve over whole wheat spaghetti.
Notes
Amount Per Serving Calories 397 Calories from Fat 110 Total Fat 12.2 g 19% Saturated Fat 4.3g 22% Trans Fat 0.0g Cholesterol 89mg 30% Sodium 714mg 30% Potassium 496mg 14% Total Carbohydrates 41.6g 14% Dietary Fiber 5.3g 21% Sugars 9.5g Protein 29.7g
7.6.4
128
http://smilesandwich.com/2015/05/18/oven-baked-chicken-parmesan/
Looking for more easy chicken recipes?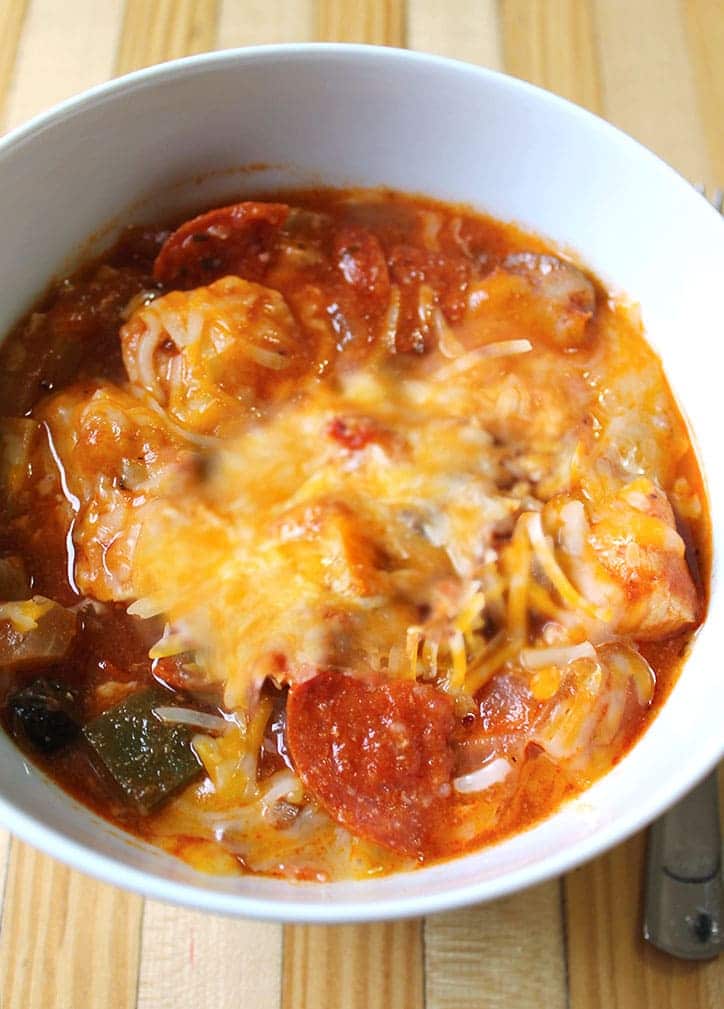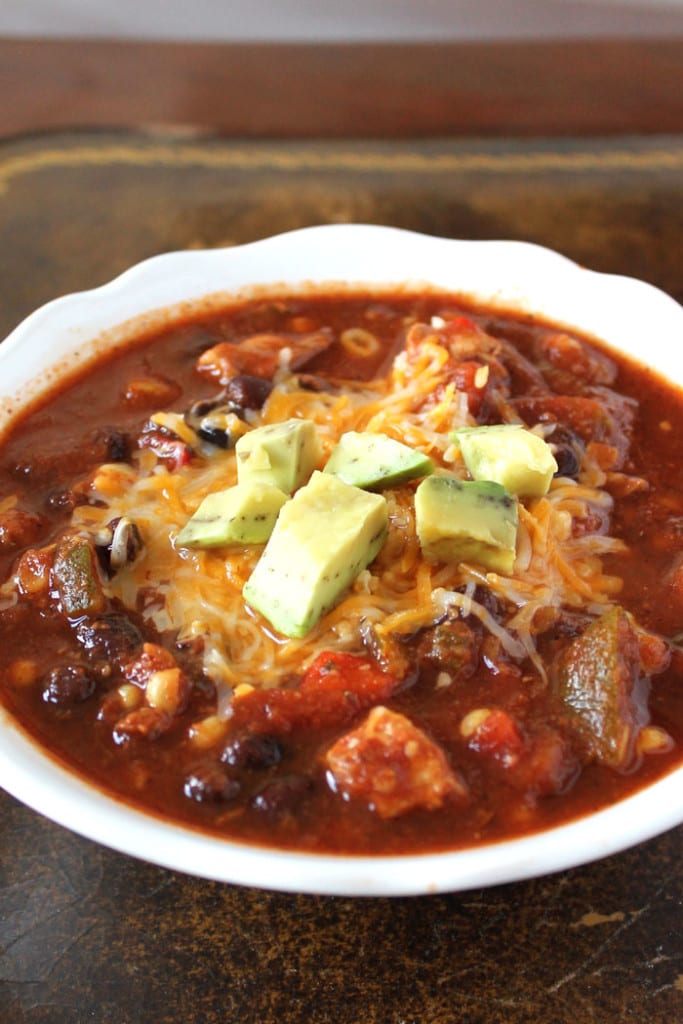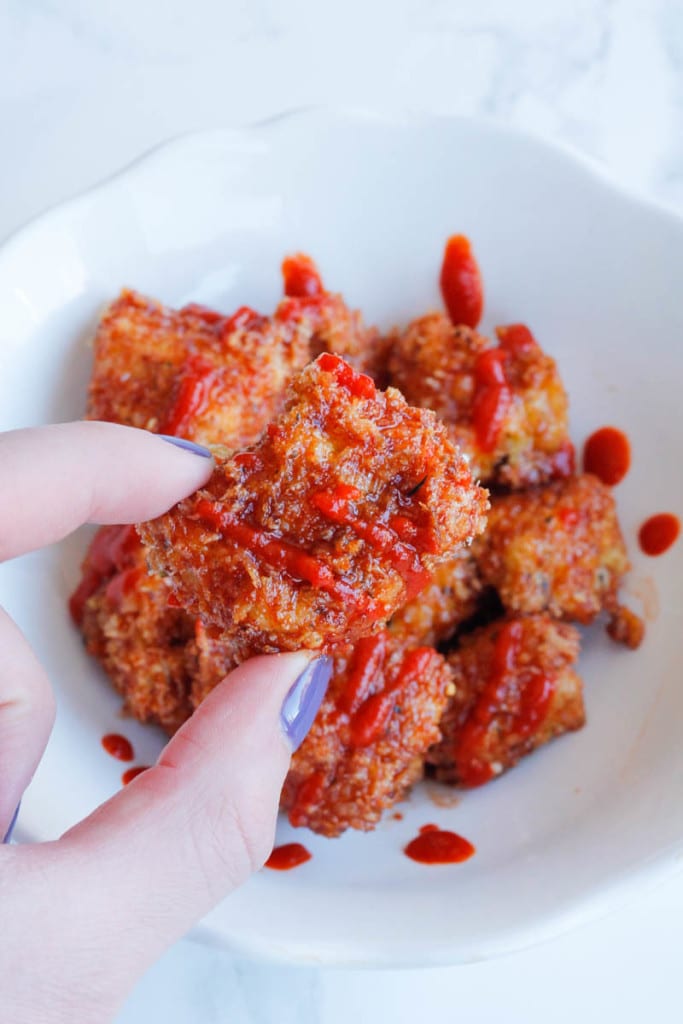 Sriracha Oven-Baked Chicken Bites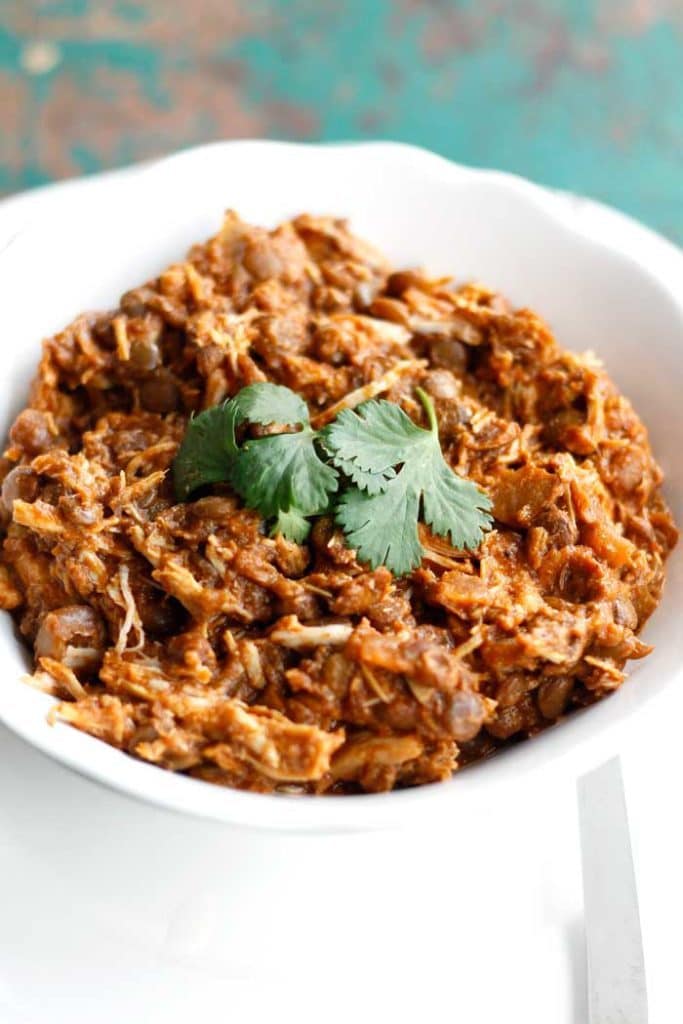 Crockpot Indian Chicken and Lentils