This Skinny Crockpot Chicken Chili is a lightened-up version of a football season classic! Better yet, it's a crockpot recipe that can be prepared ahead of time and left to cook all day.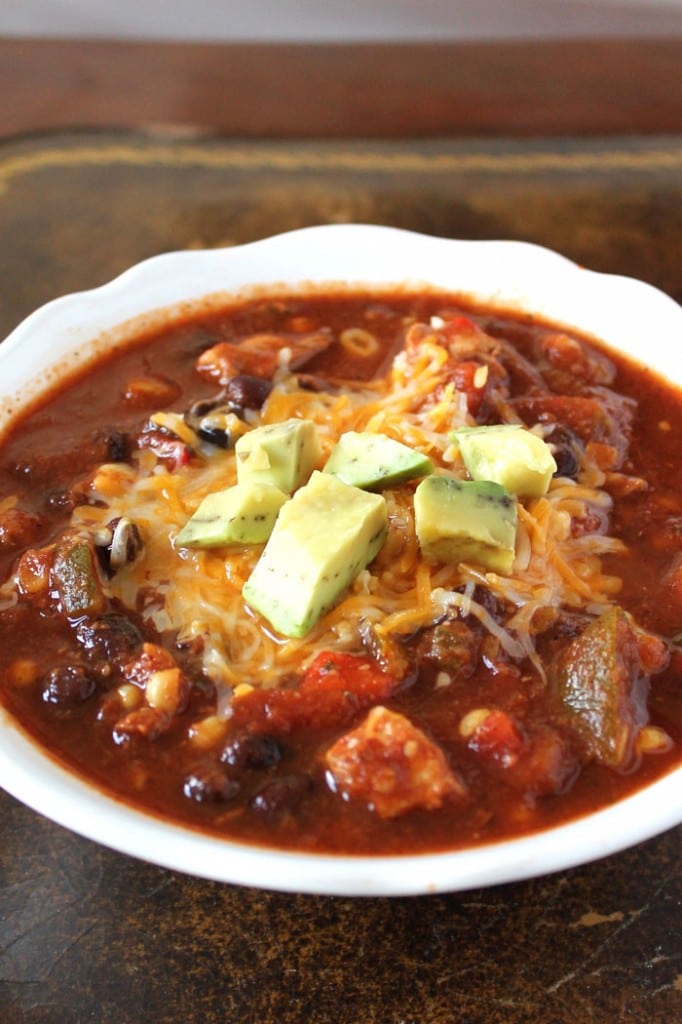 In case you don't know this about me … I'm a die-hard Chicago Bears fan. As far back as I can remember (pretty much my whole life), my dad has had season tickets to the Bears. When we were younger, my sisters and I would bundle up Christmas Story-style and form a hand-holding train while we weaved through the drunk, rowdy crowd into Soldier Field.
We've sat through 100+ degree games, and below 0 degree games. As long as we had a Chicago-style hot dog in our hand and some TDs on the board, we were happy.
When we weren't watching the games from our seats in the stadium, we were most likely watching at home with my dad's famous 5-Way Chili. In case you're unfamiliar, 5-Way Chili is your standard chili served with a buffet of delicious toppings to go on top. You can decide how many "ways" you want your chili, but you got to choose from macaroni noodles, cheese, sour cream, hot sauce, and …. of course …. Frito chips.
Now that I've grown into a working adult, I still try to make it to a few games per season with my dad, and I'm carrying on the tradition of Sunday chili. Only this Skinny Crockpot Chicken Chili is the lightened up version of Dad's 5-Way, and it's super stinkin' easy to make!
Throw this chili in your slow cooker in the morning and it will be ready by the time the game is over. Or, you can let it cook overnight or even while you're at work. With hearty chicken, black beans, corn and zucchini, this healthy chili recipe is filling and packed with veggies. Not to mention, it tastes great! Serve with a little cheese and avocado on top and you've got yourself a delicious fall meal.
Skinny Crockpot Chicken Chili
Ingredients
2 cloves garlic, minced
1/2 cup sweet onion, diced
1 cup zucchini, diced (optional)
1 cup fresh or frozen corn kernels
1.5 pounds (2-3) chicken breasts, cut into bite size pieces
1 (14.5 ounce) can fire roasted tomatoes with liquid
1 (6 ounce) can tomato paste
1 1/2 cups chicken broth
2 tablespoons chili powder
1/2 teaspoon cayenne pepper
1/2 teaspoon cumin
1/2 teaspoon black pepper
Kosher salt, to taste
1 (15.5 ounce) can black beans
¼ cup reduced fat cheddar cheese for garnish
Instructions
Combine all ingredients in a slow cooker. Cook on LOW for 6-8 hours or HIGH for 3-4.
Serve with cheese and avocado, if desired.
7.6.4
68
http://smilesandwich.com/2014/10/15/skinny-crockpot-chicken-chili/
You may also like Slow Cooker Meatball, Sweet Potato and Kale Soup!