These 15 Clean Eating Chicken Recipes are the perfect weeknight meals to work into your meal plan. 
Steak is great, but chicken is better for when you need a quick and clean dinner! That's where these 15 Clean Eating Chicken Recipes come in.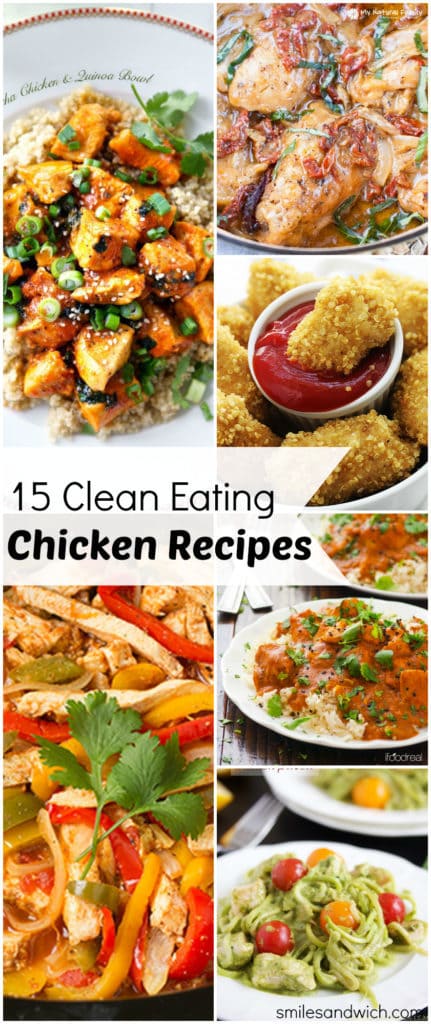 There are so many budget-friendly meals you can make with the good old chicken breast. Don't be stuck eating boring or bland chicken! Instead, make one of the meals on this list of 15 Clean Eating Chicken Recipes and you'll learn to love the chicken as much as me!
Another thing I love about these recipes is that many of them sneak extra veggies in. From chili, to fajitas, to burrito bowls over quinoa … the possibilities are endless!
So, save this list of 15 Clean Eating Slow Cooker Recipes for next time you need a clean and easy dinner recipe.
Creamy Sun-Dried Tomato Chicken – The photo of this chicken is drool-worthy.
Slow Cooker Chicken Fajitas – Any slow cooker recipe is approved by me.
Healthy Crock Pot Butter Chicken – SO many flavors in this chicken recipe.
Spicy Sriracha Chicken and Quinoa Bowl – Add some spice to your life.
One Pan Balsamic Chicken and Veggies – Hooray for one pan recipes and minimal dishes.
World's Best Baked Chicken – Best. In the world.
Clean Eating Chicken Salad – Eat over greens for an extra nutrient boost!
Skinny Crockpot Chicken Chili – Just dump in the ingredients go let it cook.
Sticky Slow Cooker Honey Pecan Chicken – Gotta give this one a try.
Slow Cooker Cashew Chicken with Vegetables over Quinoa – Takeout makeover!
Creamy Pesto Chicken "Pasta" – My favorite substitute for pasta.
Quinoa Chicken Nuggets – My inner child loves this one.
Clean Eating Chicken Korma – Not light on flavor.
Clean Eating Crock Pot Chicken Taco Bowls – Because Chipotle is too far away.
Slow Cooker Pizza Chicken – Substitute the pepperoni for more veggies!
Crispy Parmesan Garlic Chicken and Zucchini
Clean Eating Lemon Chicken Quinoa Soup
There you go! I hope you love these 15 Clean Eating Chicken Recipes as much as me. Now, BRB while I run to the grocery store for some breasts.