This One Pan Oven-Baked Chicken and Peppers recipe is an easy dinner recipe for glazed chicken and tri-colored peppers.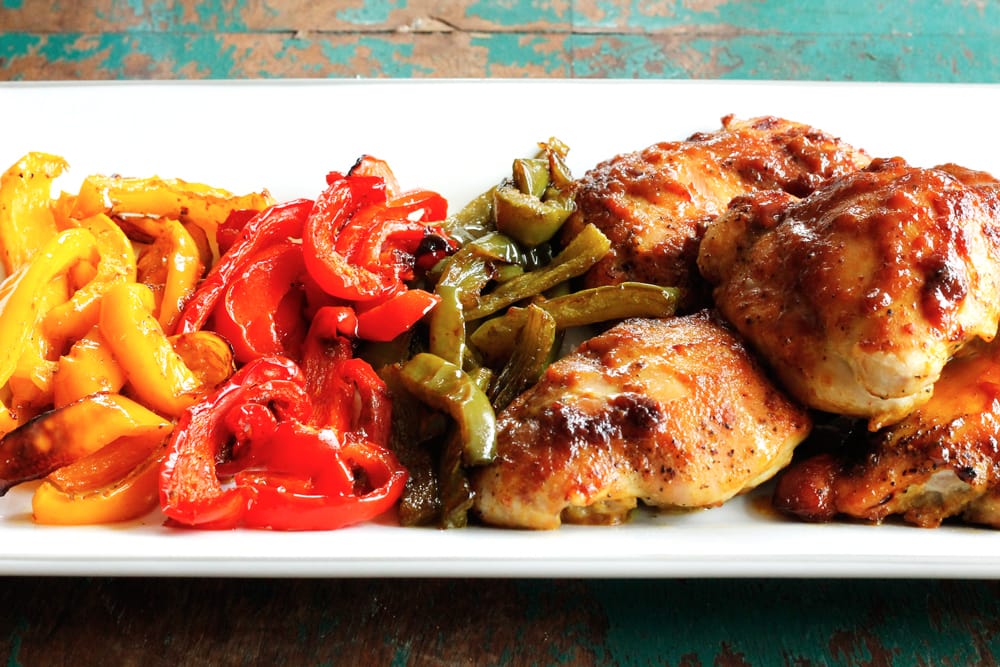 I've found the trick to eating more vegetables … It's to only eat the ones you actually like! Now I'm not a dietician, but I'm of the opinion that if you hate kale and love broccoli, just eat the darn broccoli. Even if that means eating broccoli every day … That's better than getting halfway through a kale salad and reaching for that bag of chips instead. Amiright?
For me, the list of vegetables I love is short: I do happen to love kale, mushrooms, broccoli, cauliflower, and PEPPERS!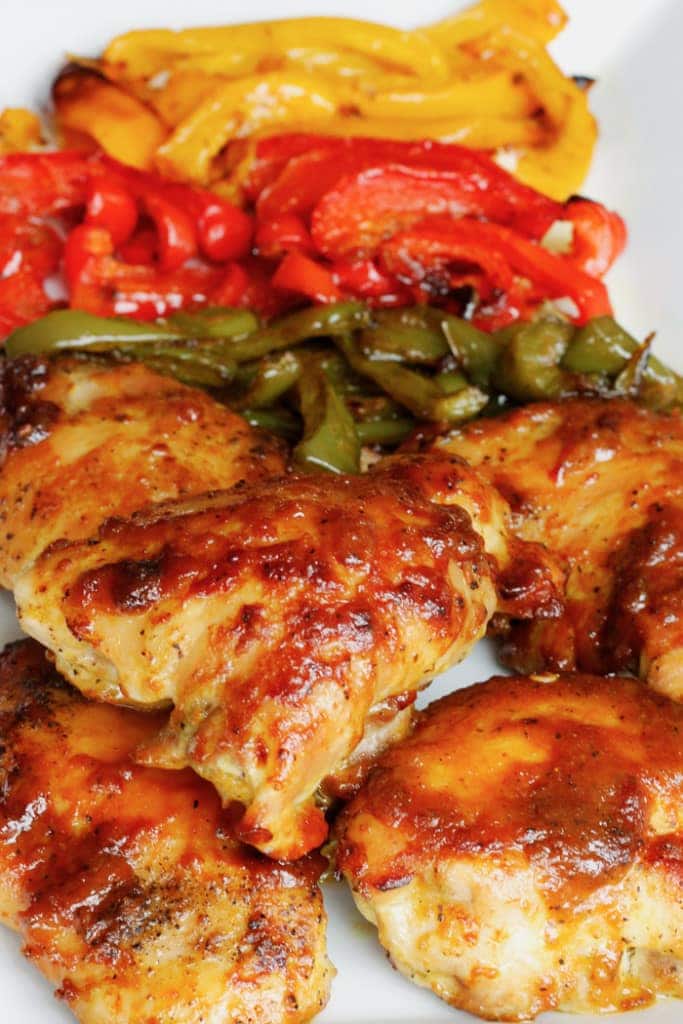 This One Pan Oven-Baked Chicken and Peppers recipe is a super simple dinner recipe that creates minimal dishes and requires very little effort.
The glaze creates such juicy, delicious chicken and also helps flavor the peppers. I used chicken thighs for this, but you can also use chicken breasts sliced in half lengthwise.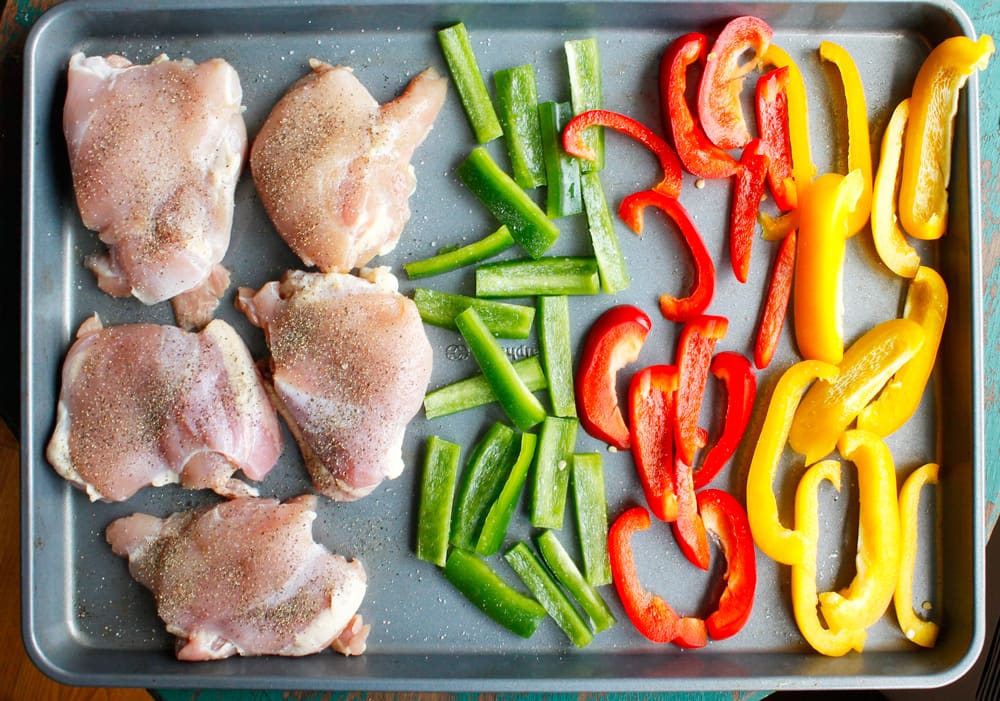 Now, since I'm lazy and seldom plan ahead, I don't even marinate the chicken in this recipe. I find you don't really need to.
However, if you want maximum flavor and really have your shit together, pop that glaze and chicken in a Ziploc and marinate away!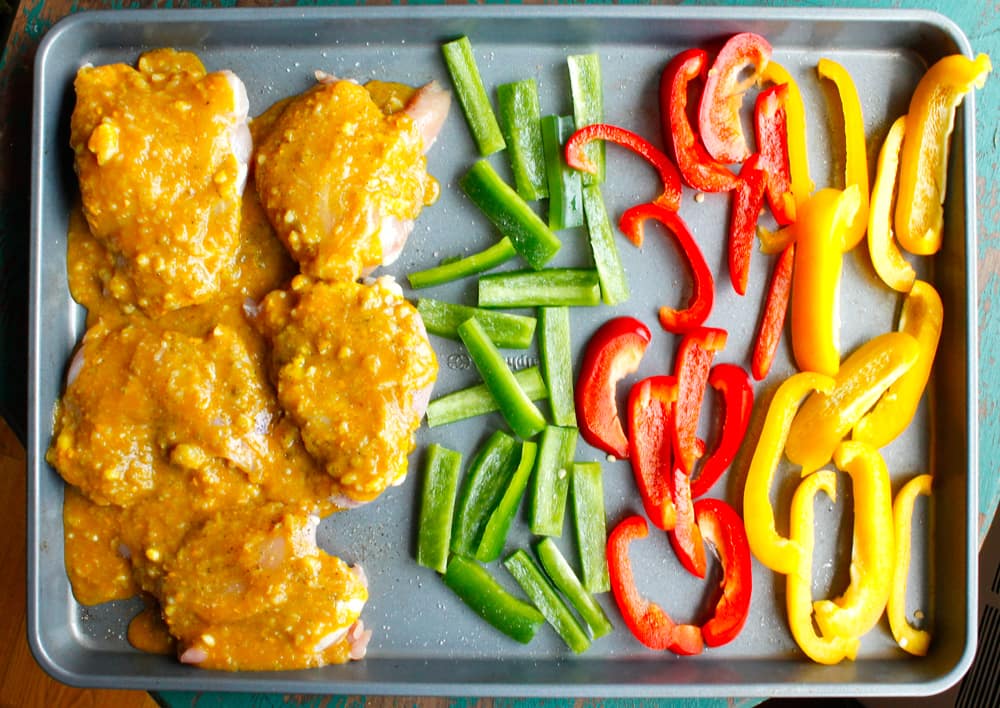 One Pan Oven-Baked Chicken and Peppers is great served over brown rice or quinoa with a side salad. Talk about a super easy dinner recipe!
The chicken comes out sticky and juicy and yummy and oh lawd I just want some right now.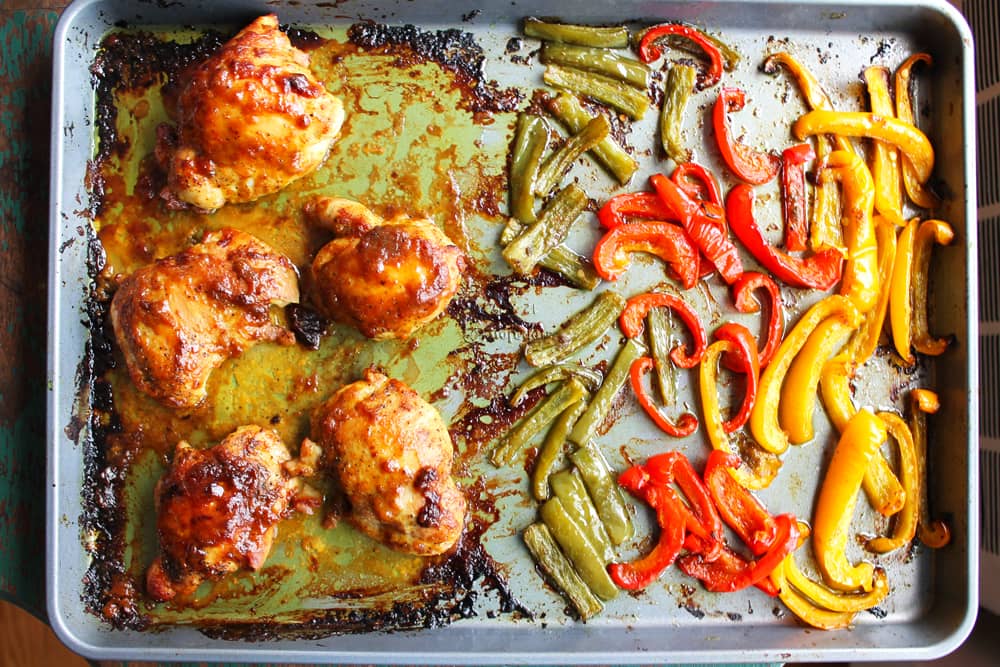 So if you're searching for a stupidly easy dinner recipe, give One Pan Oven-Baked Chicken and Peppers a try. It doesn't disappoint.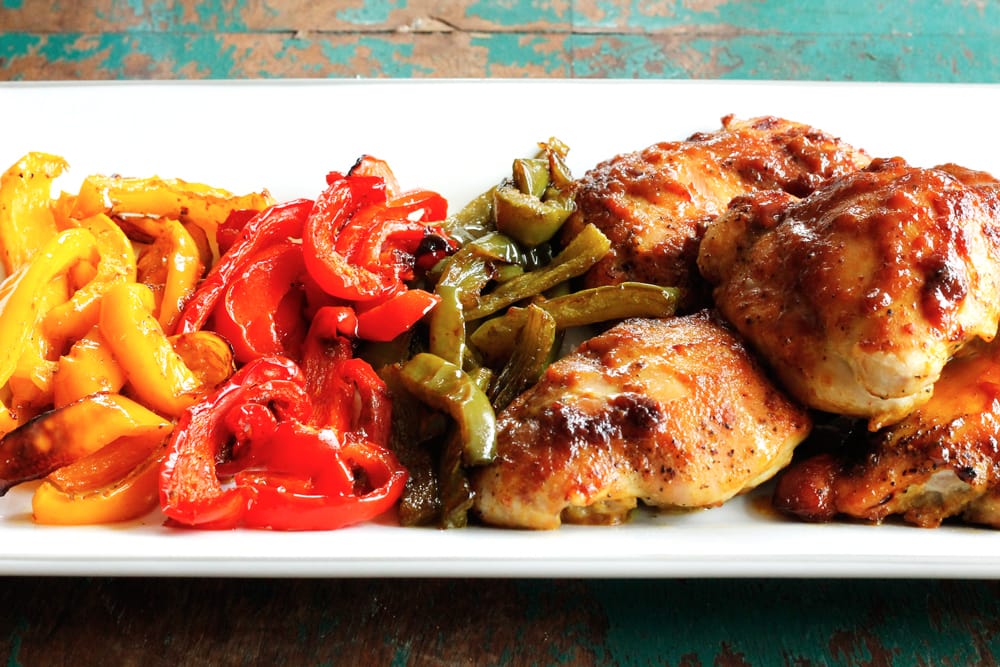 One Pan Oven-Baked Chicken and Peppers
45 minCook Time
45 minTotal Time
Ingredients
5 boneless, skinless chicken thighs or breasts
Red, Yellow and Green pepper, cut into slices
2 tablespoons butter
1/2 cup honey
1/4 cup mustard
1 teaspoon salt
1 teaspoon curry powder
2 tablespoons soy sauce
Instructions
Preheat oven to 375 degrees F. On a large baking dish, arrange chicken and peppers.
In a separate bowl, combine all remaining ingredients. Pour the glaze over the chicken to coat.
Bake for about 45 minutes, basting occasionally, until the chicken is done.
Alternatively, you can marinate the chicken in the glaze in a plastic bag for at least an hour or overnight.
Note: the peppers do get quite soft while cooking. If you like them a bit al dente, you can wait to add them until the last 20 minutes.
7.6.4
190
http://smilesandwich.com/2016/03/09/one-pan-oven-baked-chicken-peppers/