This One Pot Apple Pork Chops recipe is a delicious and low carb dinner recipe for fall! Pork chops are cooked in a skillet with an apple glaze.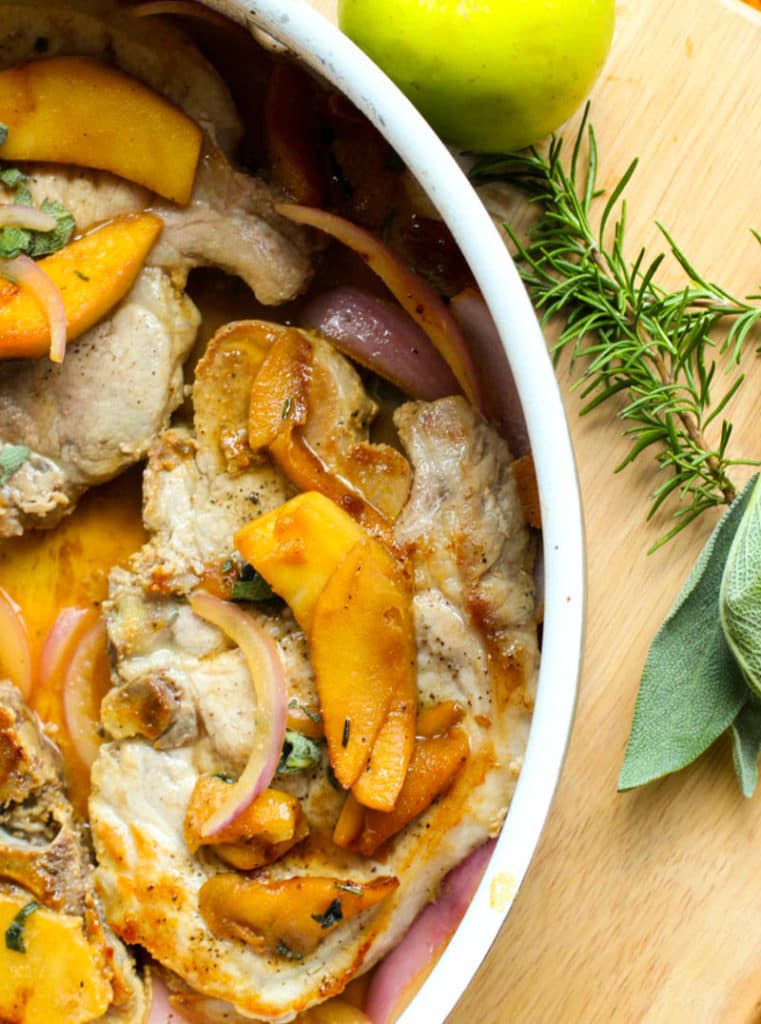 I have a bit of a thing for recipes that combine sweet and savory. I also have a major thing for pork chops and apple sauce … so a recipe that combines the two seemed like a no-brainer!
I recently took a trip to the apple orchard to hand pick some apples, and I gotta say, who knew there were so many kinds of apples?!
Of course fresh apples right off the tree always taste better, but I also believe that they're even more delicious when you hand pick them yourself. So pick we did.
And the most glorious outcome was this One Pot Apple Pork Chops.
I also made My Mom's Homemade Apple Sauce with them … aka the best thing that ever entered my mouth ever.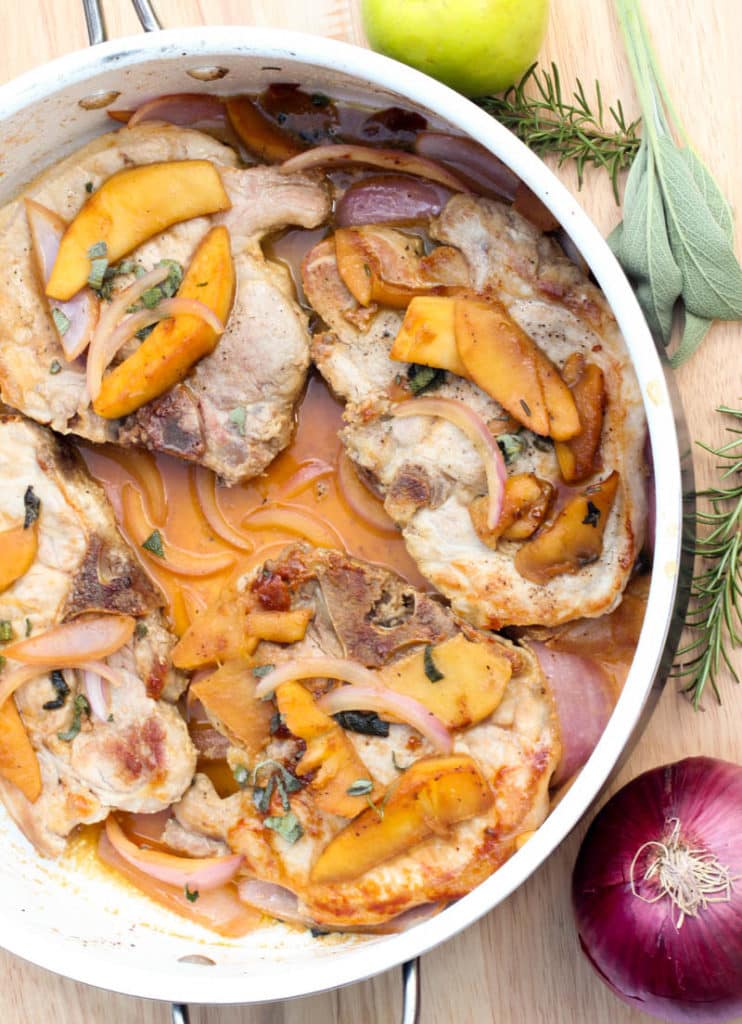 What I love about this recipe is that it's made in just one pan, so cleanup is super easy. Plus, it requires just a few fresh ingredients and is full of flavor.
I like to serve this meal with a nice fall salad, but it would also pair well with brown rice or mashed sweet potatoes on the side.
One Pot Apple Pork Chops is a healthy recipe for fall that the whole family is sure to love.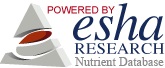 Ingredients
1.5 tablespoons olive oil, divided
4 bone-in pork chops
1 tablespoon fresh sage, chopped
1.5 teaspoons fresh rosemary, chopped
2 medium apples, thinly sliced
1 small red onion, sliced
1/2 cup chicken stock, unsalted
1 teaspoon Dijon mustard
Salt and pepper, to taste
Instructions
Sprinkle each pork chop with salt and pepper. In a large pan, heat 2 teaspoons oil. Cook the pork chops for about 5 minutes per side or until cooked through. Remove and set aside.
Add remaining oil, sage, rosemary, apples and onion to the pan. Sprinkle with salt and pepper. Cook about 4 minutes or until the onion is soft.
Add in chicken stock and mustard and stir with a whisk to combine.
Add pork chops back to the pan and continue to cook 2 more minutes. Serve and enjoy!
7.6.4
208
http://smilesandwich.com/2016/10/10/one-pot-apple-pork-chops/