Pizza Spaghetti Squash is a baked spaghetti squash casserole recipe that includes pizza sauce, cheese and toppings for a low carb recipe for pizza!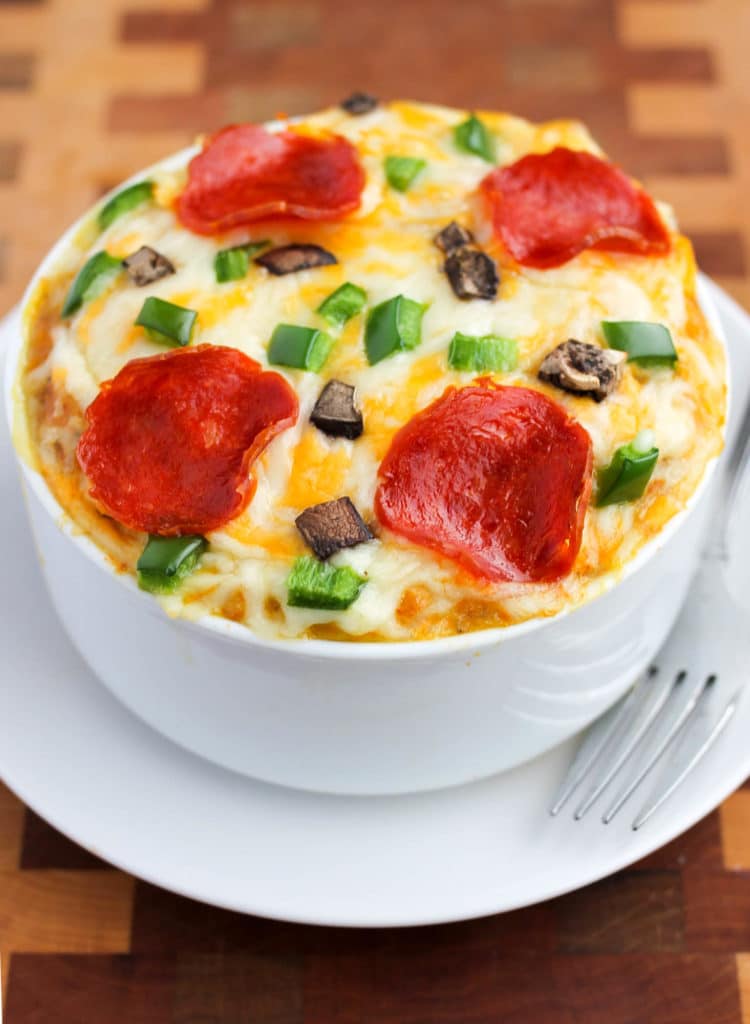 Another day, another spaghetti squash recipe.
I was so excited that one of my top recipes for 2017 is my Sausage and Peppers Spaghetti Squash Casserole. Spaghetti squash is one of my favorite low-carb alternatives to my favorite food (pasta), so I love making spaghetti squash casserole that reminds me of the pasta bakes my mom used to make.
I loved the sausage and peppers version so much that I made this Pizza Spaghetti Squash – it's a very similar recipe that uses pizza toppings as a healthier alternative to a big cheesy pizza pie.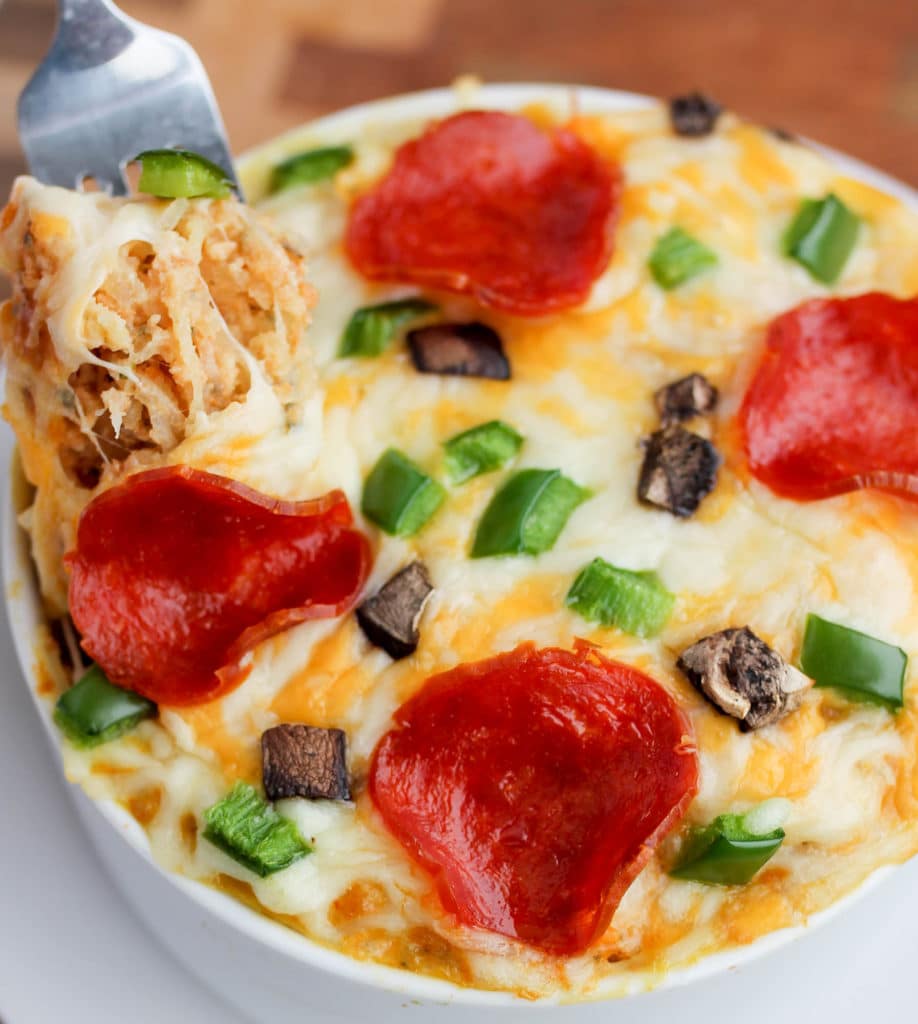 This recipe is a great way to use up leftover spaghetti squash. If I have a small amount of spaghetti squash leftover from a previous recipe, I halve this recipe and make the casseroles in individual bowls to serve 1 or 2.
I also love that Pizza Spaghetti Squash is super customizable – you can load it up with any toppings you like. Another reason I love baking this in individual bowls is that you can change up the toppings on each bowl according to what everyone likes.
You can also choose to mix in your toppings with the spaghetti squash mixture instead of just layering them on top – this packs even more vegetables into the dish.
The reason for the eggs in this recipe is that it binds the spaghetti squash together to make it into a thicker casserole texture that you can easily cut into squares or slices. You can definitely choose not to use the eggs if you don't mind the texture.
Next time you're looking for a low carb recipe that's a bit lighter than normal pizza, give this Pizza Spaghetti Squash a try! It's a healthy casserole recipe the whole family is sure to love.
Ingredients
1 medium spaghetti squash
2 cups pizza sauce (I use canned, you can use homemade!)
3 eggs, whisked
Fresh basil, salt & pepper, to taste
1 green bell pepper, diced
1 cup mushrooms, diced
1 medium onion, diced
1 cup turkey pepperoni slices
2 cups mozzarella cheese
Instructions
Preheat oven to 350 degrees F.
To cook the spaghetti squash, cut it in half, scoop out the seeds, and place it face down in a microwave safe bowl. Fill the bowl with 2 inches of water and microwave on high 5 - 10 minutes or until squash is soft. Remove from the microwave, wait until cool enough to handle and pull the strands of squash loose with a fork. Squeeze the squash with a cheese cloth or strain it through a fine mesh strainer to get all the extra liquid out.
Spray a large (5 qt) casserole dish with non-stick cooking spray. Mix the squash, pasta sauce, eggs and seasonings all together. (I do this right in the pan, but it can get messy. If you prefer, mix it all together in a large bowl then pour it into the casserole dish).
Sprinkle cheese on top of the squash mixture. Top with pepperoni, green pepper, mushrooms and onion (or use whatever toppings you like!).
Bake for 45 minutes to 1 hour, or until the top forms a slight crust.
7.6.4
261
http://smilesandwich.com/2018/01/03/pizza-spaghetti-squash/