This Sausage and Peppers Spaghetti Squash Casserole is an easy low carb recipe that replaces pasta with spaghetti squash.

Can we talk about casseroles? Every time I hear the word I think about dumping multiple cans of vegetables and cream of something soup in a dish and it totally grosses me out. Anyone else?
I wish someone would come up with a fancy name for casseroles. Sort of like how aioli is just a fancy word for mayonnaise. Let's work on that in 2017.
Because in reality, casseroles get a bad rep but can actually be super comforting and delicious.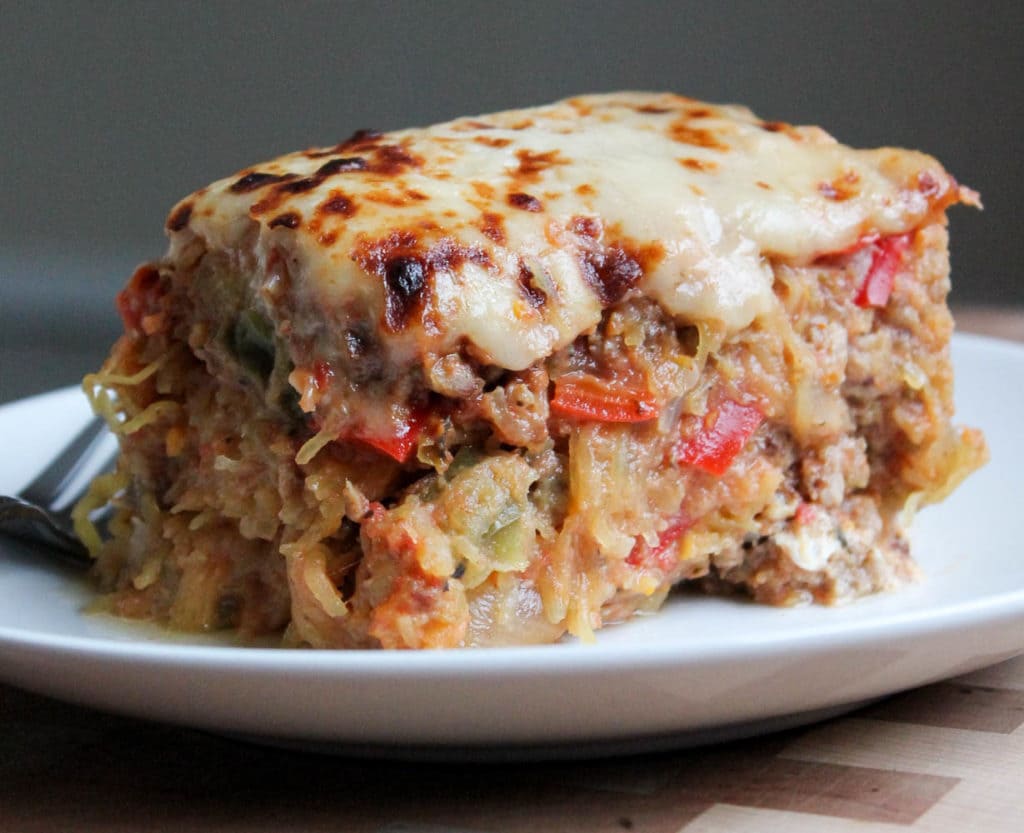 Like this Sausage and Peppers Spaghetti Squash Casserole! It's reminiscent of a pasta bake recipe, but uses spaghetti squash to create a low carb version.
Ground Sausage and bell peppers add a little something extra going on, so you're not just eating spaghetti squash for dinner. Because, as my brother in law would say, it's not dinner if it doesn't have meat in it.
I use jarred marinara sauce in this recipe to save time, but if you're feeling ambitious in the new year, go ahead and make your own! You go Glen Co Co.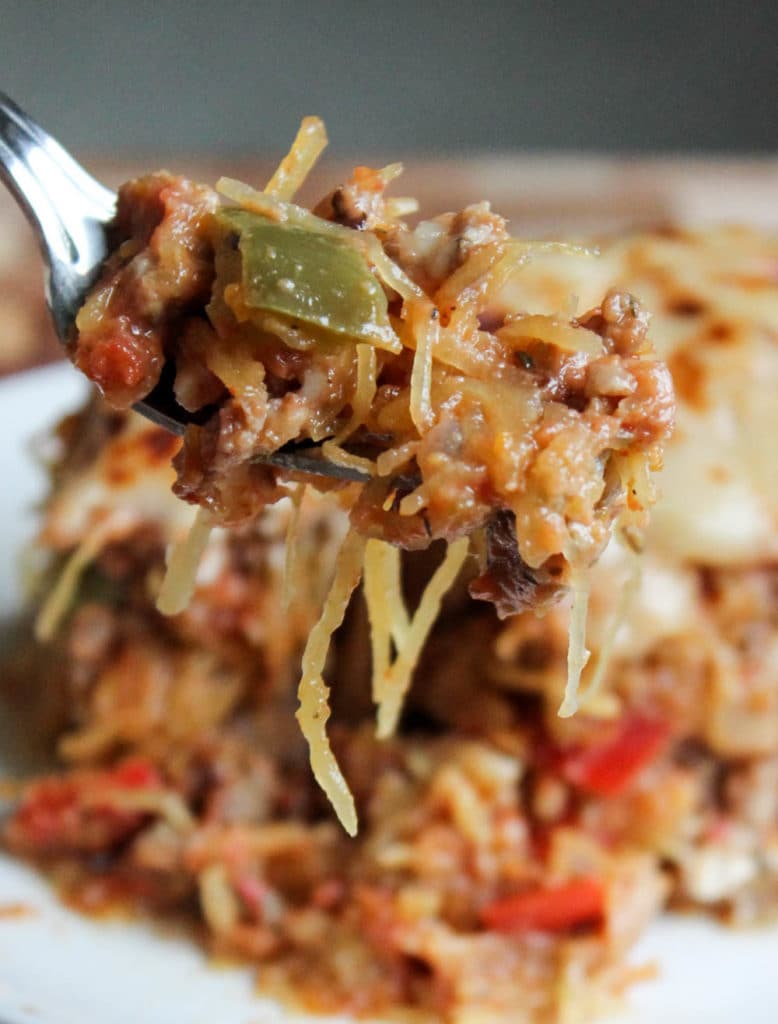 This Sausage and Peppers Spaghetti Squash Casserole is as easy as cooking the Sausage and peppers together, simmering with marinara sauce for a hot minute, then the squash gets added and you top the whole thing off with a healthy amount of cheese. For your soul.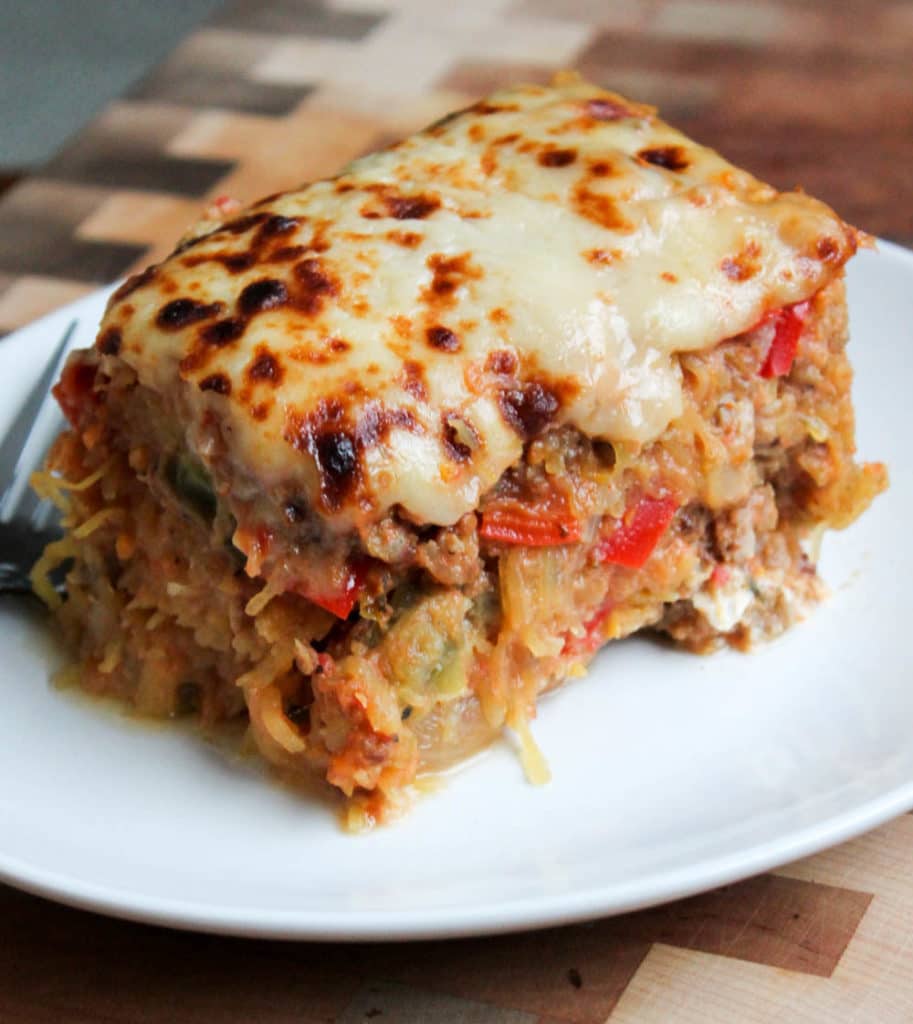 So, if you're looking for a low carb casserole recipe to start 2017 off right, give this Sausage and Peppers Spaghetti Squash Casserole a try. And if you want to trick your kids into eating it, avoid the word "casserole" all together. Call it a "bake".
And lie to them and tell them it's a new brand of spaghetti.
Just kidding, don't lie to your kids that's wrong.
I will make a great parent someday.
Sausage and Peppers Spaghetti Squash Casserole
Ingredients
1 medium spaghetti squash
1 pound Italian seasoned ground sausage
1 red bell pepper, diced
1 green bell pepper, diced
1 medium onion, diced
2 cups pasta sauce (I use canned, you can use homemade!)
3 eggs, whisked
2 cups mozzarella cheese
Fresh basil, salt & pepper, to taste
Instructions
Preheat oven to 350 degrees F.
To cook the spaghetti squash, cut it in half, scoop out the seeds, and place it face down in a microwave safe bowl. Fill the bowl with 2 inches of water and microwave on high 5 - 10 minutes or until squash is soft. Remove from the microwave, wait until cool enough to handle and pull the strands of squash loose with a fork. Squeeze the squash with a cheese cloth or strain it through a fine mesh strainer to get all the extra liquid out.
While the squash cooks, in a medium pan cook the ground sausage until no longer pink. Remove and set aside.
In the same pan, cook the peppers and onion until they're soft, about 5 minutes. Stir back in the sausage.
Spray a large (5 qt) casserole dish with non-stick cooking spray. Mix the squash, sausage mixture, and pasta sauce all together. Pour in the eggs and seasonings and mix to combine. (I do this right in the pan, but it can get messy. If you prefer, mix it all together in a large bowl then pour it into the casserole dish).
Sprinkle cheese on top of the squash.
Bake for 45 minutes to 1 hour, or until the top forms a slight crust.
7.6.4
221
http://smilesandwich.com/2017/01/06/sausage-and-peppers-spaghetti-squash-casserole/