Chicken Bacon Ranch Spaghetti Squash is a lightened up version of one of my favorite meals: chicken bacon ranch pasta!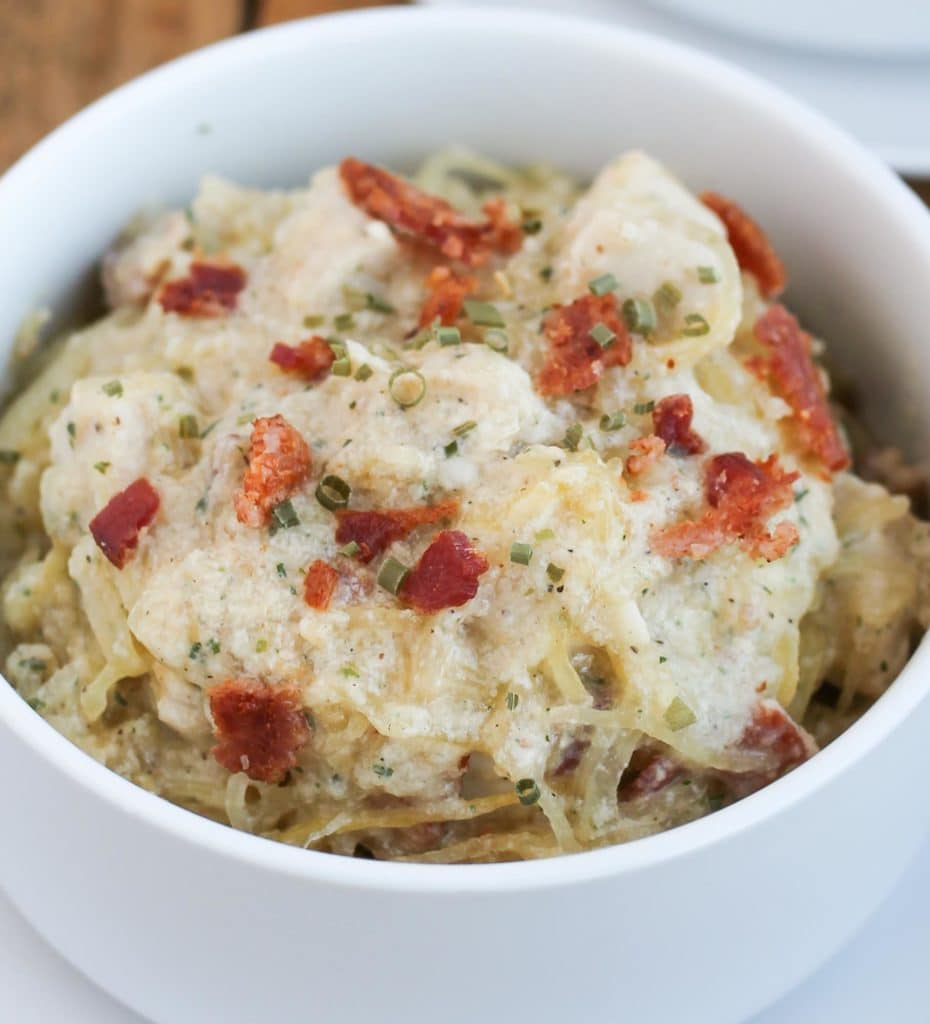 While everyone else is posting delicious baked goods for Christmas, I'm over here still obsessing about spaghetti squash recipes.
You may have noticed that dessert recipes are few and far between on my site. And that is because I can count on one hand the number of baked goods I've successfully made in my life.
So, I just stick to all things spaghetti squash!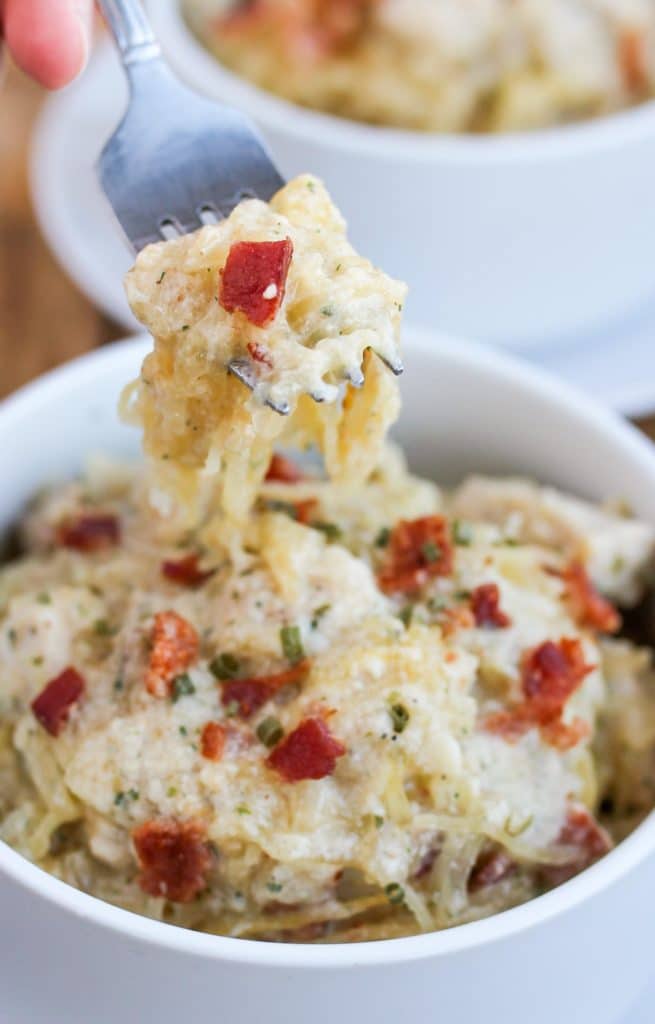 I loved the Chicken Bacon Ranch Spaghetti recipe I made so much, that I decided to try a spaghetti squash version and it turned out great!
I love using substitutes for pasta like spaghetti squash or zoodles. When combined with a creamy, ranch-y, bacon-y sauce … you pretty much can't go wrong!
I also love that this recipe comes together very quickly, especially if I cook the spaghetti squash ahead of time. It's as easy and cooking the bacon, stirring together the sauce, then assembling the whole dish!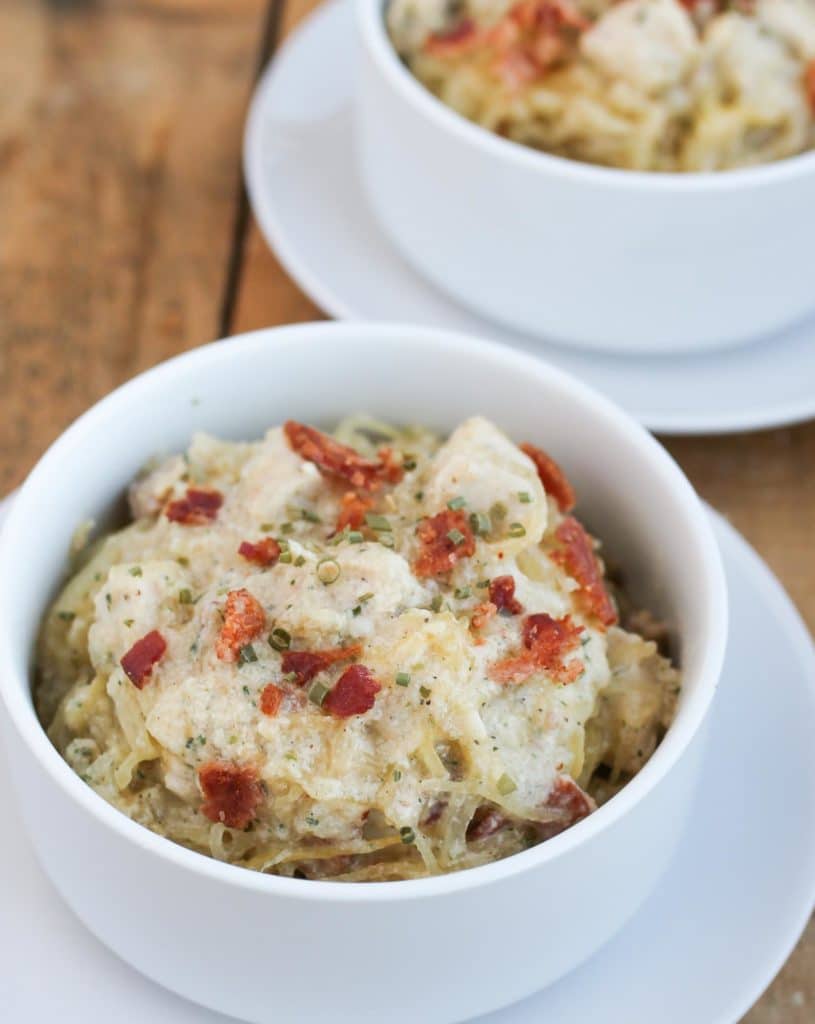 If you're looking for a lighter version of chicken bacon ranch pasta, give this Chicken Bacon Ranch Spaghetti Squash a try. I hope you love it as much as I do!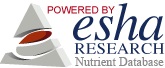 Chicken Bacon Ranch Spaghetti Squash
Ingredients
1 medium spaghetti squash
4 slices bacon
1/2 tablespoon unsalted butter
1 large chicken breast, cut into 1/2-inch pieces
1 cup fat free milk
1/2 package dry ranch seasoning mix
1 tablespoon flour
1/2 cup fat free shredded cheddar cheese
salt and pepper, to taste
4 chives, chopped for serving (optional)
Instructions
Pierce spaghetti squash with a knife multiple times on all sides. Place both halves face down in a large microwavable dish and microwave in 5-minute increments until soft. (You can also bake it in the oven). Remove the squash from the peel with a fork and squeeze it through a cheese cloth to remove extra moisture.
In a large skillet, cook bacon. Remove and let cool before crumbling. Set aside.
Drain bacon grease from the pan and add the butter. Season chicken with salt and pepper. Arrange chicken pieces in a single layer and cook on both sides until no longer pink.
Add milk, ranch seasoning mix and flour to the pan with the chicken. Stir to combine.
Continue cooking until the mixture thickens - should only take a few minutes. Add cheese and half the cooked bacon and stir until the cheese melts. Taste and adjust with more salt and pepper if needed. Add spaghetti squash to the pan and stir to combine.
Serve with reserved bacon and chives on top.
7.6.4
259
http://smilesandwich.com/2017/12/20/chicken-bacon-ranch-spaghetti-squash/
Check out more chicken bacon ranch recipes: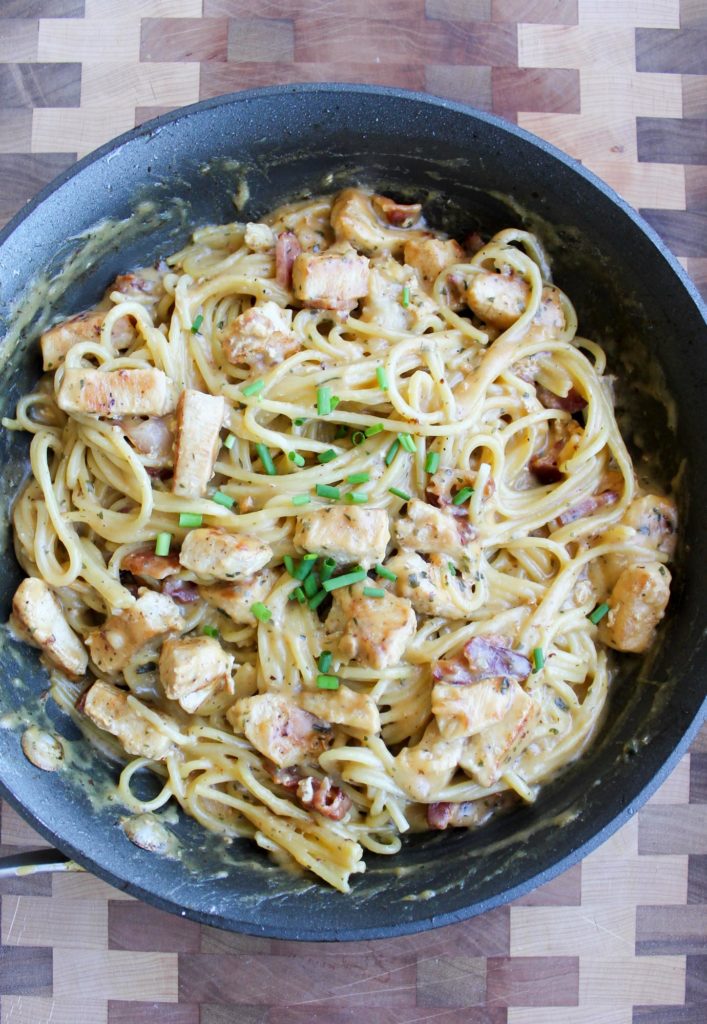 Chicken Bacon Ranch Naan Pizzas