Mediterranean Quinoa Salad in a Jar is the perfect healthy meal prep recipe for quick lunches all week!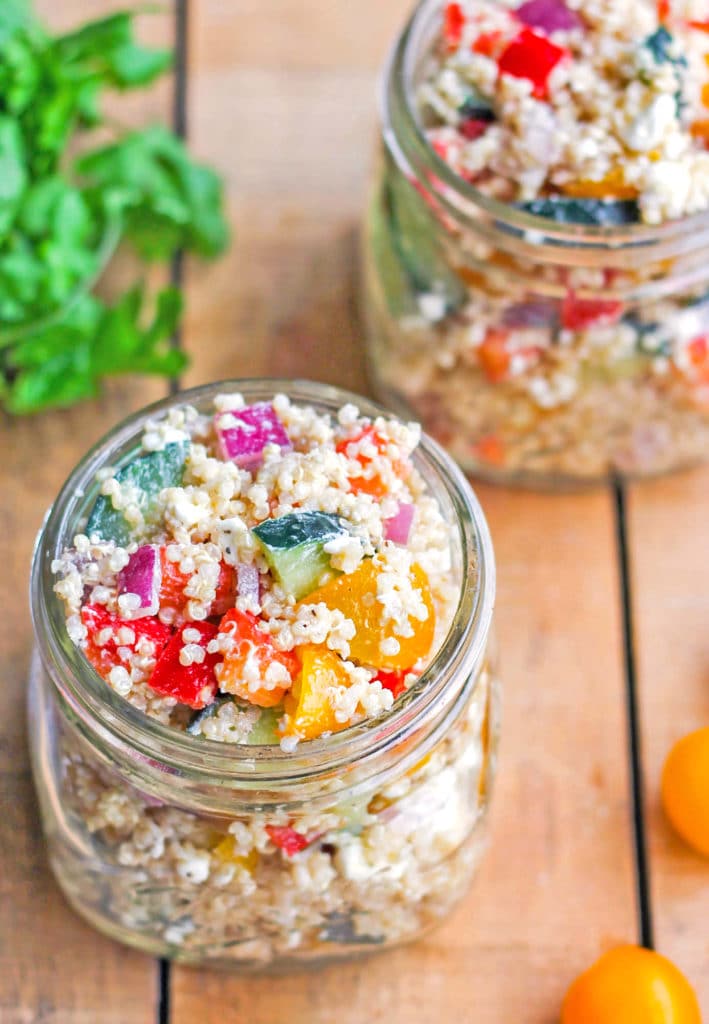 By the time this goes live I'll be well on my way to JAMAICA! I'm headed to the sunny vacation to attend a wedding, and I'm more than a little ready to get out of these freezing Chicago tempratures.
If you caught my goals post last week, you know that I've really been hitting the health hard this month in preparation for the trip. I'm so happy with my results (click here to read what changes I've made).
I love this salad so much that I ate it every single day for a week for lunches and dinners! I don't know where I originally found the recipe, but this is one I've been making since college. I whip together a big batch on Sunday and store it in individual jars for grab-and-go meals. It's so easy to make and makes my life SO much more convenient.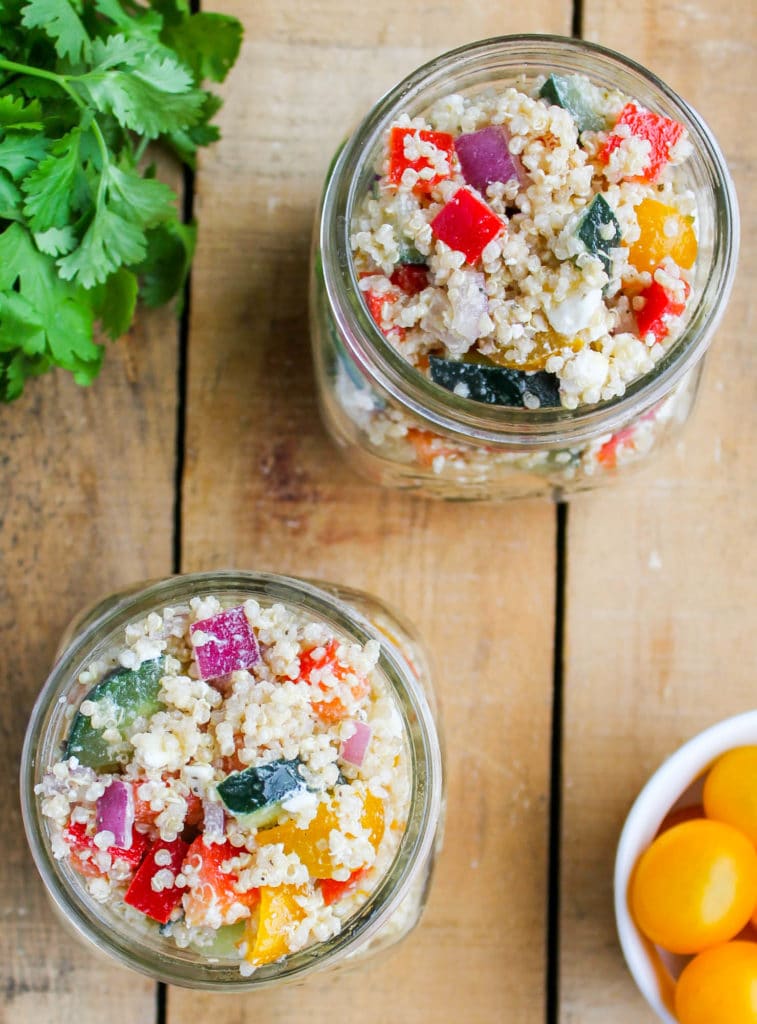 Mediterranean Quinoa Salad in a Jar
I normally just eyeball the ingredients, and throw in whatever I happen to have in the refrigerator for vegetables. I LOVE the combination of peppers, tomatoes, cucumbers, red onion and feta … whether it's in an omelet or in a wrap. Mediterranean food is one of my favorites.
When mixed with quinoa, these Mediterranean flavors are so delicious and filling – it's one of the few meatless lunches that actually keeps me full until dinner. (Or, until my afternoon snack let's be real).
Here are the jars I use:
Mediterranean Quinoa Salad in a Jar
Ingredients
1 cup uncooked quinoa, rinsed
2 cups water
1 red or green bell pepper, diced
1 cup cherry tomatoes, halved
1 cucumber, diced
1/2 red onion, finely diced
1/2 cup low fat crumbled feta cheese
1/4 cup extra virgin olive oil
Juice of 1 lemon
1/4 teaspoon dried basil
1/4 teaspoon dried oregano
Salt and pepper, to taste
5 mason jars
Instructions
Place quinoa and water in a stock pot. Bring to a boil. Remove from heat, cover, and cook for 20 minutes.
Add quinoa to a large bowl. Mix in bell pepper, tomatoes, cucumber, red onion and feta cheese until combined.
In a separate bowl, combine olive oil, lemon juice, and spices. Whisk until ingredients combine.
Pour dressing into the quinoa bowl and stir to mix it throughout. Divide the salad amongst 5 mason jars and store in the refrigerator until ready to eat!
7.6.4
265
http://smilesandwich.com/2018/01/28/mediterranean-quinoa-salad-jar/