Veggie-Packed Chicken Salad is a quick and easy chicken salad recipe that's perfect for meal prep!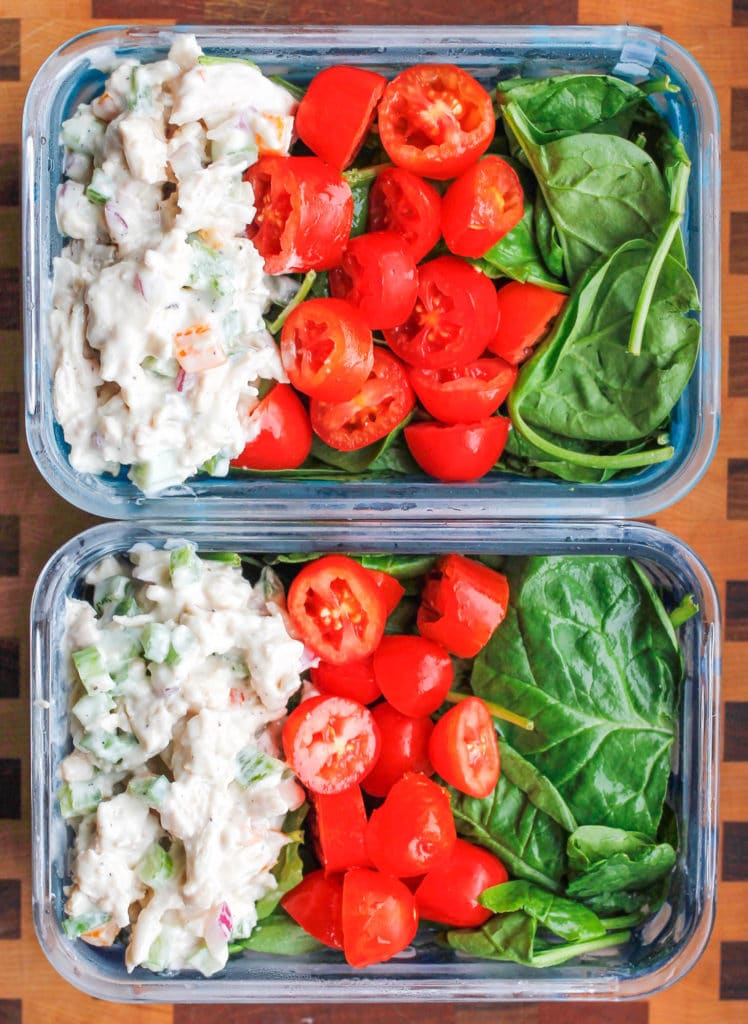 It's almost fall!! I couldn't be more excited for Sunday football, sweaters and boots, and all of the pumpkin and apple recipes.
Before I launch full-force into slow cooker soups and hearty cold-weather meals, I had to share this chicken salad recipe that's perfect for meal prep when you're short on time.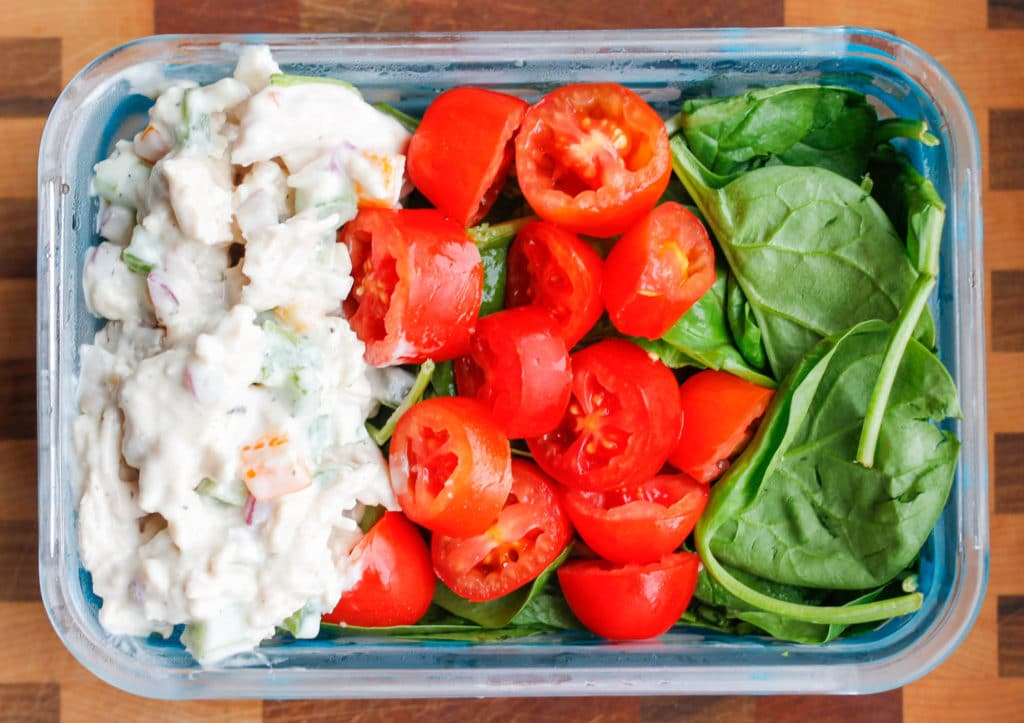 Like all chicken salad recipes, the hardest part of this one is chopping the vegetables. If you're a dork like me and actually find vegetable chopping relaxing, you'll definitely want to make this recipe over and over again.
I've made it a personal goal over the last month to try to get in as many servings of fruits and vegetables as possible each day. My goal is 9 servings! To help with this, here's what I do:
Breakfast smoothies – I find this is the easiest way to get a whole bunch of servings in from the start of my day. 3 cups of spinach + 1 cup of berries + protein and greens powder = at least 5 servings!
Meal prep – I'm one of those people who isn't fully satisfied without meat at a meal, so this one is hard for me. I try to split my plate to make sure I'm eating balanced meals: 1/4 meat protein, 1/2 vegetables and fruit, and sometimes 1/4 starch or grain.
Find sneaky ways to add vegetables to every dish! This chicken salad recipe is a great example. I added bell peppers and onion, and serve with spinach and tomatoes. I also love adding peppers, zucchini and eggplant to pasta sauce, soups that are packed with veggies, and veggie-packed egg scrambles.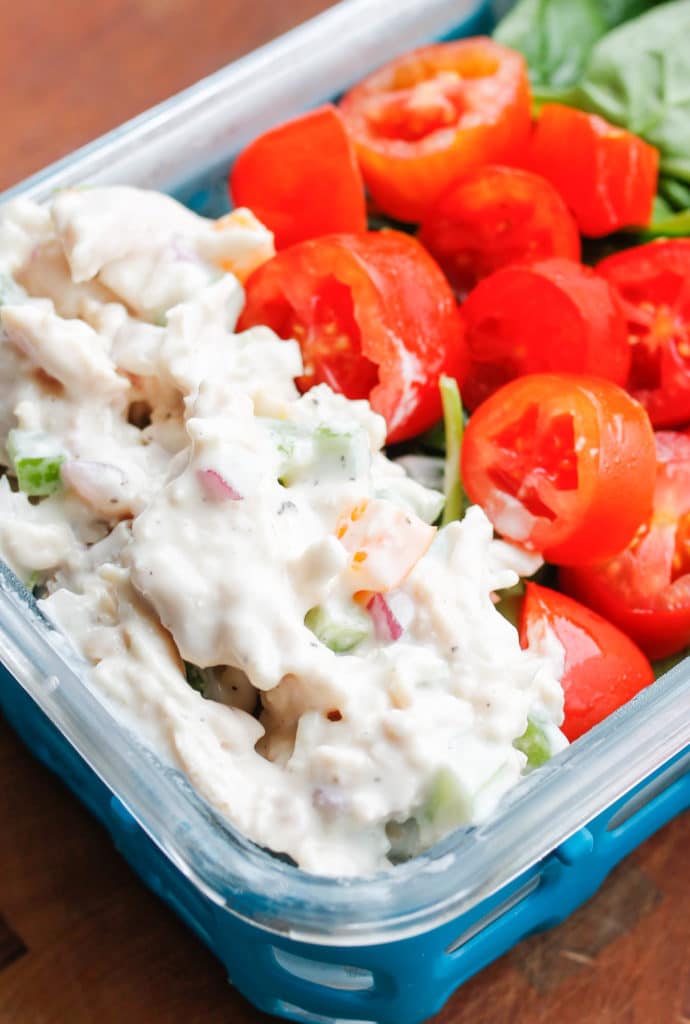 To make this chicken salad extra delicious and super easy, I used fully cooked smoked chicken from Costco. You can also use any grocery store rotisserie chicken to save time. Or, of course, bake or boil your own chicken.
Chicken salad makes the perfect meal prep recipe because it keeps really well for lunches all week. I served mine with spinach and tomatoes, but you can use any combination of vegetables to make a salad! I found that I didn't need dressing because I mixed the chicken salad in with the spinach.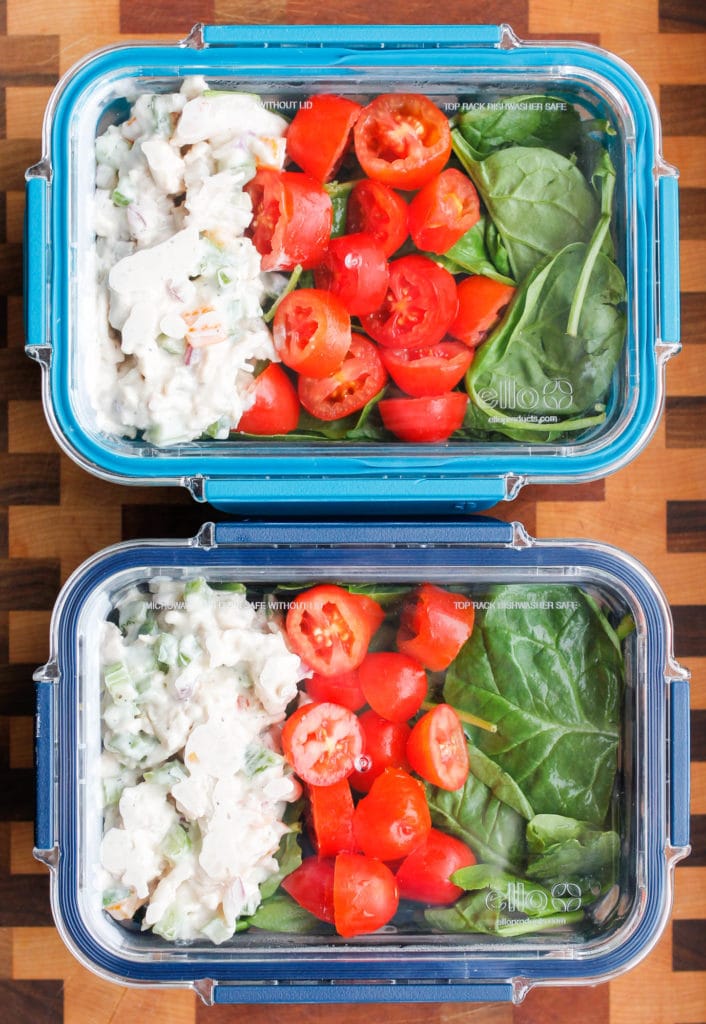 If you're looking for a no-cook, easy to make meal prep recipe, give this veggie-packed chicken salad a try. It's the perfect way to sneak in some extra vegetables into your day! This chicken salad can also be served with crackers at a party. It's a definite crowd pleaser.
Shop the items featured in this post:
Veganaise – tastes much better than mayonnaise in my opinion