In exactly 15 days I will be cruising to the Western Carribean, and considering temperatures are well below zero here in good old Chicago, to say I'm excited is a vast understatement. Now of course I'm an advocate of having a healthy lifestyle all year long, but sometimes a girl just needs to go on one of those short-term intense "diets." Like, for example, after drinking and eating everything in sight during the holidays mere weeks before she has to be seen in a bikini.
Ipso facto: today starts my 15-day modified paleo challenge. Now, I did paleo for the better part of an entire summer before, and my only complaint is that it's a loooot of meat. I'm not a fan of red meat, but am willing to give it a try for the sake of this challenge. We'll see how it goes.
To keep myself accountable, of course I'm going to document everything I make, starting with this Paleo Sweet Potato Scramble. The most important thing to keep in mind when doing a challenge like this is, you HAVE to plan ahead. If you fail to plan, you better plan to fail. I'd suggest cooking on the weekends and freezing or refrigerating breakfasts and lunches.
Normally I eat a Greek yogurt every single day for breakfast because it keeps me full until lunch. But, since dairy is a no-no for cavemen, this scramble is something I can reheat for quick breakfasts during the week. The eggs and bacon are great protein while the sweet potato has filling fiber. Reheated eggs are not ideal, but the sacrifice must be made.
This isn't the sexiest meal, but it tastes really really good. Trust.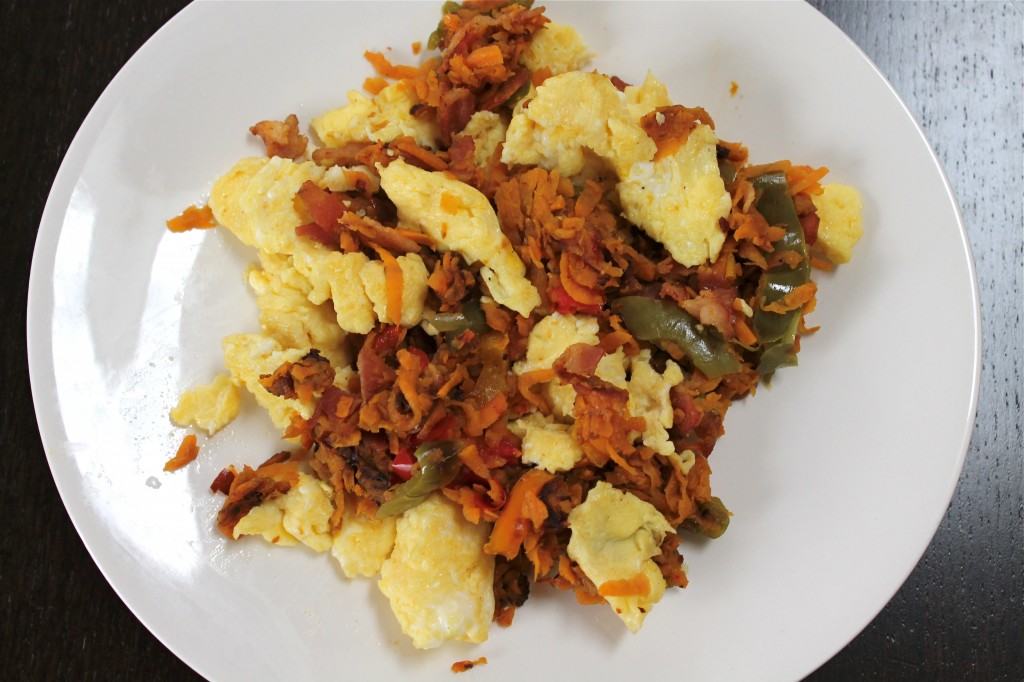 Paleo Sweet Potato Scramble
What You Need:
1 sweet potato, peeled and grated
1/2 cup red, green and yellow peppers (mine was a frozen blend)
3 slices organic uncured turkey bacon
2 eggs and 3 egg whites
Coconut oil
Salt, pepper and red pepper flakes, to taste
What You Do:
1. Cut up your bacon into small pieces and fry it, set aside. In the same pan, saute the peppers in coconut oil until soft and set aside with the bacon. Next, add more coconut oil to the same pan and throw in your grated sweet potato. Cook until soft.
2. Add the peppers and bacon back in the pan with the sweet potatoes and stir. Turn the heat down to low.
3. In a separate pan, scramble your eggs. Add the eggs into the pan of sweet potato mixture. Season with salt, pepper and red pepper flakes and enjoy!
Check back here to follow me on my get-cruise-ready-quick adventure.