I was going to go ahead and take credit for this masterpiece, but decided it was unfair since the only part I had in it was sipping wine while watching my sister make it. And, of course, eating it. But what would a great recipe be without people to eat it?! So, as far as I see it, I was in fact an important contributing factor in making of this Italian feast.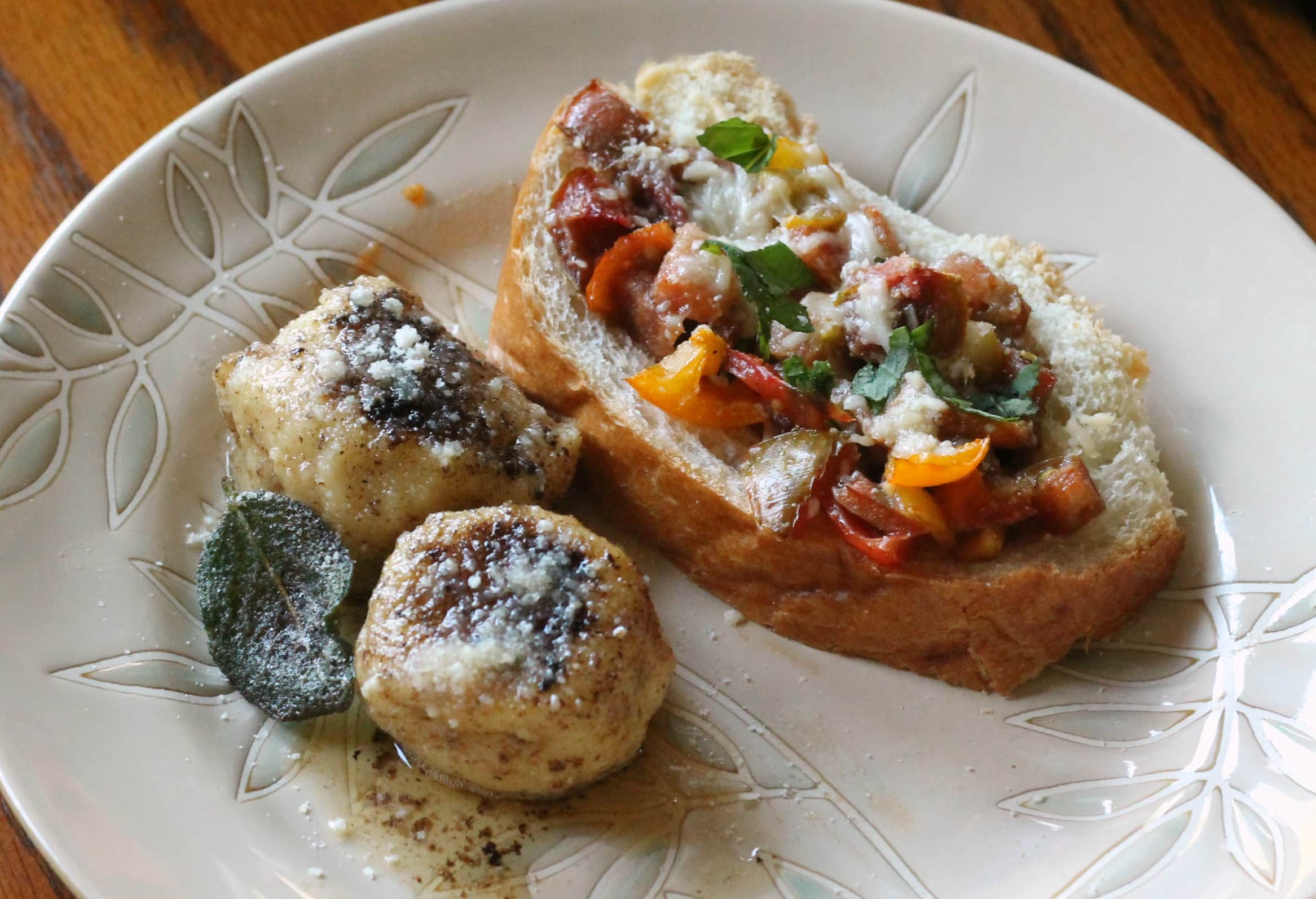 My sister is going to Italy next week, and to prepare she took an Italian cooking class. Although I previously thought of gnudi as being something completely non food-related starting with an 'n' (har har), my eyes have been opened to gnudi – the naked ravioli. When paired with heirloom tomato bruschetta, you have a nearly perfect appetizer line-up.
I stole this easy bruschetta recipe from my sister to post, since I love bruschetta but only ever have it when I visit North Carolina. A crate of small heirloom tomatoes was $5 at the farmer's market, and most other produce was much cheaper here than in Chicago. If you're looking for a way to use farmer's market vegetables (tomatoes and basil), or want to learn how to make bruschetta, here it is. I can't claim ownership of this recipe for bruschetta – sharing it is about the best I can do.
Easy Homemade Bruschetta Recipe
What you need:
1 loaf Italian bread
1 pound cherry heirloom tomatoes (or 2 large)
1 clove garlic, chopped
2 Tablespoons olive oil
1 Tablespoon balsamic vinegar
1/2 cup Parmesan Reggiano
Fresh basil leaves, chopped (for garnish)
Salt and pepper, to taste
What you do:
1. Preheat oven to 350 degrees F.
2. Slice bread and arrange on greased cookie sheet.
3. In a medium bowl, mix chopped tomatoes, garlic, olive oil, vinegar, salt and pepper. Top each bread slice with the tomato mixture and Parmesan.
4. Bake for 12 minutes or until desired crispiness. Sprinkle with extra Parmesan and basil.