Ground Beef and Cabbage Soup is a quick and easy beef and vegetable soup that's perfect for using up extra garden vegetables.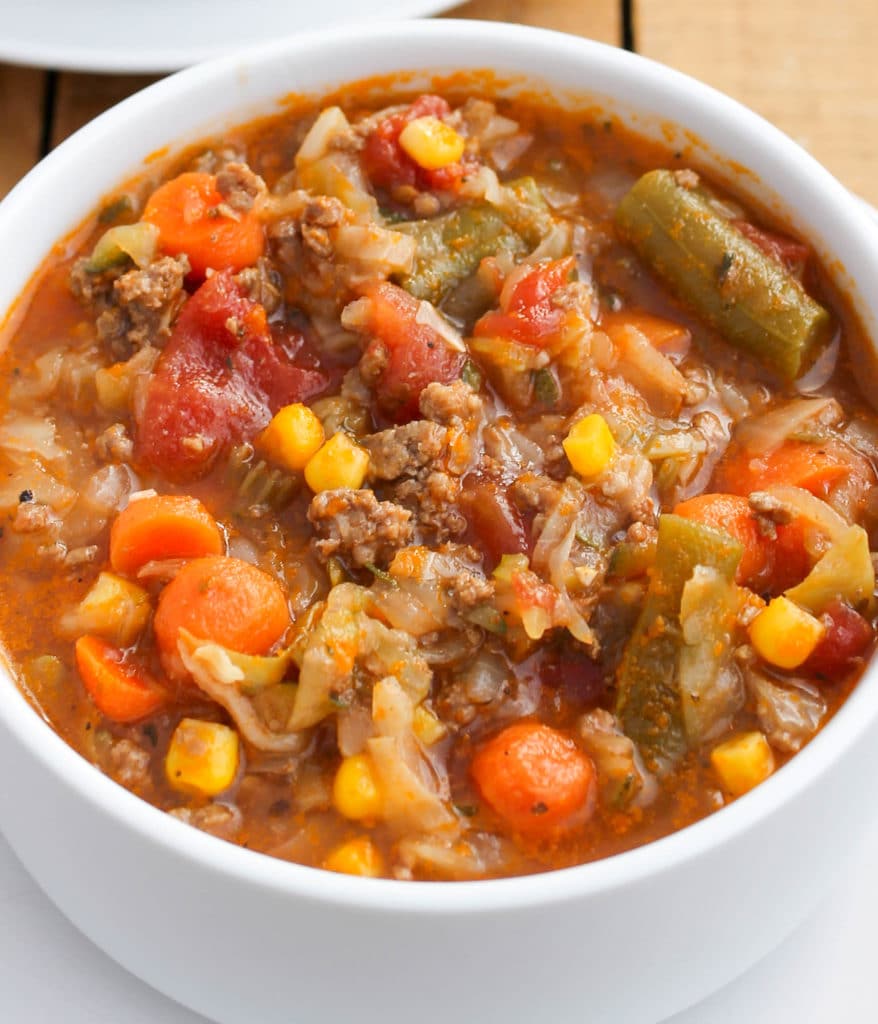 I almost called this recipe "clean out the freezer soup," but there's just something sort of unappetizing about that name, no?
However, that's exactly why I love this soup so much. If you're as blessed up as I am, you may have family members who share the bounty of their garden produce with you. Or, you may grow your own garden (to which I envy your green thumb … I recently killed a bamboo).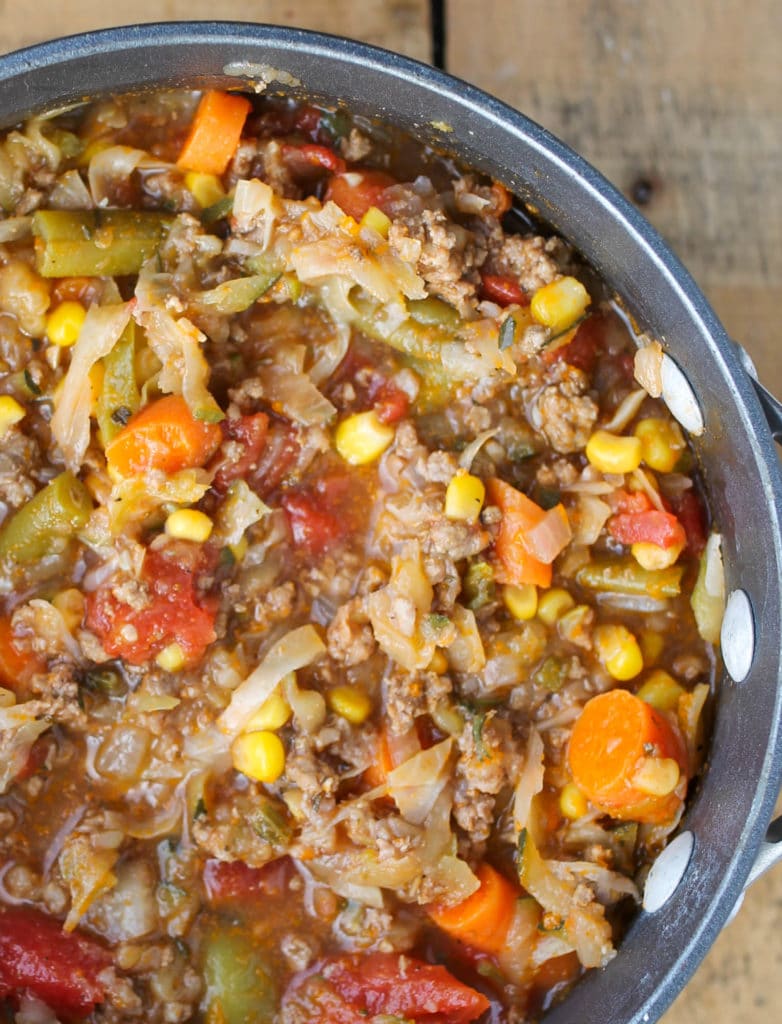 Ground Beef and Cabbage Soup is perfect for using up garden vegetables! Ground beef and cabbage are the real stars of this soup, but anything you have on hand, fresh or frozen, also makes a great addition. Since I've made this soup countless times, I've used green beans, corn, zucchini, carrots, peas, onions, etc, etc.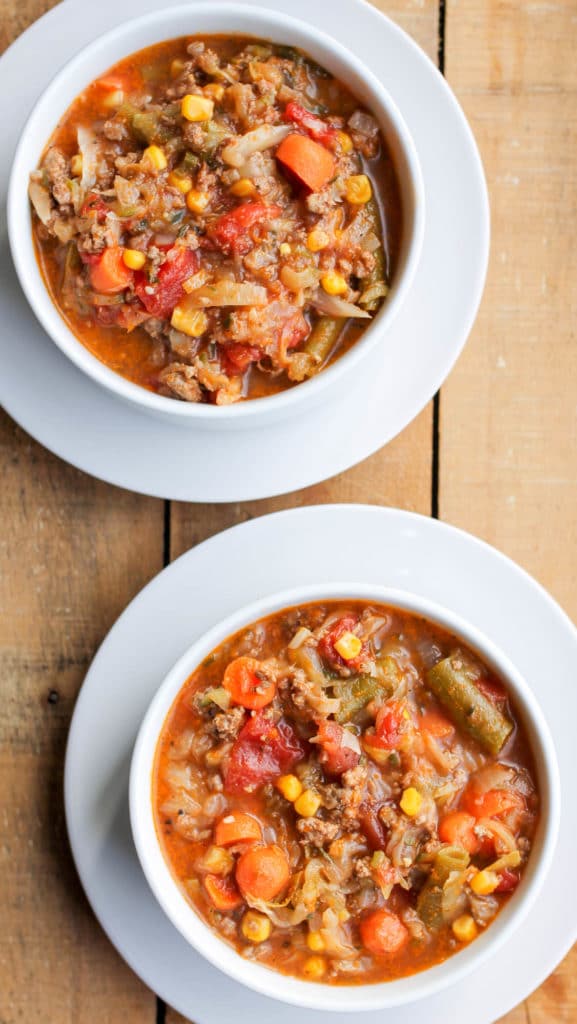 Variations of this soup have been made in my family for years, like my super popular recipe for My Mom's Old-Fashioned Vegetable Beef Soup. The difference with this recipe is the addition of cabbage!
The simple tomato soup base is flavorful enough that the vegetables absorb its flavor, and the ground beef is the perfect budget-friendly addition to make it a hearty meal.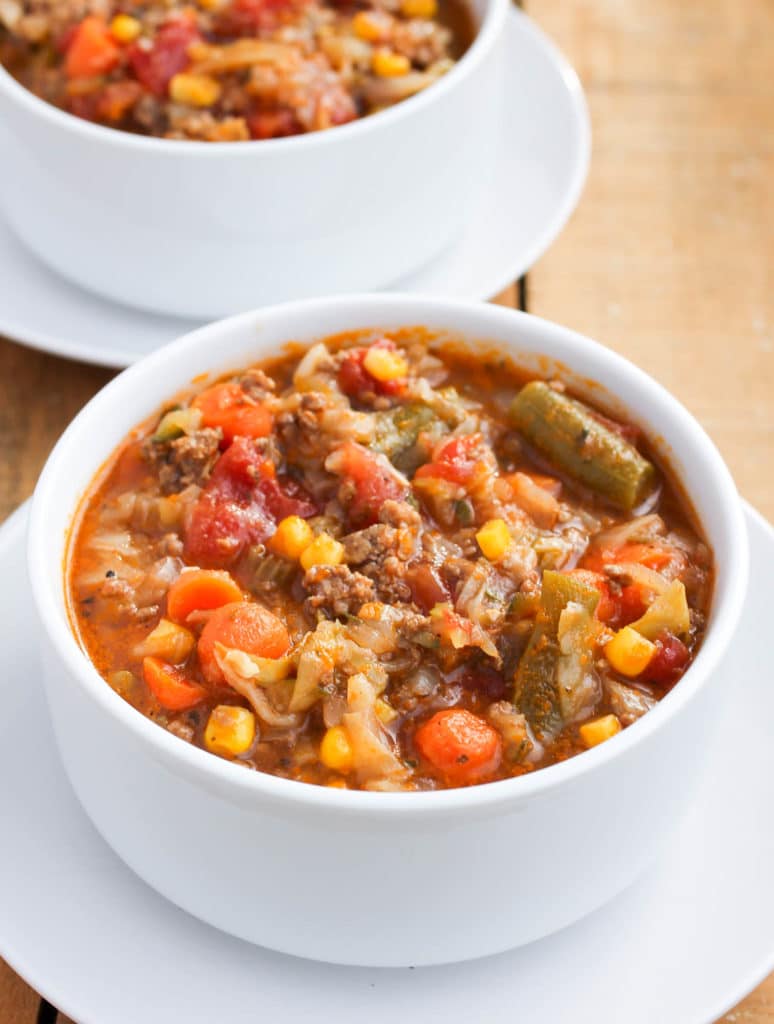 Next time you're looking for a quick and easy dinner recipe, give this homemade cabbage, beef and vegetable soup recipe a try. It's a family favorite!
Ground Beef and Cabbage Soup
Ingredients
1 pound ground beef
1 tablespoon olive oil
4 large carrots, chopped
1 bag frozen seasoning blend (or just chopped onions)
1 head cabbage, shredded
1 bag frozen green beans
1 bag frozen corn
Salt and pepper, to taste
1 (32 oz) container beef broth
2 (10.75 oz) cans tomato soup
1 (10.75 oz) can filled with water
Salt and pepper, to taste
Instructions
In a large stock pot, cook ground beef until no longer pink. Remove and set aside. Drain fat.
Add olive oil to the same pan. Saute carrots and seasoning mix until tender. Add remaining vegetables, ground beef, beef broth, tomato soup, water, salt and pepper to the pot. Stir to combine.
Bring to a boil, lower the heat, cover and simmer for at least 30 minutes.
Add water as desired while it cooks if vegetables soak up too much of the broth.
7.6.4
267
http://smilesandwich.com/2018/02/12/ground-beef-cabbage-soup/