In my mind, learning to make homemade bread pretty much puts you in the I'm-all-that-is-woman-I-can-do-anything category. The only problem with that is, making bread is a darn process, and who has time? Well, maybe on the weekends, but when I want homemade spelt bread, I want it now.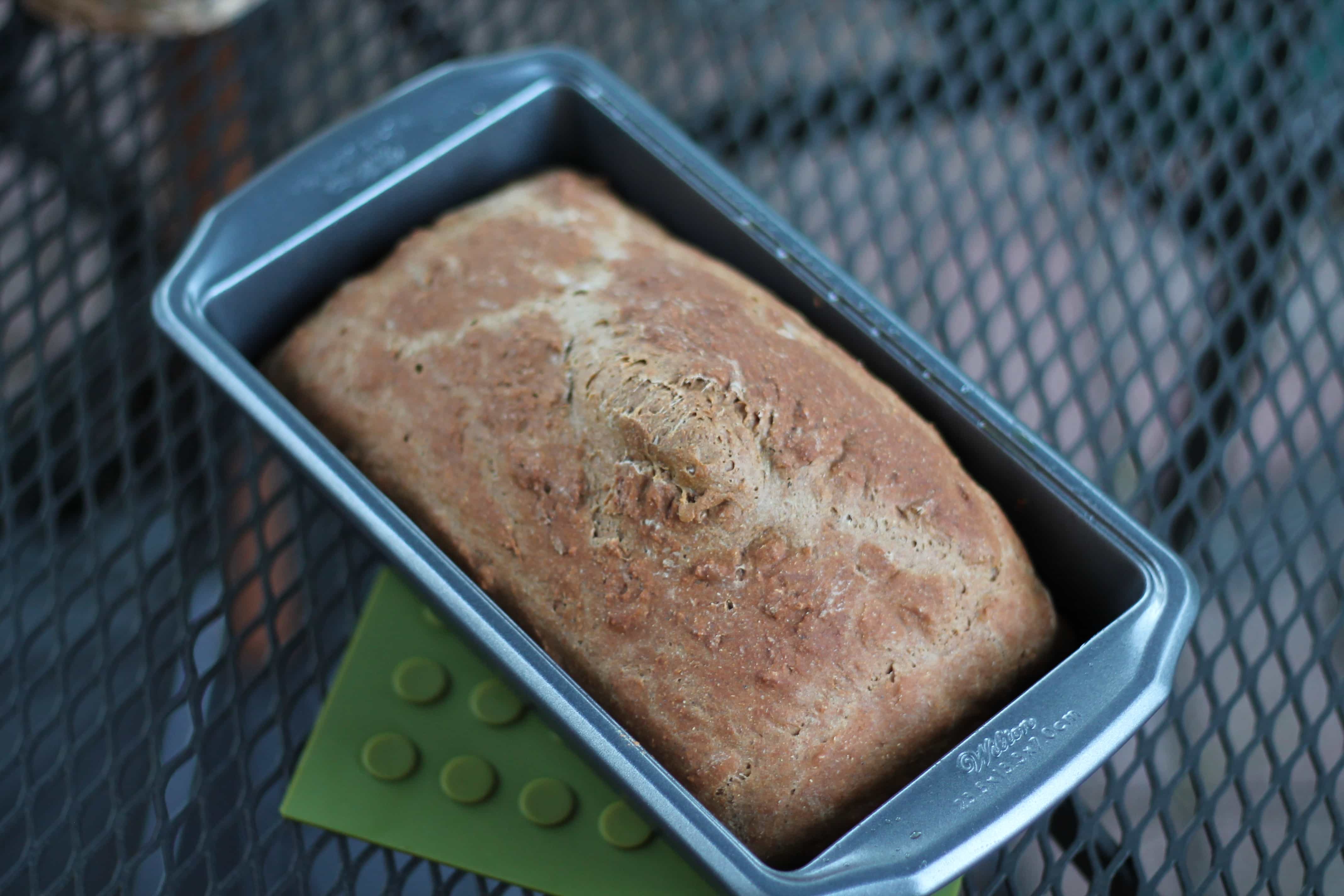 This is the best homemade sandwich bread recipe I've found, for multiple reasons. First, it's a no-yeast spelt bread that's made with ingredients you might already have on hand. Second, it tastes awesome – more dense than the kind you buy at the store but with a wonderfully nutty flavor. What's better than a quick and easy homemade bread recipe you can throw together in about 10 minutes, bake for an hour, and eat for the week?!
I would suggest serving it with homemade blueberry jam from your boss. And if your boss isn't as cool as mine and doesn't give you homemade jam – I guess you can settle for the store-bought kind. Or make your own.
If you're wondering how long homemade bread stays good, the answer is: not long. Like, two days. So what I did was, ate half the loaf in half a week (oops), and cut and froze the rest. I pull just a slice out of the freezer at a time and toast it. GENIUS.
Lastly, my spelt flour came from an Amish store. And yes, I'm sort of obsessed with Amish recipes using Amish grocery items. Deal wit it.
Homemade Amish Spelt Bread Recipe
Yields: 1 large loaf (double for two)
Cooking time: 1 hr 10 min
What you need:
4 cups spelt flour
1/4 teaspoon salt, or to taste
1/2 tablespoon blackstrap molasses
1 teaspoon baking soda
2 cups milk
What you do:
1. Preheat oven to 350 degrees F and grease a 9×5 inch loaf pan.
2. In large bowl, mix together the ingredients until well blended. If it looks too dry, you may need a tad more milk.
3. Bake for 1 hour or until golden.
Yeah, it really is that easy.