These 4 Healthy Snack Box Ideas are easy and healthy snack recipes to make ahead of time for easy grab and go snacks!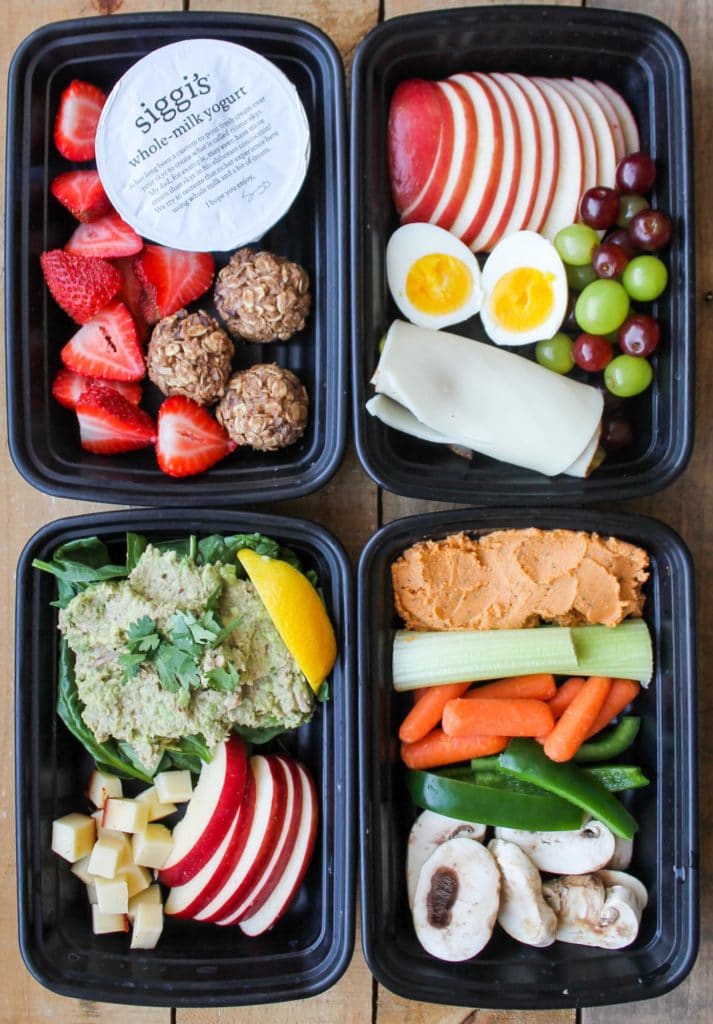 Let's talk about healthy eating downfalls. For me, my biggest downfall when I'm trying to eat clean is the snack cabinet at work!
The only way to combat the chips, cookies and candy calling my name all day at work is to pack my own healthy snacks.
These 4 Healthy Snack Box Ideas are my all-time favorite healthy snacks to pack for work, when I'm traveling, or when I know there might be unhealthy food that will tempt me.
These four are particularly great because they don't require any cooking at all. Each of these recipes is enough to make three snack boxes, but feel free to double the recipes to get you through all week.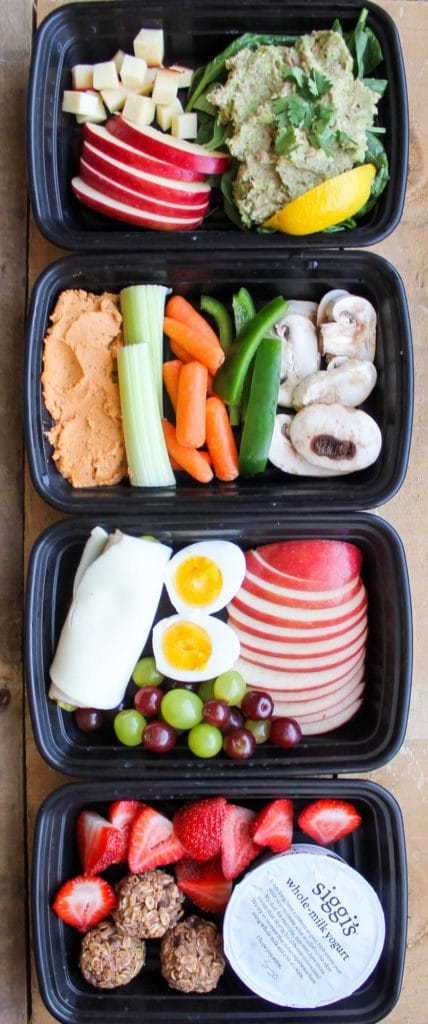 Here's the lineup from top to bottom:
Avocado Tuna Salad Snack Box – This is seriously my all-time favorite paleo/clean eating tuna salad recipe. I sometimes eat it for a meal over a green salad, but it also makes a great snack. You can use apple slices to scoop it up or simply eat it with a fork.
Hummus and Veggie Snack Box – Hummus is also one of my favorite snacks when served with vegetables, pita chips or pretzel thins. Making homemade hummus is surprisingly suuuuper easy and a great way to save money. My favorite hummus recipes are Pizza Hummus and Sweet Potato Hummus.
Deli Snack Box – These turkey/mustard/pickle roll-ups are my favorite snack. Like ever. I like including fruit and hard boiled eggs in this snack box because I pick at it all day!
Almond Joy Energy Balls and Yogurt Snack Box – These energy balls are ahhhh-mazing. I pack a yogurt and strawberries so I can eat this for breakfast and a snack. Siggis Vanilla yogurt is my favorite variety.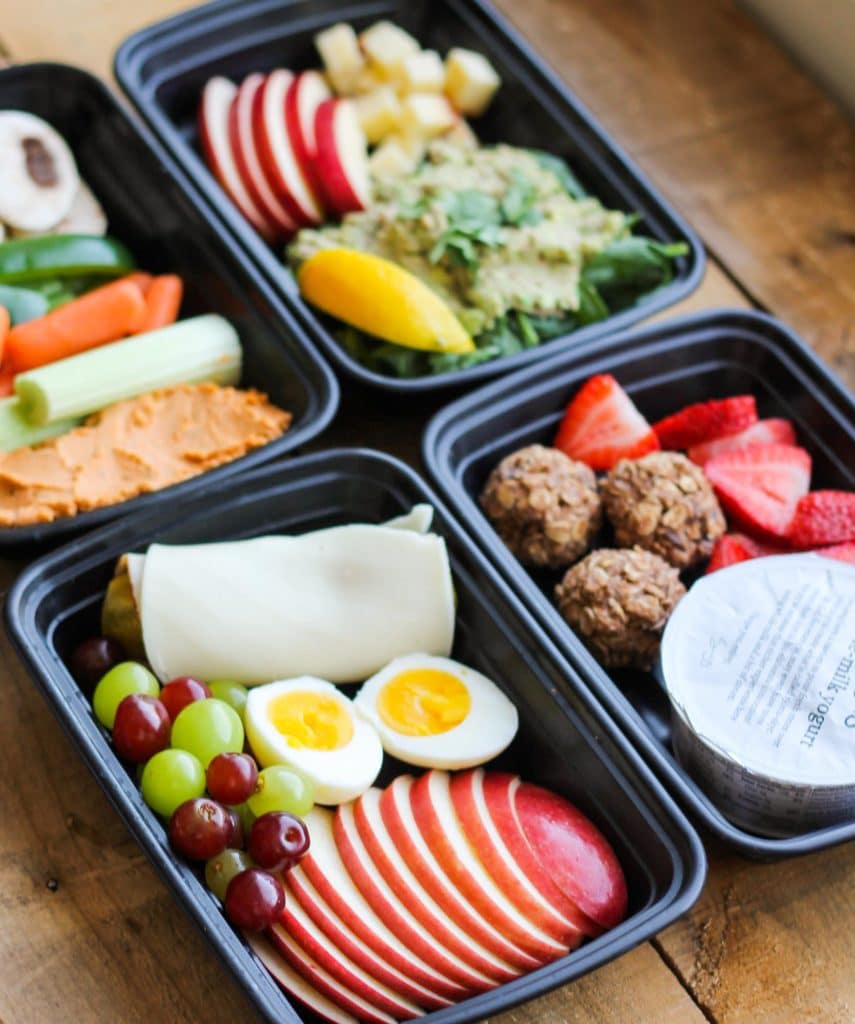 Some of the fruit I sliced ahead of time for presentation. I recommend keeping apples whole and the hard boiled eggs unpeeled until you're ready to eat.
I have also found that the avocado tuna salad is best when made fresh, so one easy solution is to pack a tuna packet, half avocado, and half a lemon and mix when you're ready to eat (if you are able to, in an office kitchen for example).
So there you have it! 4 Healthy Snack Box Ideas that are quick, easy and perfect for combating processed snack cravings.
Here's a link to the food storage containers I use!
4 Healthy Snack Box Ideas
Ingredients
Almond Joy Energy Balls and Yogurt Snack Box

1 cup old-fashioned oats
2/3 cup coconut flakes
1/2 cup peanut butter or almond butter
1/2 cup mini semisweet chocolate chips
1/3 cup honey
1 teaspoon vanilla extract
2 cups strawberries, sliced
3 containers vanilla yogurt (I like Siggi's)

Deli Snack Box

Low sodium turkey or other deli meat
3 sliced dill pickle
Mustard, to taste
Grapes
2 apples
3 eggs

Hummus and Veggie Snack Box

1/2 cup of your favorite hummus
Mixed vegetables (I use carrots, bell pepper, celery, mushrooms)

Avocado Tuna Salad Snack Box

2 packets tuna in water
1 avocado
Juice of 1 lemon
Salt and pepper
1 apple
Cheese, chopped into cubes (I like gouda)
Instructions
Almond Joy Energy Balls and Yogurt Snack Box

Combine all ingredients except strawberries and yogurt in a medium bowl. Stir until combined, roll into balls with your hands, and arrange on a cookie sheet with parchment paper. Freeze for 5-10 minutes until they harden.
Transfer to three food storage containers with sliced strawberries and yogurt.

Deli Snack Box

Place eggs in a pan with enough water for it to be submerged one inch. Bring water to a boil, remove from heat, and cover. Let cook 9-12 minutes, depending on how done you like your boiled eggs.
Arrange a pickle on sliced turkey and spread with mustard. Roll up the turkey. Repeat two more times.
Arrange turkey roll-up, egg, grapes and apple in three food storage containers. Keep the eggs unpeeled until ready to eat.

Hummus and Veggie Snack Box

Wash and chop vegetables. Store hummus and veggies in food storage containers. That's it!

Avocado Tuna Salad Snack Box

Mash avocado with a fork in a medium bowl. Add tuna, lemon, salt, and pepper.
Divide tuna salad among two food storage containers.
Add sliced apple and cheese. Eat tuna with sliced apple or eat it with a fork separately!
7.6.4
246
http://smilesandwich.com/2017/07/16/4-healthy-snack-box-ideas/