This 15-Minute Quinoa and Korean Beef Bowl is the perfect quick, easy and healthy dinner recipe that also makes great leftovers. Use ground beef or ground turkey for this Korean beef recipe that's full of flavor and protein.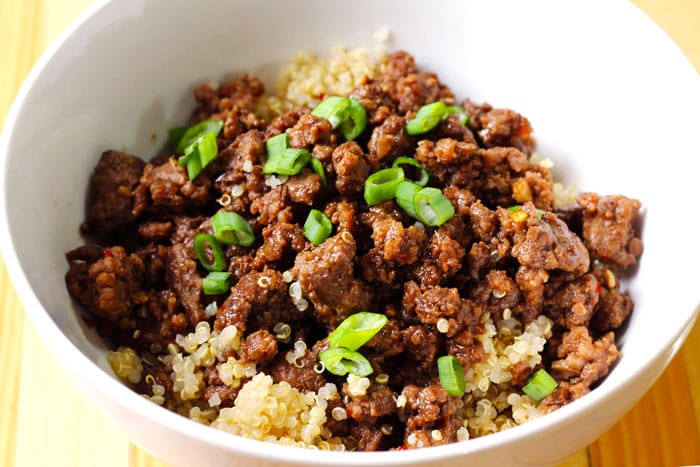 Have you guys seen Heavyweights? Can we all agree that that was Ben Stiller's best movie ever? Followed closely by Zoolander.
Anyways, I watched it the other night and reconfirmed that it is an absolute classic. Although I'm pretty sure a movie about fat camp would be banned from theaters today, it was totally one of the better movies to come out of the '90s.
Favorite quotes include:
Attention campers. Lunch has been cancelled due to a lack of hustle … Deal with it.
I eat success for breakfast! … With skim milk.
Do it to it Lars.
BODY! … BUDDYYY!
Tony Perkis is a man who believes in you. His life is dedicated to saying things like "YES!" and "You better believe it!"
You've broken my camera!
Feel free to use those in your everyday life. All the time. They pretty much apply to every single situation in which you need something to say in general. You're welcome.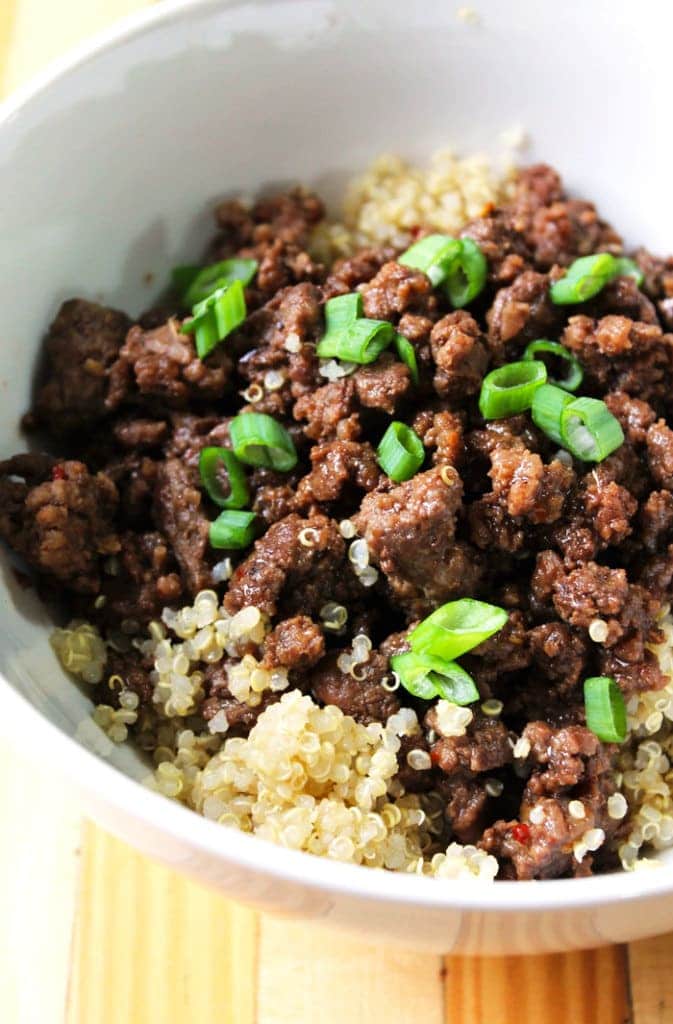 Okay let's talk about KOREAN BEEF RECIPES. After all, it's what's for dinner. This 15-Minute Quinoa and Korean Beef Bowl is the perfect healthy recipe for multiple reasons.
1. It takes just 15 minutes to make, start to finish. And it's super easy.
2. It makes GREAT leftovers, so it's perfect to bring to lunch all week.
3. It requires just a few ingredients you probably already have in your kitchen.
4. It's full of protein so you'll stay full for hours.
5. Oh, and it tastes amazing.
This ground beef recipe (or ground turkey if you prefer) if filled with Korean flavors, and the Korean beef recipe is served over a bed of fluffy quinoa and topped with green onions.
If you're not a fan of quinoa, feel free to make a Korean beef bowl with brown rice instead! It would also be great over lettuce as a salad with no grains at all.
This 15-Minute Quinoa and Korean Beef Bowl recipe is one you'll want to make over and over again.
(Recipe adapted from one of my favorite blogs – Damn Delicious)
15-Minute Korean Beef and Quinoa Bowl
Ingredients
1 cup quinoa, dry but rinsed
1 tablespoon vegetable oil
1/4 teaspoon fresh ground ginger
3 cloves garlic, minced
1 pound lean ground beef
1/3 cup brown sugar
1/4 cup low sodium soy sauce
1 tablespoon sesame oil
1/2 teaspoon crushed red pepper flakes, or more if you like it spicy
salt and pepper, to taste
2 green onions, thinly sliced
Instructions
Place the quinoa in a small stock pot and cover with 2 cups water or chicken stock. Bring to a full boil, then reduce heat to a simmer, cover, and let cook for 15 minutes.
While the quinoa cooks, heat the oil in a large pan. Cook the garlic and ginger for about 1 minute, stirring constantly. Add the ground beef and brown completely. Drain the fat.
In a small bowl, combine brown sugar, soy sauce, sesame oil, red pepper flakes, salt and pepper.
Add the soy sauce mixture to the ground beef and let cook for 3-5 minutes to allow the flavors to set.
Once the quinoa is done, take off the heat and fluff with a fork. Serve beef over quinoa, top with green onion.
7.6.4
100
http://smilesandwich.com/2015/01/27/15-minute-korean-beef-quinoa-bowl/
Looking for more great quinoa recipes?
Clean Eating Lemon Chicken Quinoa Soup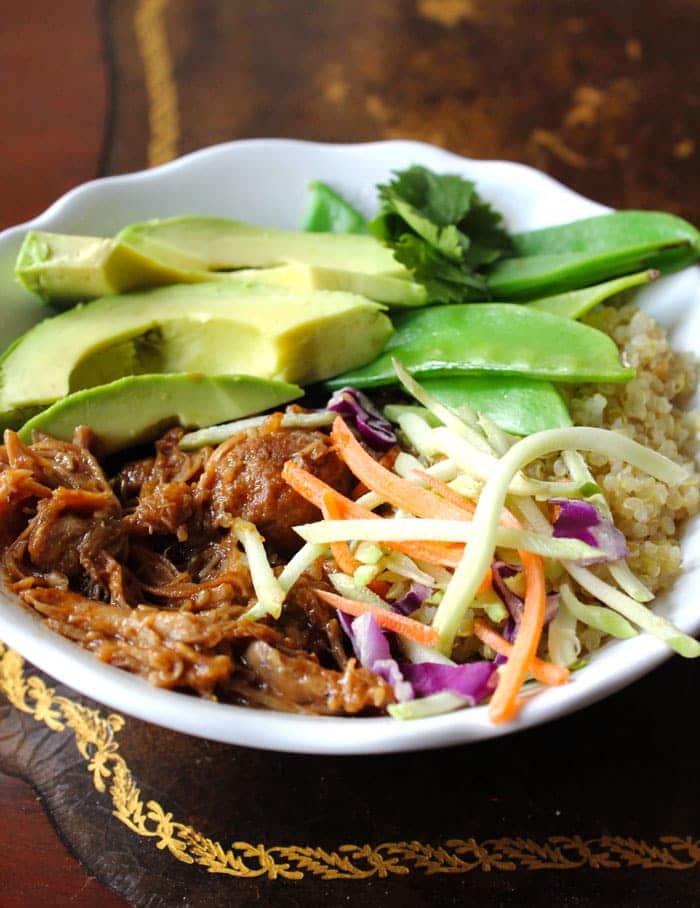 Slow Cooker Chinese Chicken Quinoa Bowls