I'm a firm believer that dessert fixes everything. After all, desserts is stressed spelled backwards, and I don't think that's a coincidence. This week was a particularly difficult week for my family, so I knew I had to whip out the big guns to make something that's sure to be great. This carrot cake was the first thing to come to my mind.
Now, I apologize for this photo, but this was literally the last piece of cake standing – I knew I had to act fast if I wanted to get a shot of it before it was gone. I considered skipping this post altogether, but this recipe is just too good not to share. Trust me, make this for the holidays and everyone will love you for it.
It's my Aunt Karen's recipe, and it is literally the best carrot cake I've ever had. It's dense, moist, and full of flavor. The buttermilk glaze seeps into each layer of the cake, and a homemade cream cheese frosting is spread on the entire thing. Even if you don't love carrot cake, you'll LOVE this one.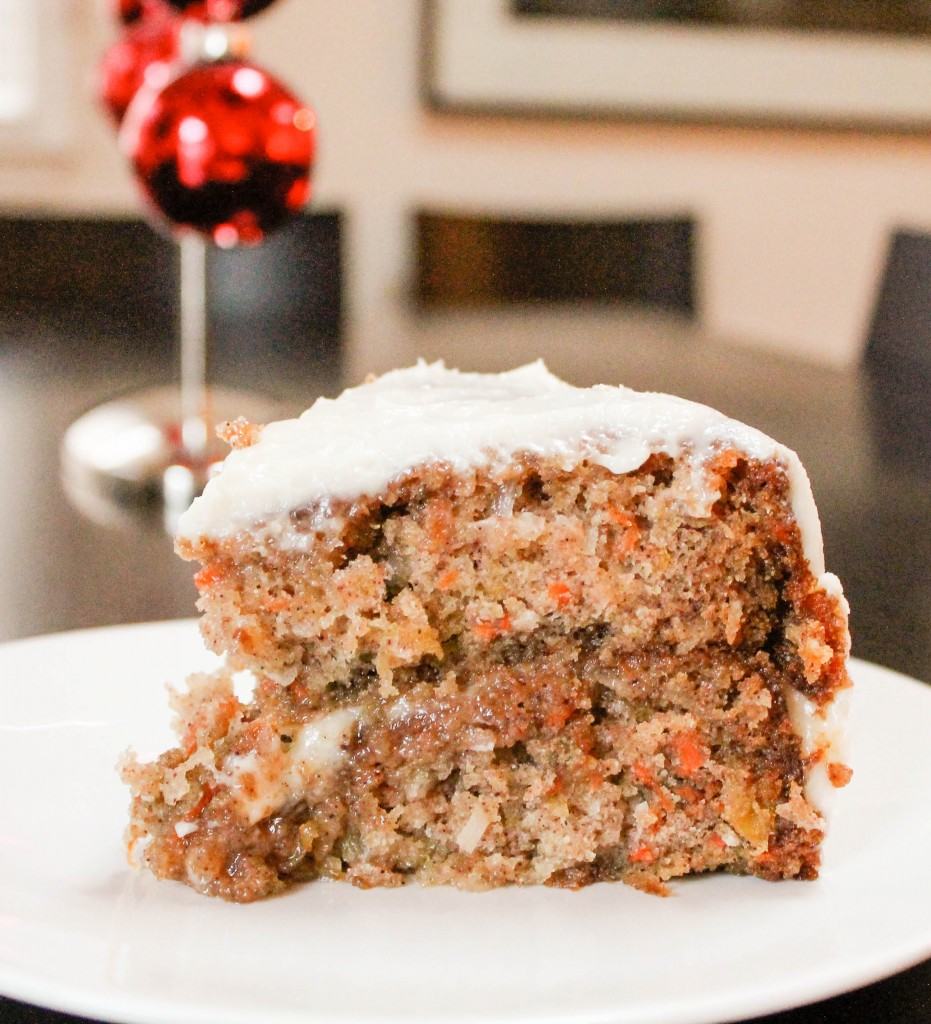 So, although I had planned to spend Thanksgiving in sunny North Carolina, my grandpa ended up having to have brain surgery on Friday. The genius doctors at Northwestern Memorial Hospital worked their magic, and after a few setbacks, Gramps was awake and talking again by Saturday.
I knew that if my entire family (20+ people) were going to spend my favorite holiday in the hospital waiting room, by golly there would be cake! So, I walked to the grocery store, pulled out my sister's (amazing) stand mixer, and baked two cakes until 12:30 a.m. the night before Thanksgiving. Baking is one of my favorite stress-relievers, and bringing Gramps a piece of (the best) homemade cake was all I could do to make his Thanksgiving a tiny bit better.
When life throws you a curve ball, keep your head up and bake a cake.
Aunt Karen's Carrot Cake (a.k.a. the best cake you'll ever eat)
What You Need:
For the Cake:
2 cups all purpose flour
2 teaspoons baking soda
1/2 teaspoon salt
2 teaspoons ground cinnamon
3 large eggs
2 cups sugar
3/4 cups vegetable oil
3/4 cups buttermilk
2 teaspoons vanilla extract
2 cups grated carrots
1 (8-ounce) can crushed pineapple, drained
3 1/2 ounces flaked coconut
1 cup chopped pecans
Buttermilk Glaze: 
1 cup sugar
1.5 teaspoons baking soda
1/2 cup buttermilk
1/2 cup butter
1 tablespoon light corn syrup
1 teaspoon vanilla extract
Cream Cheese Frosting:
3/4 cups butter, softened
11 ounces cream cheese, softened
3 cups powdered sugar
1.5 teaspoon vanilla extract
What You Do:
1. Preheat oven to 350 degrees F and line 3 9-inch round cake pans with wax paper. Lightly crease and flour wax paper.
2. Stir together first 4 ingredients. Beat eggs and next 4 ingredients at medium speed with an electric mixer until smooth. Add flour mixture, beating at low speed until blended. Fold in carrot and next 3 ingredients.
3. Pour batter into prepared cake pans. Bake for 25-30 minutes.
4. During the last 15 minutes of baking, prepare the buttermilk glaze by bringing the first 5 ingredients to a boil in a large pan over medium-high heat. Boil, stirring often, for 4 minutes. Remove from heat, and stir in vanilla.
5. Remove cakes from oven once done. Drizzle buttermilk glaze evenly over layers; cool in pans for 15 minutes. Remove from pans, and cool completely.
6. For the Cream Cheese Frosting: Beat butter and cream cheese at medium speed with an electric mixer until creamy. Add powdered sugar and vanilla; beat until smooth.
7. To assemble the cake, lift one out of its pan and spread with a layer of frosting. Carefully lift the second cake out of its pan, and place it on top. Repeat with a layer of frosting, then the third cake on top. Spread the entire thing with frosting.
Tip: Achieve professionally decorated cakes with a silky, molten look by blow-drying the frosting with a hair dryer until the frosting melts slightly.