These healthy meal prep recipes for breakfast, lunch, dinner and snacks are super easy to make and so delicious. They'll make your life SO much easier!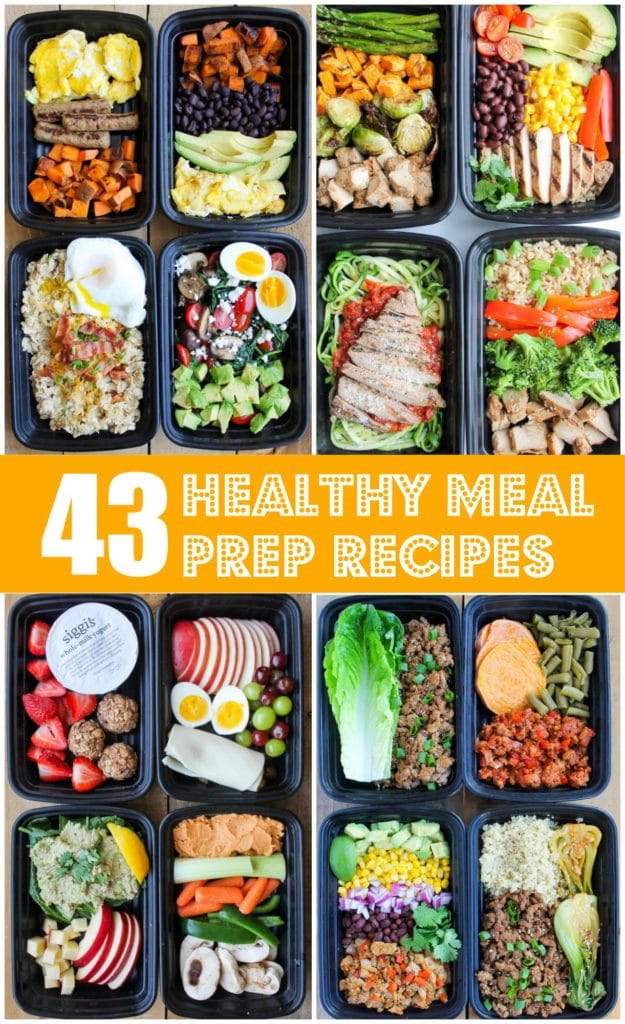 Staying on track truly can be so hard when you're busy. That's why I completely rely on healthy meal prep recipes to make my life SO much easier.
I rely on it so much, in fact, that I have a growing list of over 40 meal prep recipes on my site! From breakfast meal prep, to lunch box ideas, to easy make-ahead snack recipes … there's something here to fit all your meal prep needs.
Here are links to the food storage containers I use:
Glass Meal Prep Containers with Snap Lids (my favorite)
Plastic Meal Prep Containers (these ones don't last as long, but they're super cheap!)
Ello Glass Meal Prep Containers with Silicone Sleeve (silicone acts as a built-in trivet, and protects the glass!)
Okay, not that you're well stocked in some awesome containers, let's talk about 43 Healthy Meal Prep Recipes That'll Make Your Life So Easy!
Healthy Chicken Meal Prep Recipes
Easy Chicken Meal Prep Bowls: 5 Ways – Chicken Burrito Bowl, Chinese Chicken Meal Prep Bowls and more! This recipe shows you how to make four different bowls all at once to fight boredom.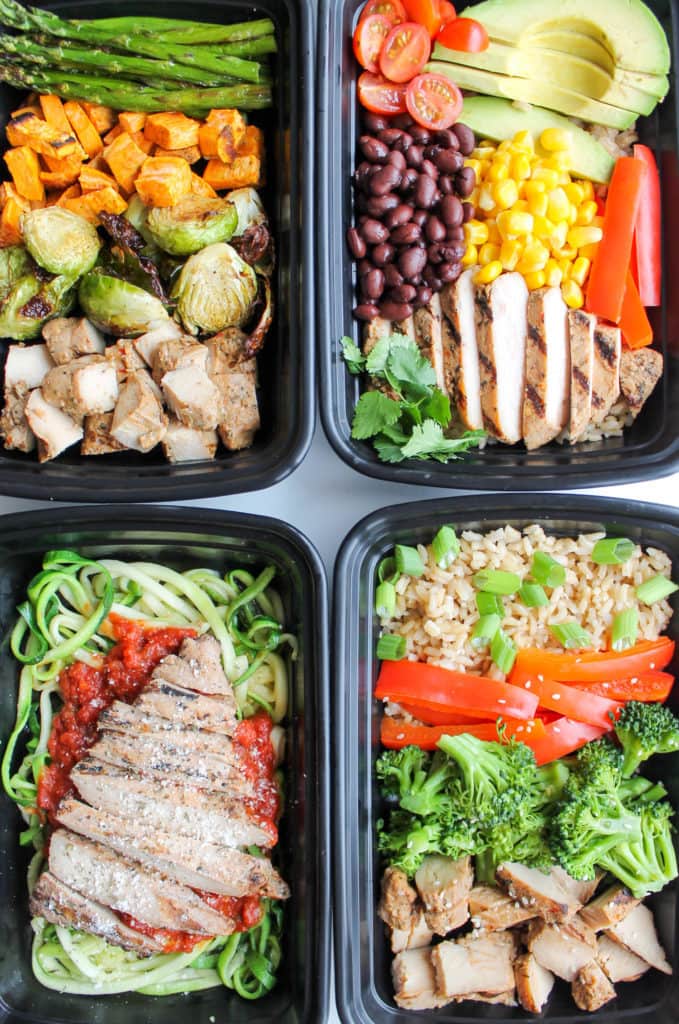 Chinese Lemon Chicken Meal Prep Bowls – the perfect healthy meal prep recipe that reheats so well!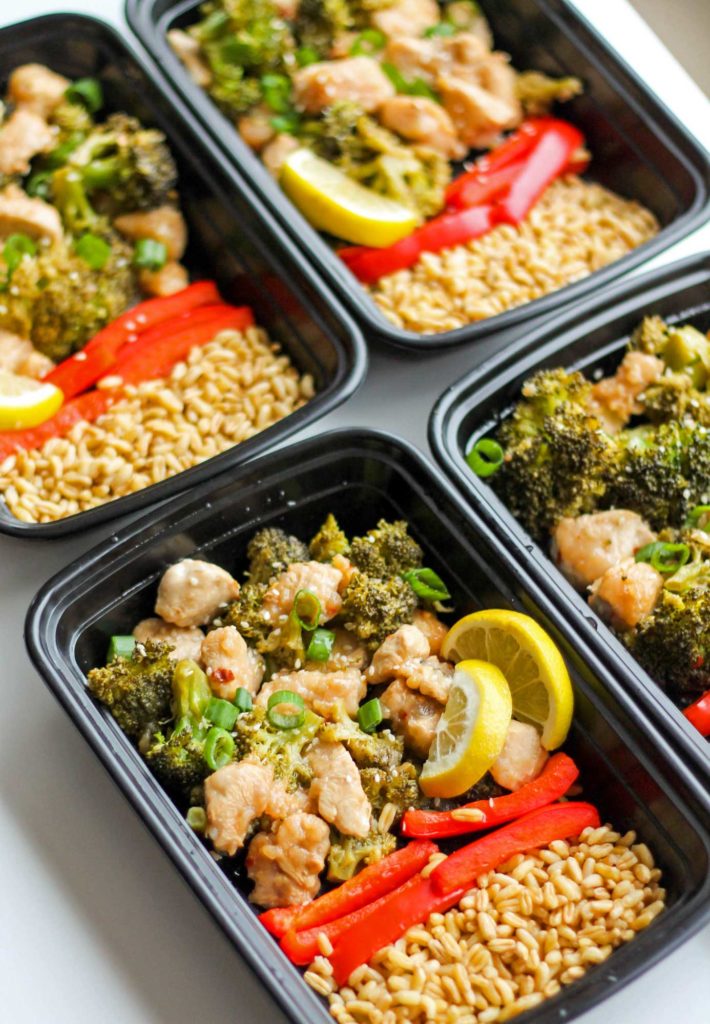 Mediterranean Chicken Bowls – Chicken shawarma with hummus, vegetables, cucumber and tzatziki!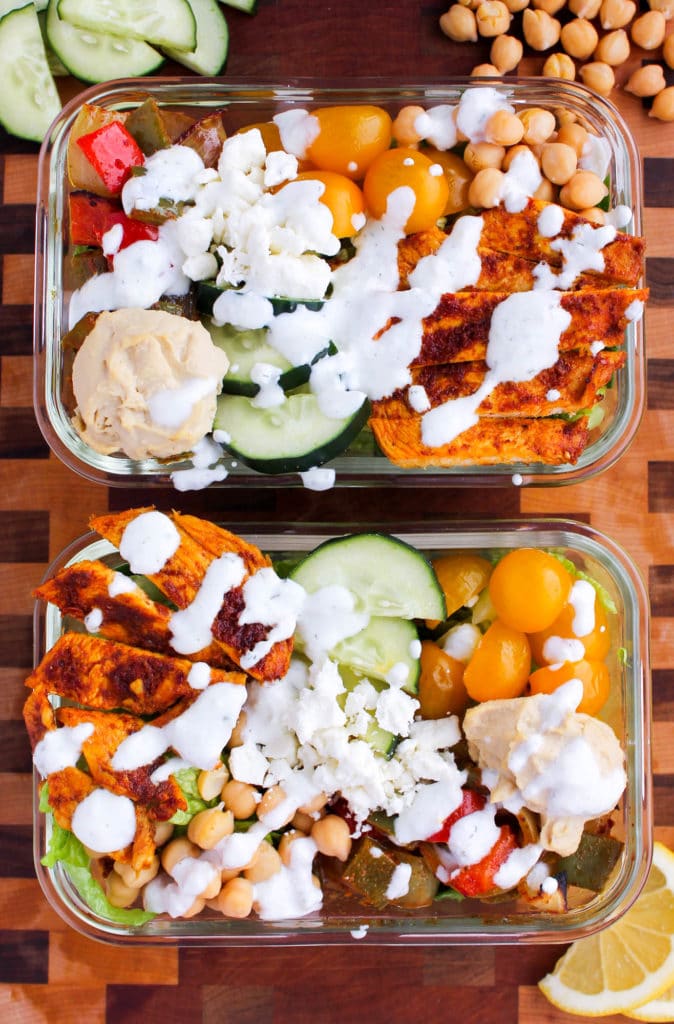 15-Minute Chicken Sausage Pasta Meal Prep Bowls – perhaps the easiest meal prep recipe ever.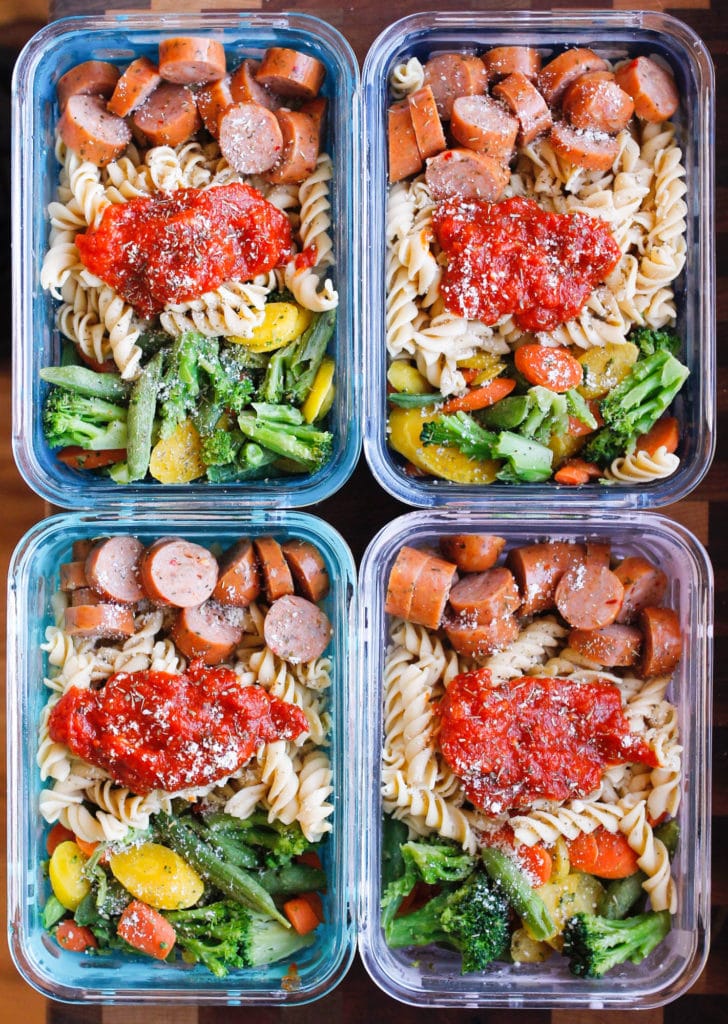 Veggie-Packed Chicken Salad Meal Prep – a delicious meal prep recipe the whole family will love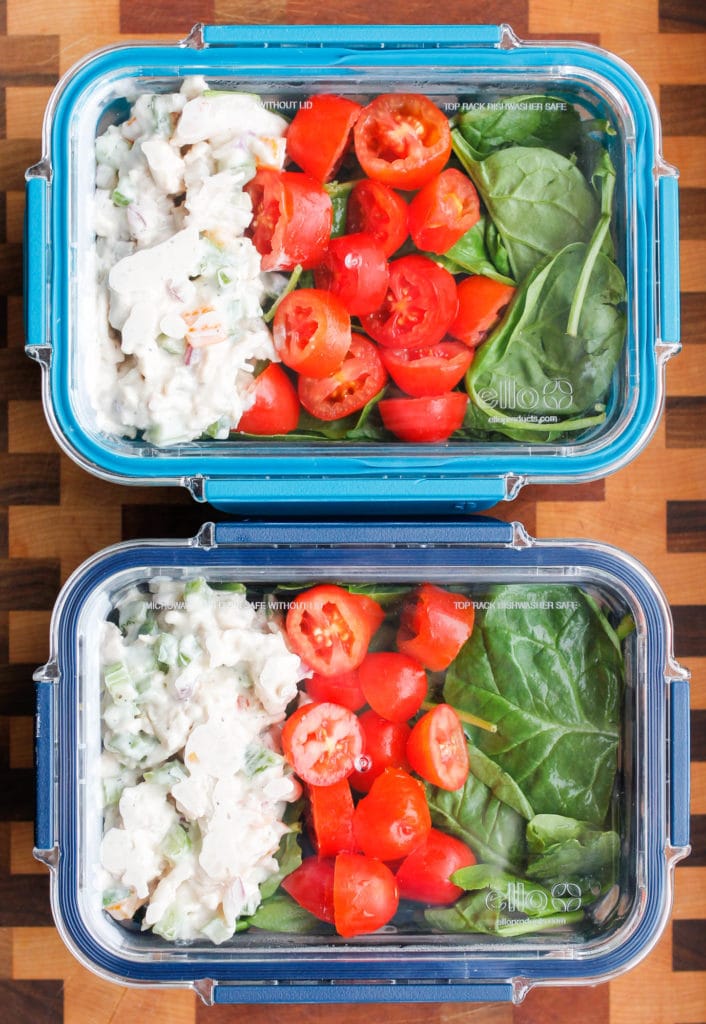 Instant Pot (or slow cooker) Greek Chicken Power Bowls – Including instructions on how to make chicken in the Instant Pot!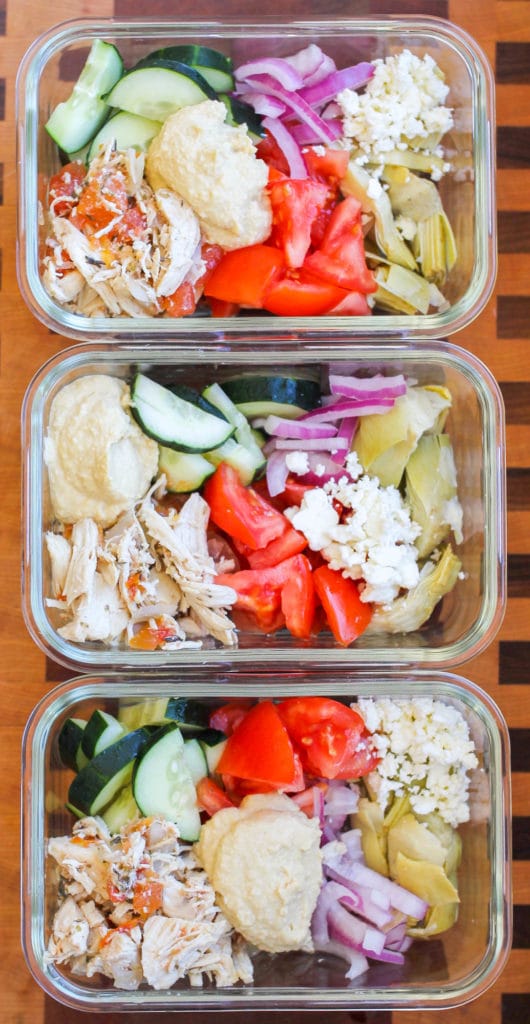 Buffalo Chicken Salad Lettuce Cups – a delicious healthier buffalo chicken salad recipe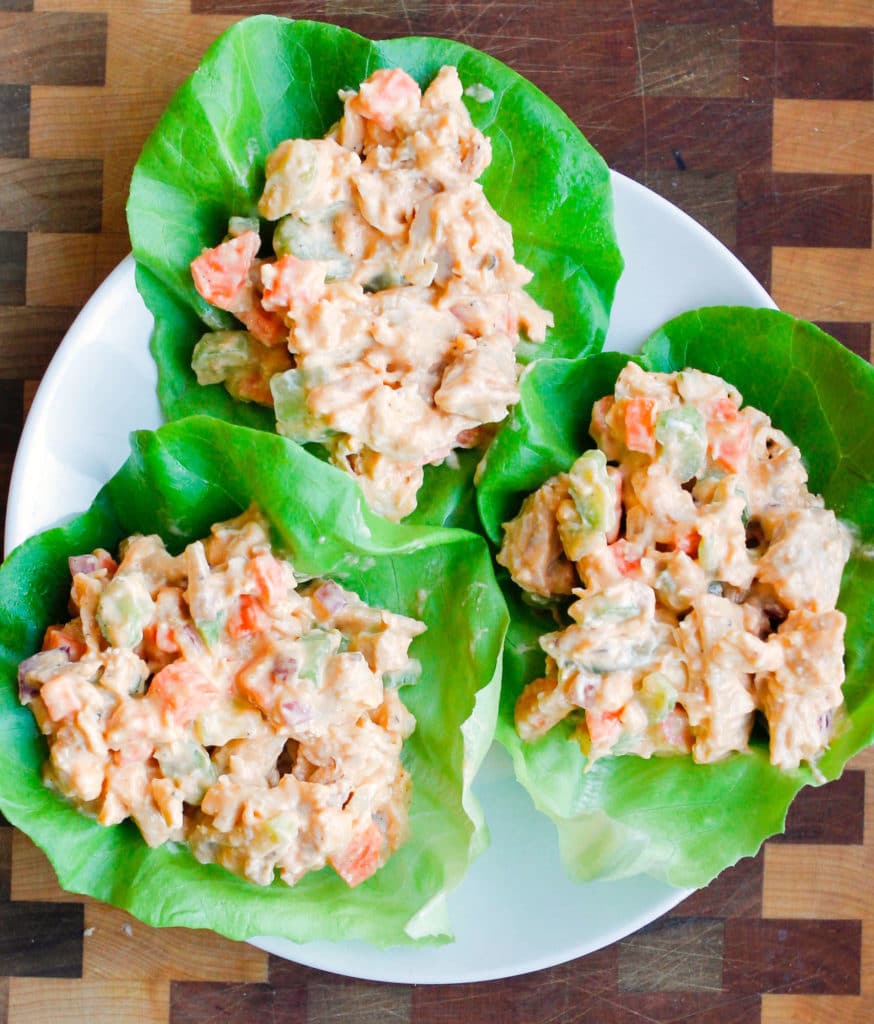 Chinese Lemon Chicken Meal Prep Bowls – way better than Chinese takeout!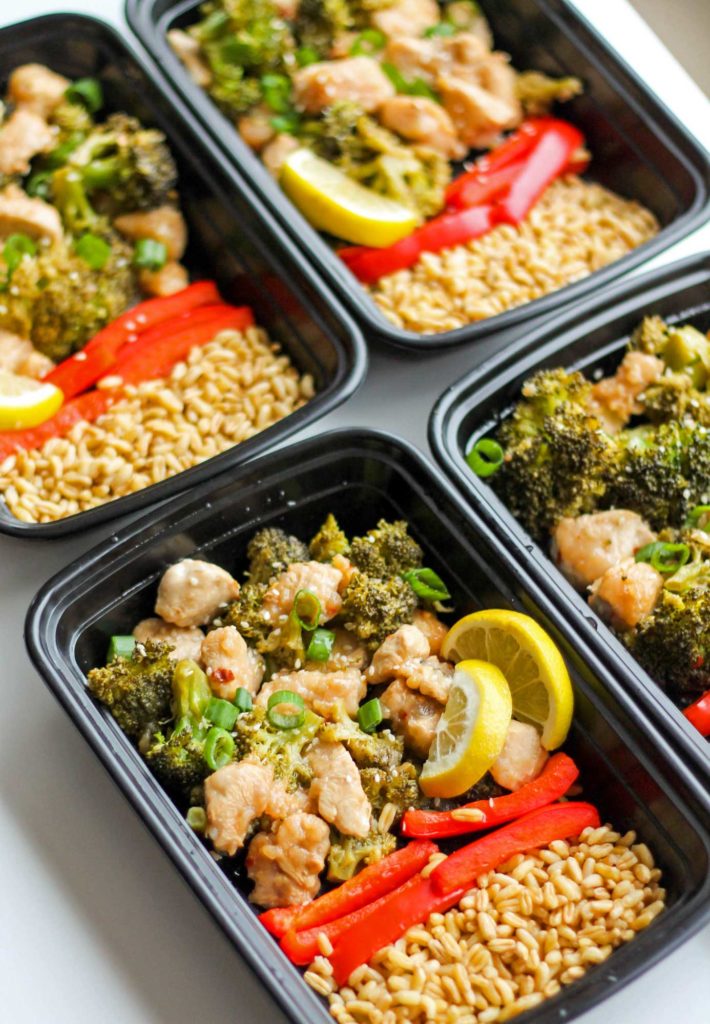 Peanut Chicken Stir Fry Meal Prep Bowl – one of the quickest and easiest recipes on the list!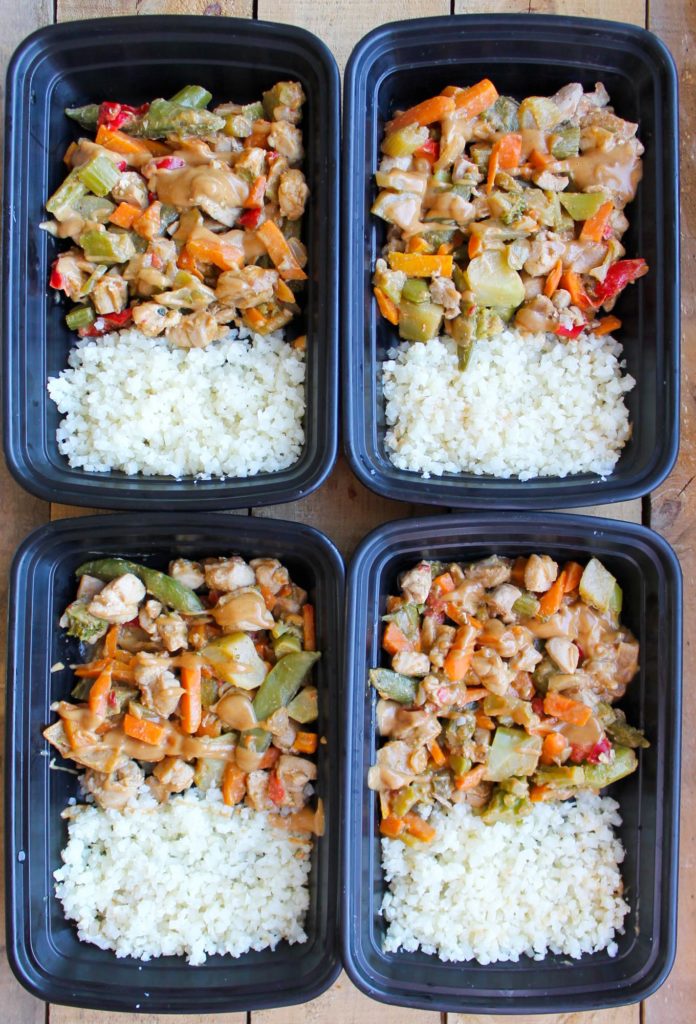 Chicken and Avocado Rice Meal Prep Bowls – the combination of protein, fat and carbs in these bowls are macro-friendly and very filling!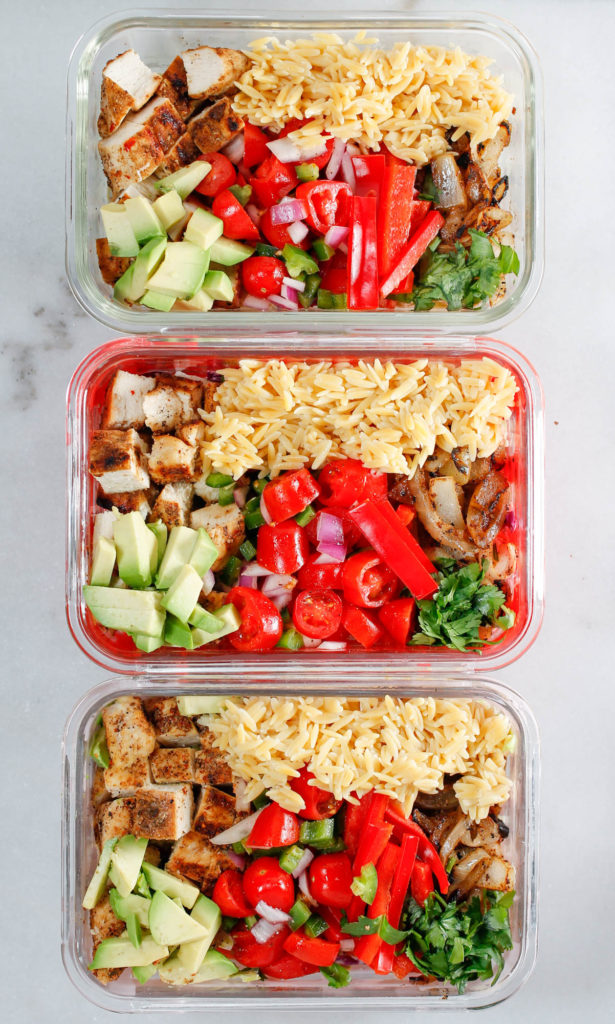 Fall Harvest Meal Prep Bowls – a SweetGreen copycat recipe that's perfect for fall or all year round!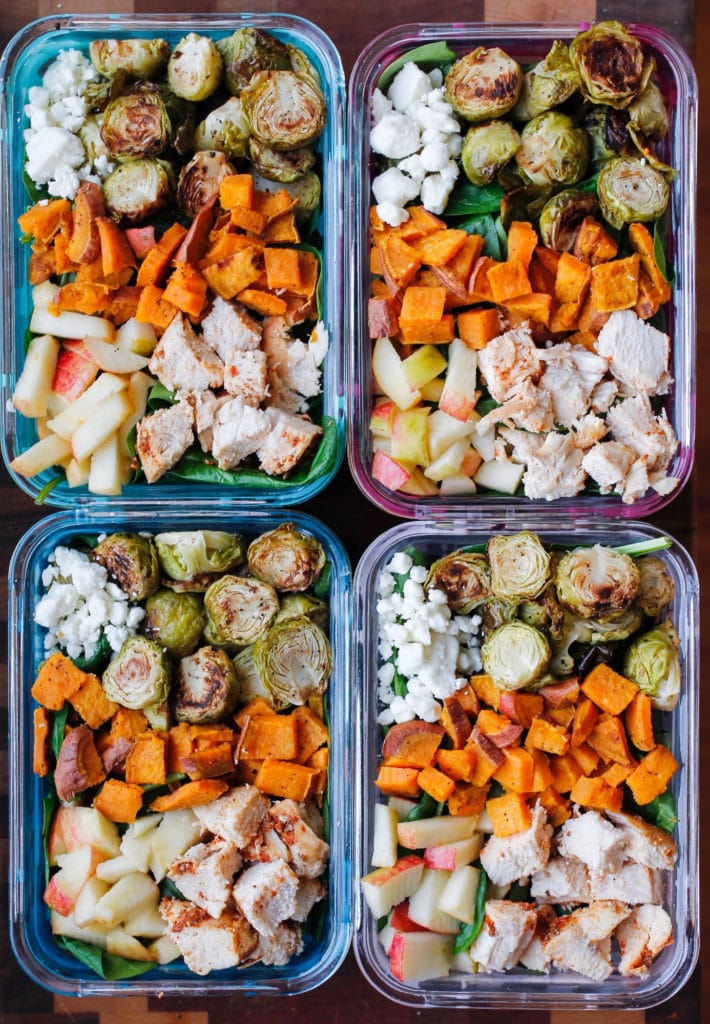 Healthy Breakfast Meal Prep Recipes
Make-Ahead Breakfast Meal Prep Bowls: 4 Ways – Breakfast is one of the hardest meals to pack! These breakfast meal prep bowls make it easier.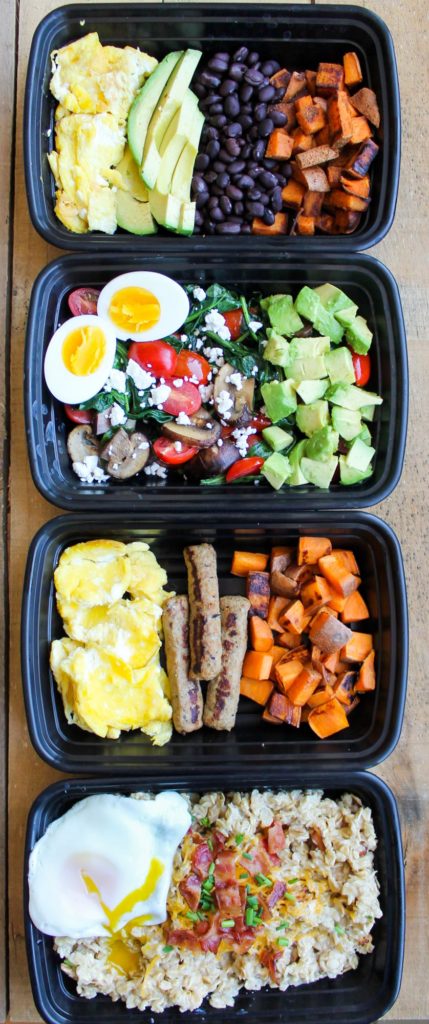 Paleo Pancake Breakfast Meal Prep Bowls – A full pancake breakfast … on-the-go.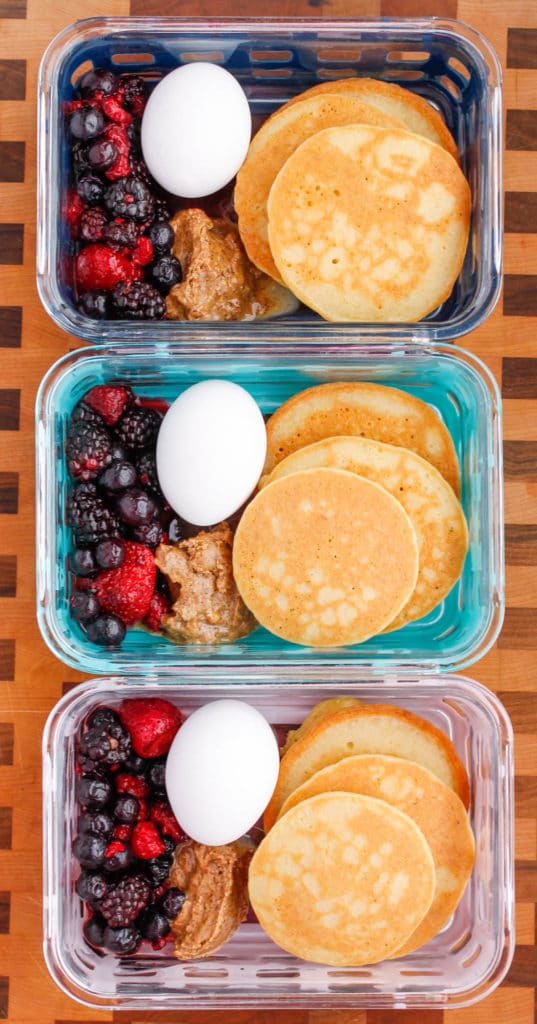 Peanut Butter Green Smoothie Freezer Packs – keep these in your freezer for super quick smoothies. Just blend with almond milk!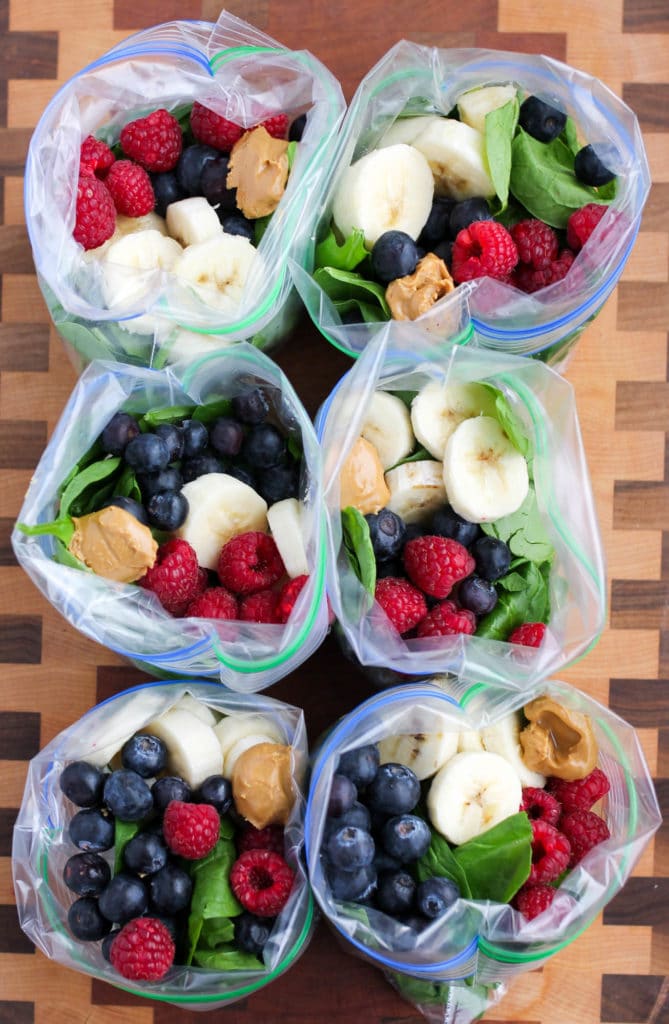 Peanut Butter Banana Instant Pot Steel Cut Oats – making Instant Pot steel cut oats is seriously so easy.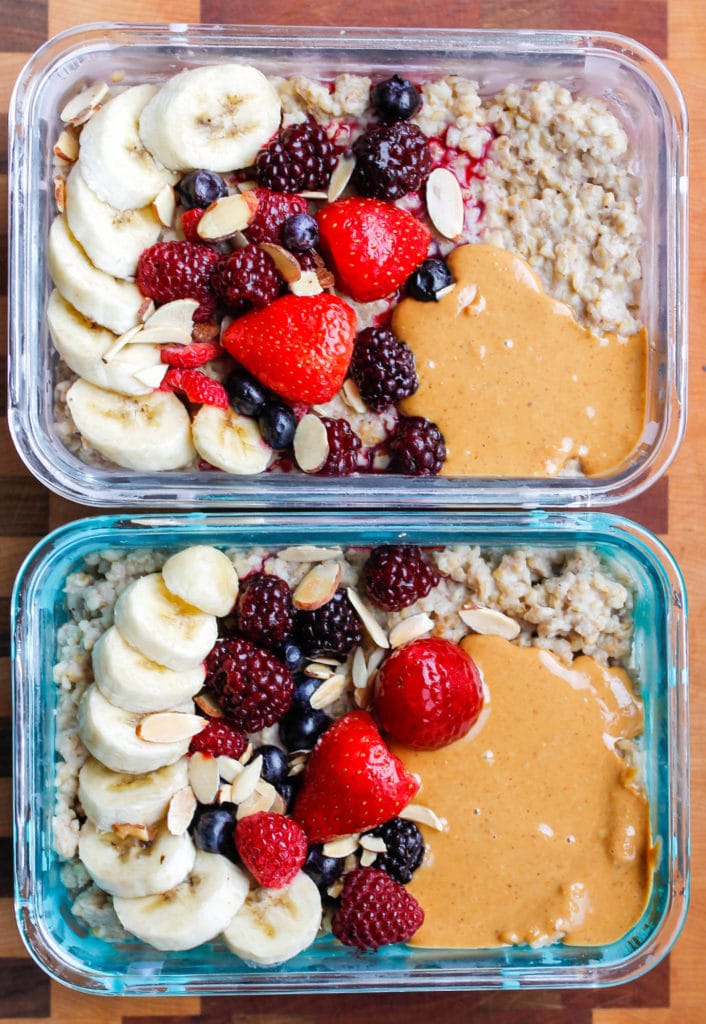 Make-Ahead Healthy Meal Prep Jars: 4 Ways – these cute breakfast meal prep jars are perfect to throw in your bag.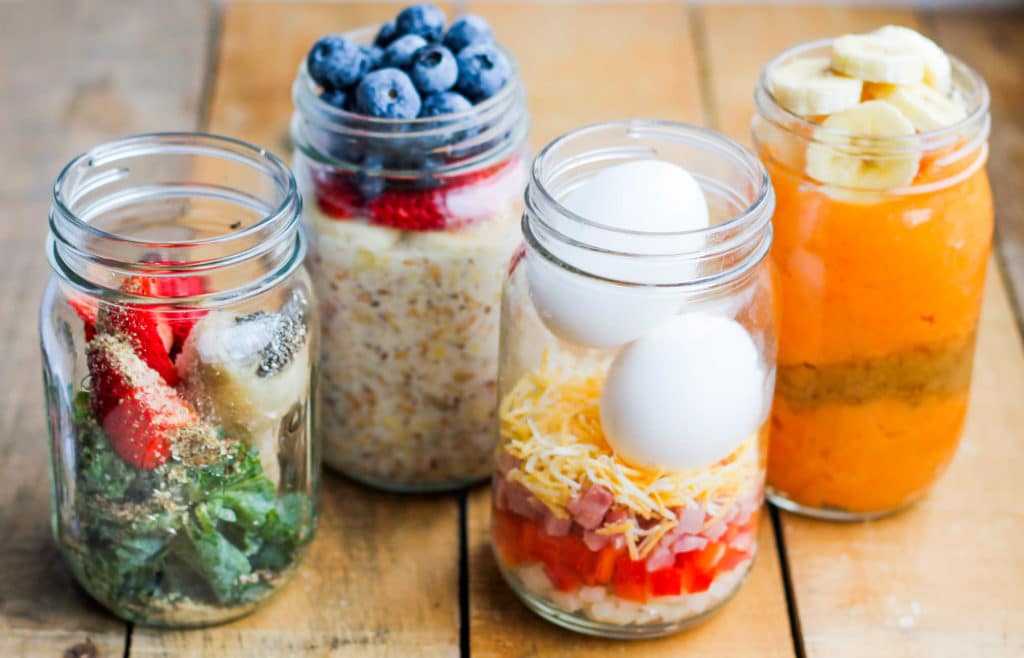 Overnight Oats in a Jar: 3 Ways – three recipes for overnight oats that don't even need to be reheated.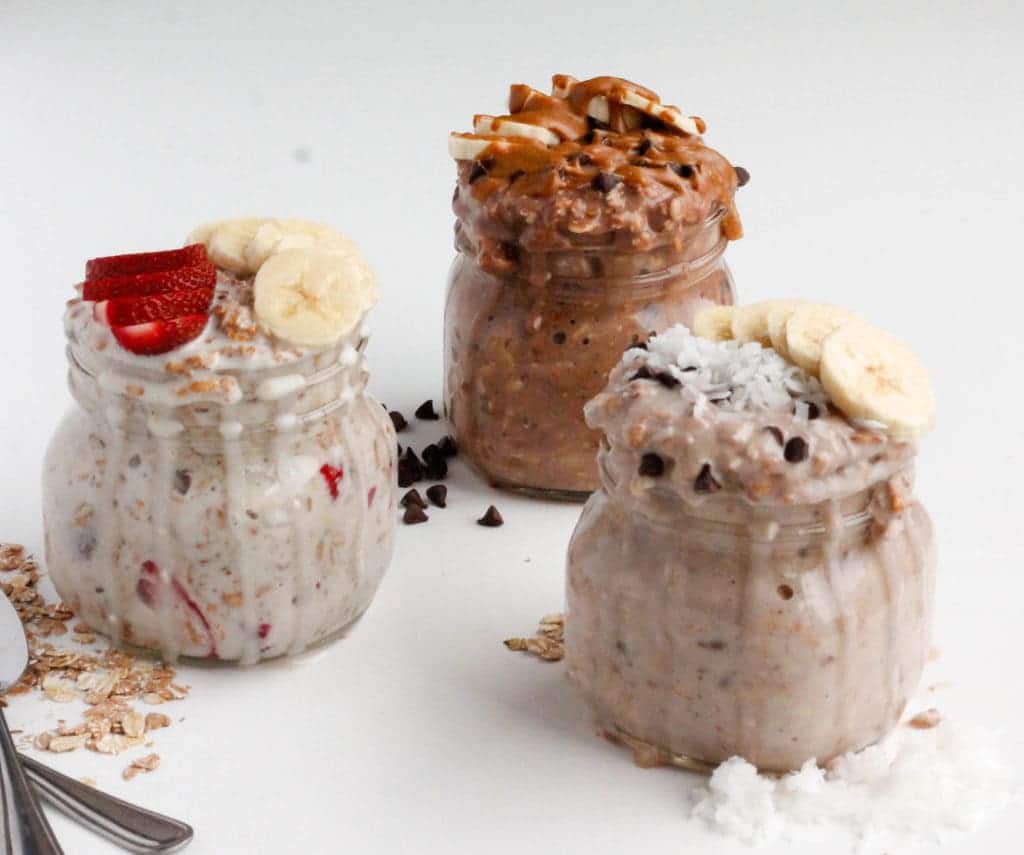 Pumpkin Chia Seed Pudding – This healthy meal prep recipe includes a secret to the creamiest chia seed pudding.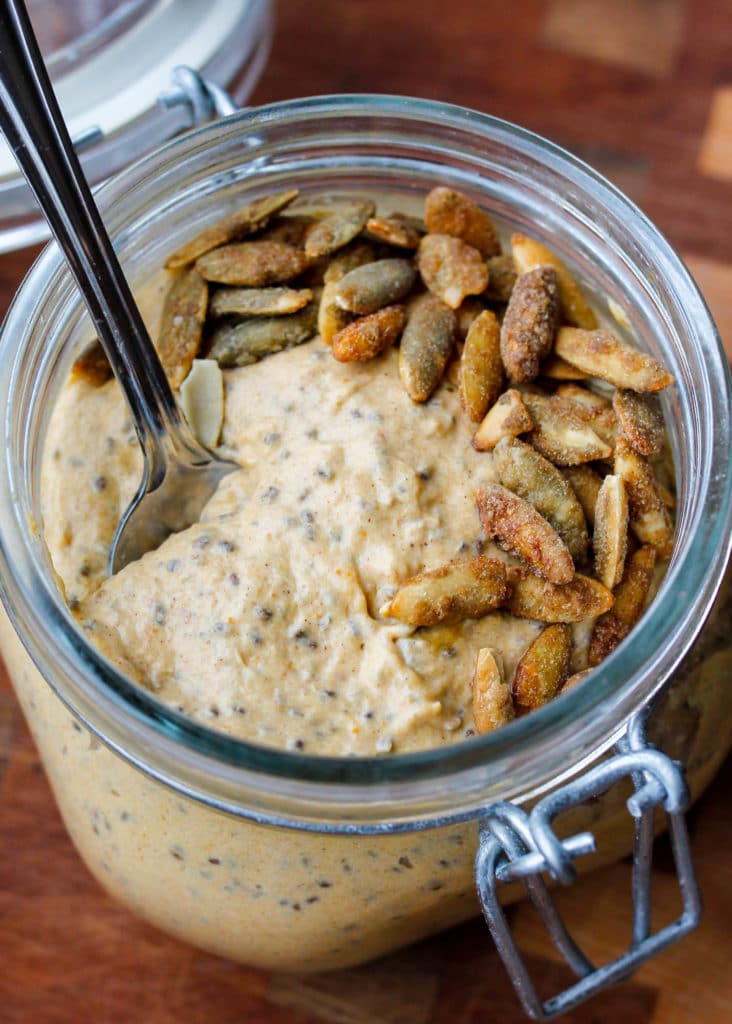 Other Healthy Meal Prep Recipes
Easy Ground Turkey Meal Prep Bowls: 4 Ways – One pound of ground beef, FOUR healthy meal prep bowls. Cook once, eat all week and fight boredom with these budget-friendly bowls.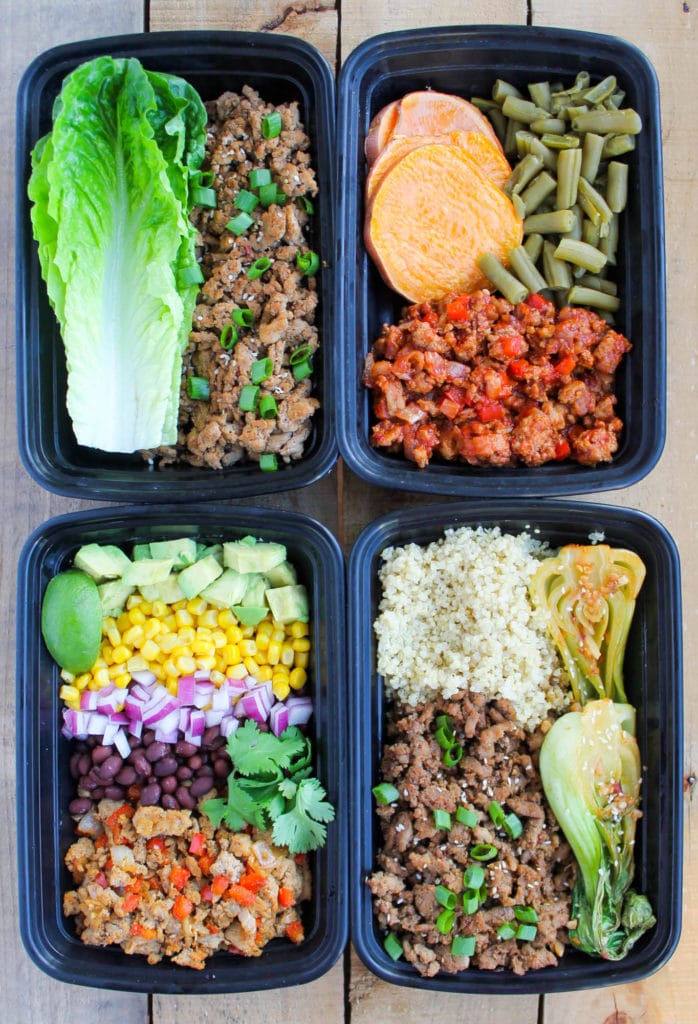 Pulled Pork Meal Prep Bowls: 4 Ways – these four healthy meal prep bowls can all be made together to beat meal prep boredom!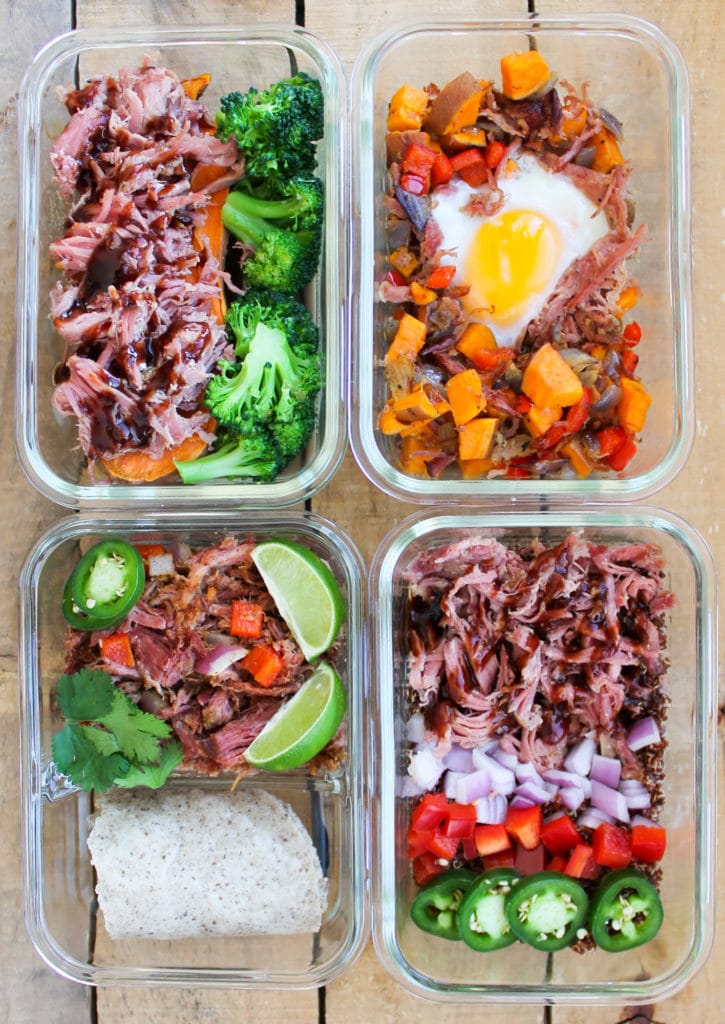 One Pan Sausage and Vegetables Meal Prep – everything cooks on one sheet pan!

4 Healthy Snack Box Ideas – The best way to stay on track is with meal prep snack recipes.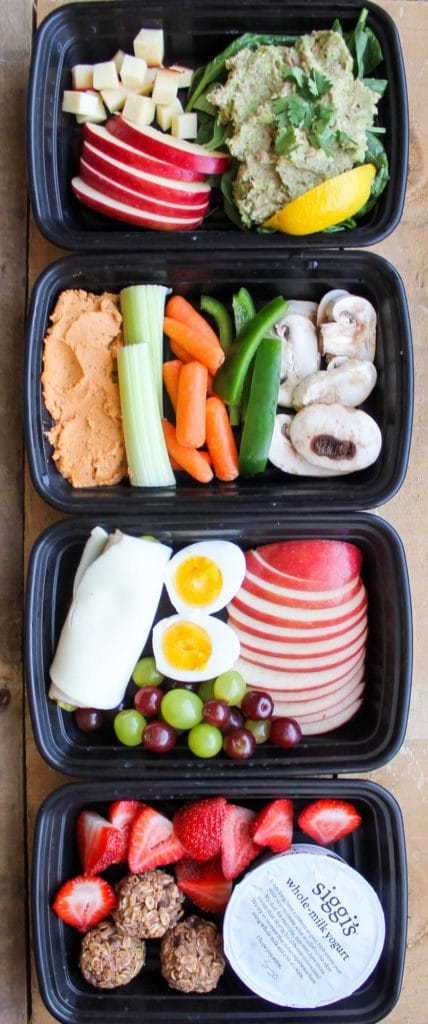 Mediterranean Quinoa Salad in a Jar – The best salad recipe to make ahead of time!